This is basically the best and easiest way possible to roast mushrooms and asparagus together.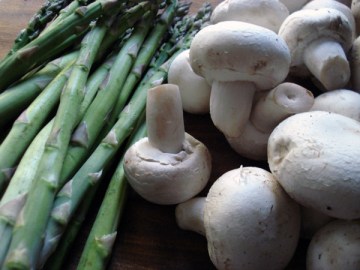 Roasted Mushrooms and Asparagus
Ingredients
1 bunch fresh asparagus*
1 pound or so fresh mushrooms**
2 sprigs fresh rosemary, minced, or 1/4 tsp dried rosemary
2 teaspoons olive oil
2 cloves garlic, minced
kosher salt or sea salt to taste
ground black pepper to taste
Directions
1. Preheat the oven to 450°F.
2. Trim the asparagus* and slice the mushrooms** and place them in your roasting dish (unless you are using a greased cookie sheet, in which case use a bowl for this part).
3. Drizzle with the olive oil, and add the garlic, rosemary, salt, and pepper; toss well. If you are using a cookie sheet, evenly spread everything out on it. Roast in the preheated oven until the asparagus is tender, about 15 minutes.
*An important note about asparagus: Did you know you can trim the ends of asparagus just by bending them a little until they snap in just the right place? Because I just found this out recently and it was life-changing. (If your asparagus are all about the same size and width, you can just snap one to figure out where to trim, then hold it against the rest of the bunch and chop the ends off all at once.)
**An important note about mushrooms: If you only have white mushrooms on hand because they were on sale and are going to go bad or something, you can use only white mushrooms, and they will taste delicious (consider also adding a teaspoon of lemon juice). But this recipe is easy and neutral, and it's fall, and there are so many other types of mushrooms to be excited about/try!
White: White mushrooms are what most people think of when they think of mushrooms, are somewhere between off-white and bright white, and often come in small, medium, and large sizes.
Cremini/Brown: Brown mushrooms are just a bit firmer than white mushrooms, are tan to dark brown in colour, and have a stronger earthier flavour. They taste a bit stronger raw than they do cooked, and can replace white mushrooms in things like this recipe.
Portabella: These are large, fully grown brown mushrooms, and are lightish tan in colour. They are still earthy but with a different, thicker texture (there's a reason they're fun to make substitute hamburgers from if you are vegetarian/vegan).
Oyster: Oyster mushrooms are often light brown in colour (but can be grey or pinkish) and have caps that look like funnels. They have a mild flavour and taste just a little sweet.
Shiitake: Shiitake mushrooms are somewhere between brown and portabella mushrooms in size, and if you haven't seen them before, they look sort of like they have something wrong with them in the radioactive mutation sense, because they look they have veins and their colour can be pretty uneven. They have a strong flavour, come fresh or dried, and get a little crispy when roasted.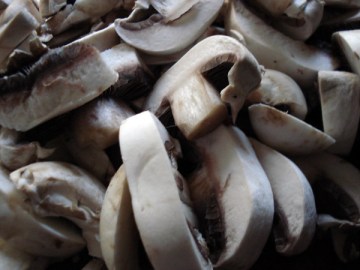 What kind of mushroom is for you? Also, enjoy!