Ombre cakes are one of those things that look fussy and involved, but are actually super chill to make! These are the perfect dessert for:
Office tea parties
Picnics with your cat
Quietly weeping into while the world burns
Serving heterosexual men with rigid ideas about masculinity and acceptable gender performance
Ostentatious self-care selfies
Also, they're pretty as fuck.
---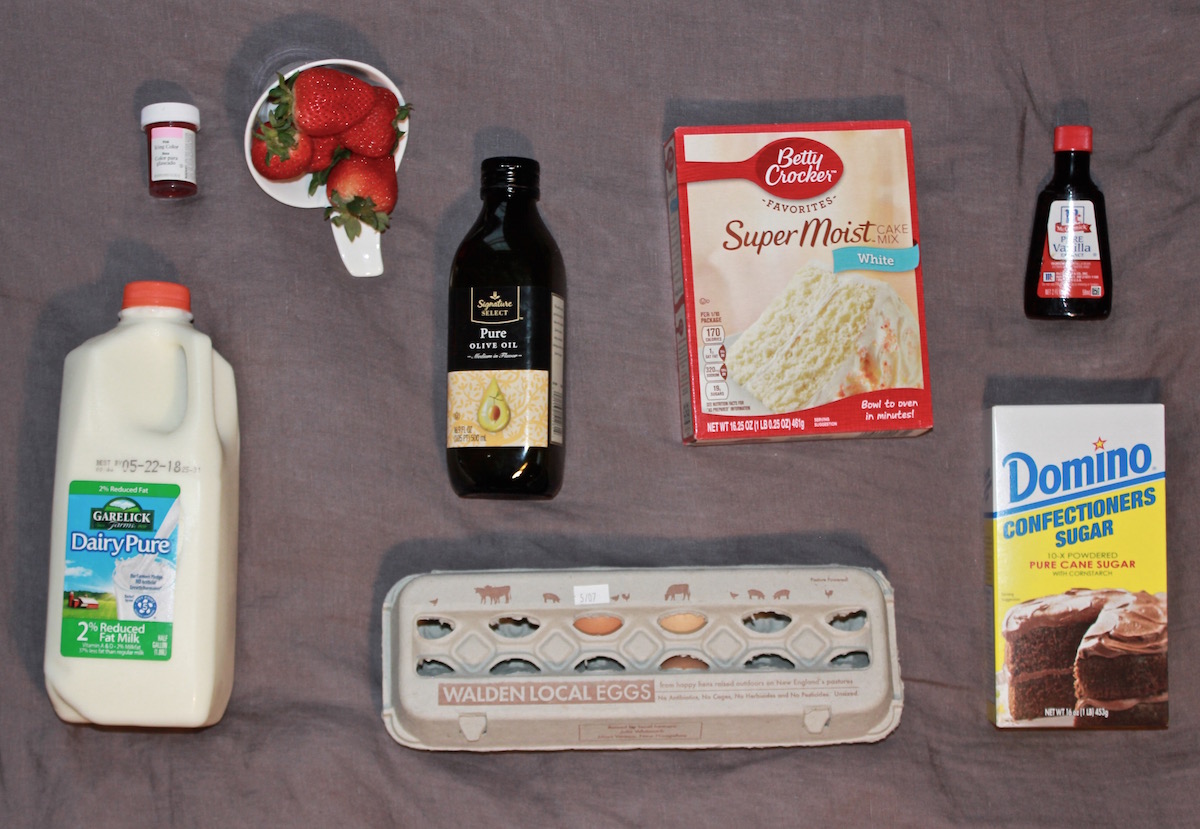 Ingredients
Cake
Note: you can apply a gradient to pretty much any cake; just keep in mind that bright colors will show up more easily on light colored cakes. If you prefer to make your cake from scratch, here are some inspirational cupcake situations that do not include box mix.
I personally went with an off-the-shelf solution:
Betty Crocker Super Moist White Cake Mix
1 1/4 cup water
1/2 cup vegetable oil
3 eggs
And some high quality icing dye:
Don't skimp on this part. If your grocery store only has squeeze bottle food coloring, go to Michael's or any other craft store to find gel icing coloring. You'll get a much more vibrant and appetizing end result.
Frosting
Similar to the base cake situation, I would also encourage you to try different frosting combinations! To get you started, check out this recipe for Maple Bourbon Buttercream, with detailed notes on how to make your own original creations.
Here, I went with Betty Crocker's vanilla buttercream recipe:
3 cups powdered sugar
1/3 cup butter or margarine, softened
1 1/2 teaspoons vanilla
1 to 2 tablespoons milk
And topped with:
strawberries, sliced
pink peppercorn (optional)
Directions
1.) Preheat the oven and make the cake batter. For Betty Crocker's recipe, I preheated to 350, then mixed the cake mix, water, oil and eggs in a bowl.
2.) Divide the cake batter evenly across four bowls. I used a kitchen scale to help (each portion was about ~6oz each), but it's not important to be super precise. The only bad thing that happens if you're off is that your layers will be slightly different heights.
3.) Add food coloring to the batter, varying the amount of dye according to how you want the gradient to appear. I found it easiest to make the darkest color first, then back off from there, as I wanted a fairly dramatic spectrum shift.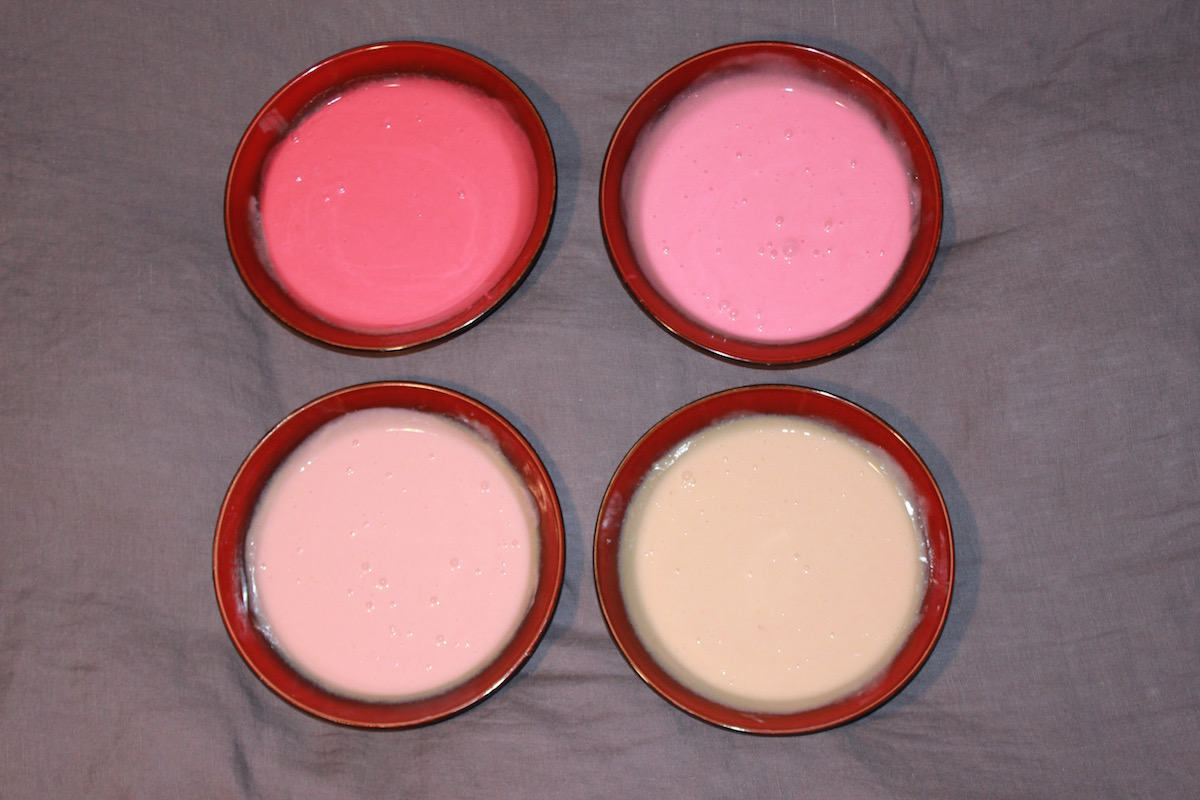 4.) Transfer your batter into four 8″ round pans, and bake according to the recipe. (For Betty's mix: 29-34 minutes.) When complete, take it out of the oven and let it cool completely.
If you don't have four cake pans, you may also bake the colors one at a time; it just takes a little longer.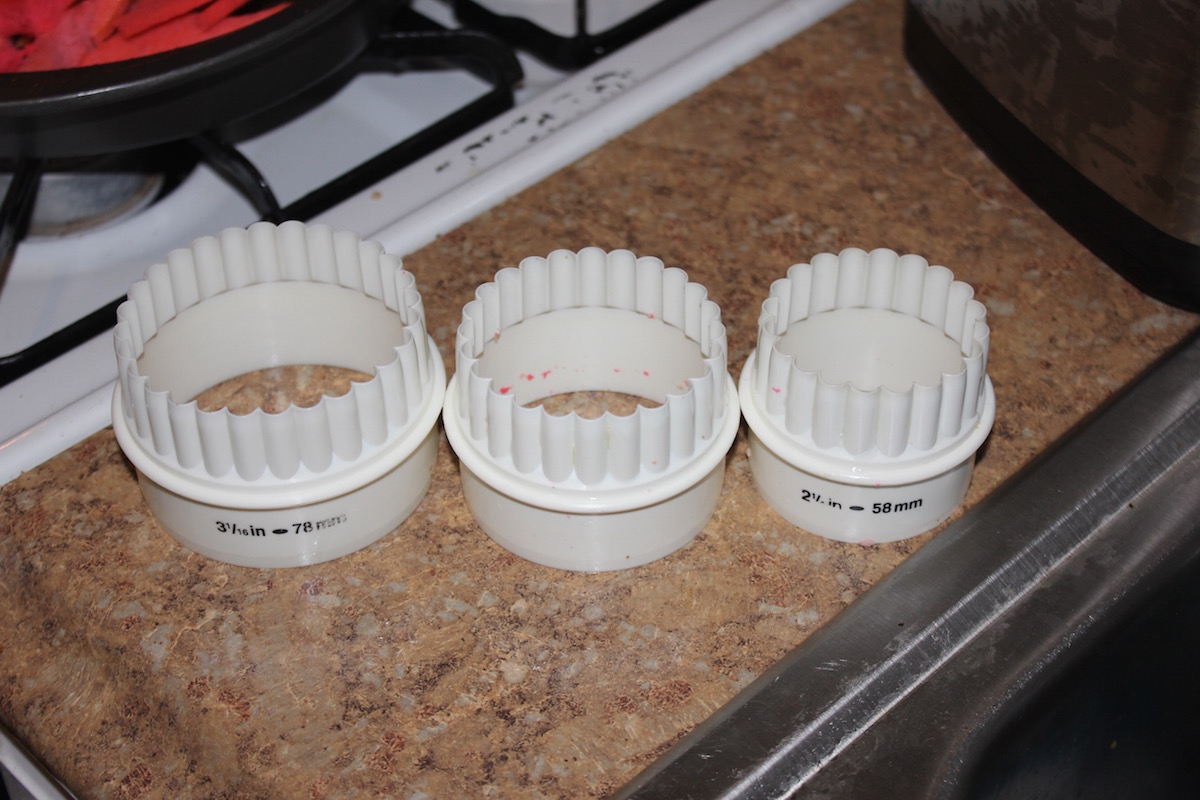 5.) Use a circular cookie cutter to stamp out circles from your cakes. I've found the sweet spot to be 58-78mm circles. Smaller than that, the tower is really unstable; larger than that, and the cake looks stumpy. I used 68mm for most of the cakes pictured here.
You will have scraps left over. If you don't want to throw them out, put them in a freezer gallon bag and save them to make cake pops. Or snack on them while you're making the frosting. (This is what I usually do.)
6.) Make frosting. For Betty's recipe, I beat together the powdered sugar, butter, and vanilla, then slowly added the milk, stopping as soon as it looked like frosting.
Stack your layers, putting frosting in between each layer to help them stick.
7.) Top with fresh strawberries, or whatever else your heart desires.
These ones wound up being very sweet, so I deconstructed the layers partway through eating and added pink peppercorn. That was a solid call, would do again.