We're not sure of the genesis of the idea that owning a bunch of things of the same type is somehow a hobby, but nonetheless, it's a real thing and many of us participate in it! From the ostensibly refined collections like coins and stamps to the esoteric like taxidermy, there's a wide world of stuff to gather out there! That said, most of us just own very specific types of books, but we thought you'd be into that too.
Heather, Senior Editor: International Harry Potter books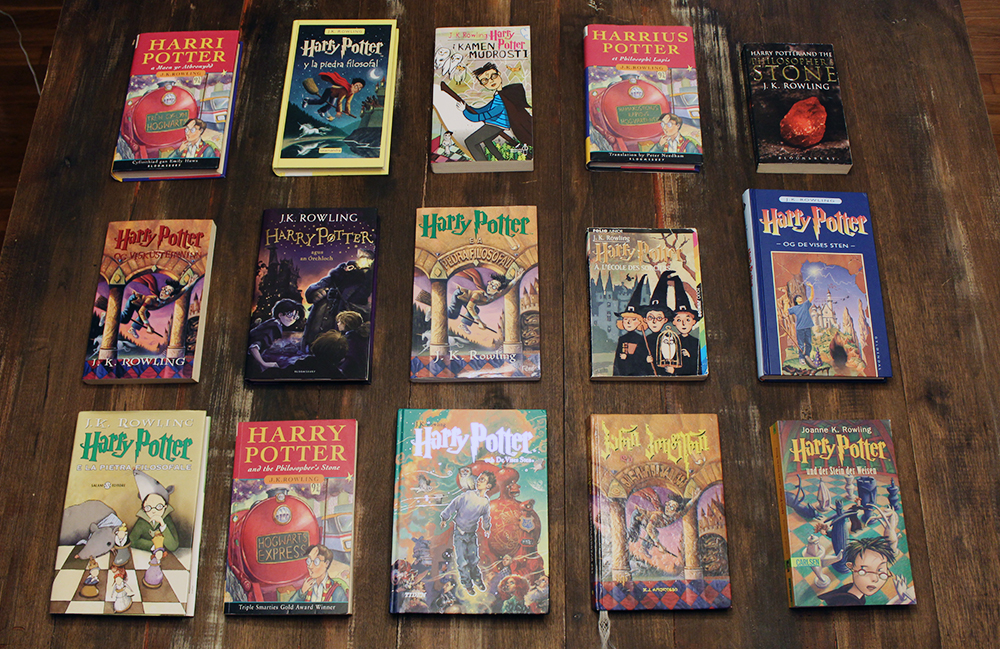 I think I wrote about this a little for a Queer IRL gallery or maybe even another roundtable, but it's the only thing I collect and I never tire of talking about it, so: international Harry Potter books. I've written about Harry Potter all over the internet in so many ways for so long you don't need me to rehash it. It's just the most important book series of my life, is all, and what I clung to like a life raft when I left the Baptist church. When the books were actually still in progress, I started traveling internationally for the first time. I'm not really big on souvenirs but it was a transitional and transformational time in my life and I wanted something to show for it, so I started buying a copy of Harry Potter and the Philosopher's Stone in every country visited. And then it became a thing and my friends and family started picking up copies for me in all the countries they visited. Most countries have either the UK Bloomsbury covers of the US Scholastic covers, but some countries have their own covers with completely different art and lettering. My favorite one in my collection is the French one because I had run out of time in France and hadn't found a bookstore and on my way to the train that was taking me to Switzerland I stopped by this little outdoor shop and there it was! Waiting for me! But the most prized thing in my collection is my autographed copy of The Casual Vacancy, which I have also written about before and so I will spare you a tenth recounting but it was one of the most special nights of my life when I met J.K. Rowling and I will always treasure that memory and that book.
II started collecting these books in 2005 and there's really no return on my investment unless you count happiness, which I do, and so I am a zillionaire from them. This picture is as many versions as I could fit on my kitchen table. I have about 45 international Harry Potters, total.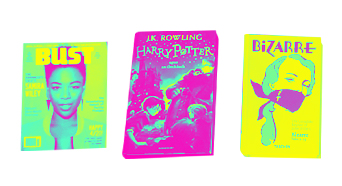 Riese, Editor-in-Chief: Books generally, Lesbian/Queer Books specifically and also Lesbian Magazines
I collect books. Full stop, period: books. When you say you "collect books," it justifies spending tons of money and filling half your apartment with books. I highly recommend it. You can see my robust bookshelves as they appeared where I used to live in the Queer in the Stacks roundtable. I had to cull down my collection before moving back west, which was like severing several limbs, but also cleansing in a way.
I also specifically collect LGBTQ & feminist books, including really old books that tried to scare people away from being homosexuals.
Furthermore, I collect lesbian magazines — old and new. I've got a robust collection of Curve, Diva and GO, but I also often pick up single-issues of mainstream magazines that contain important LGBTQ stories, like Jillian Michaels coming out in 2009, Portia & Ellen's wedding EXCLUSIVE in People Magazine, the 1993 Newsweek cover story "Lesbians: What Are The Limits of Tolerance?" and, most recently, Lena Waithe on the cover of Vanity Fair. The picture above is maybe about 25% of my collection. When I'm rich one day I'll start building up my collection of vintage lesbian magazines, which is pretty weak at the moment. They tend to be very pricey on ebay. Also, carrying so many magazines around from one apartment to another is a real test of devotion to one's collection, I'll tell you what.
Tiara, Staff Writer: Darren Hayes / Savage Garden Music & Merch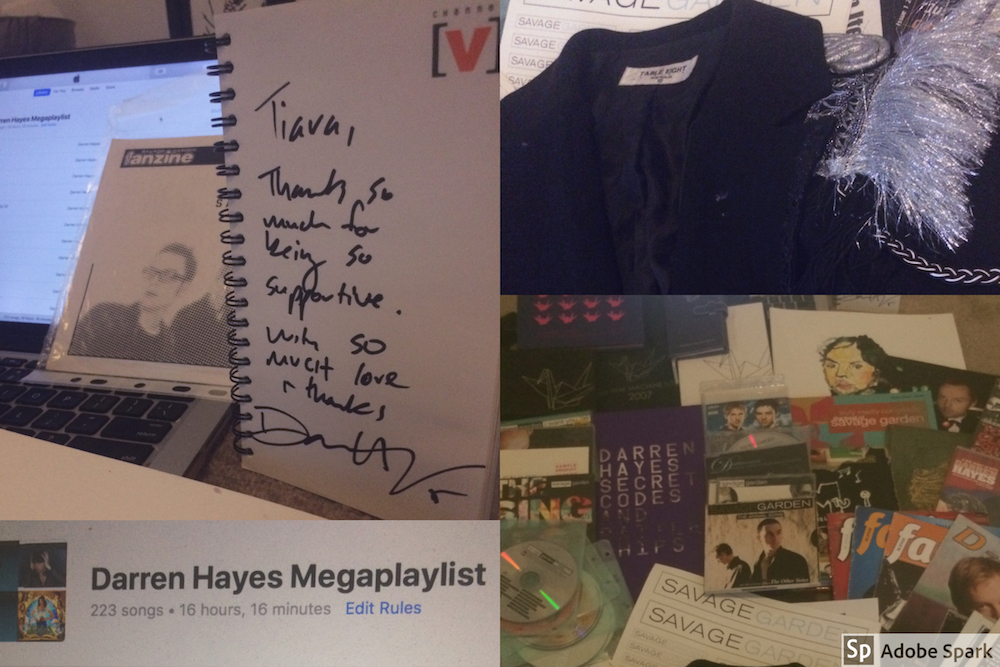 I have been a superfan of Savage Garden, and Darren Hayes in particular, ever since listening to To The Moon & Back when I was about 12. His music has always (eerily sometimes) been the soundtrack to my life. He's a large reason why I got into performance art (and why I also moved to Australia), and possibly the reason I'm queer.
My main collection's his songs — everything he's ever written or sung, whether as part of Savage Garden or solo or on side projects like We Are Smug. He's VERY prolific, especially with B-sides and tracks that didn't end up being part of his albums, which are often my favourites! I have over 200 tracks and counting, and there's still a handful I'm trying to track down. I also have a growing collection of his merch, mostly stuff that's special edition (such as the limited-edition LP presses of his last album Secret Codes and Battleships, which includes a code I haven't cracked yet!!) or things from my days as a member of his official fanclubs. There's even a diary where I attempted to make a fan scrapbook (which was really popular within the fandom in the late 90s) – it didn't quite work out, but I kept the work in progress!
One of my best friends used to work as a music TV VJ and got to interview Darren — I sent her long emails with interview questions and research, and she asked him every single one. She even got him to send a personal message to me (by video and via a signed notebook) and even snuck through an advance copy of his first solo album Spin. When I watched the interview on air some time later it closed off with Darren saying "this is the best interview I've ever done" — my proudest moment.
Some years ago the Queensland Museum opened up an exhibition of local people's collections, and mine ended up being displayed for a year. The community workshops around these were held in Logan, Darren's hometown, especially apt! Last year, as part of a major performance project, I finally got around to recreating one of his iconic jackets . It's now probably my most favourite thing in my collection, though it is something I made!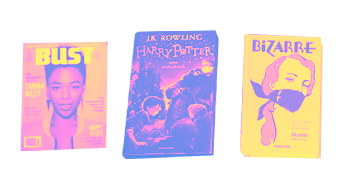 Molly Priddy, Staff Writer: Gemstones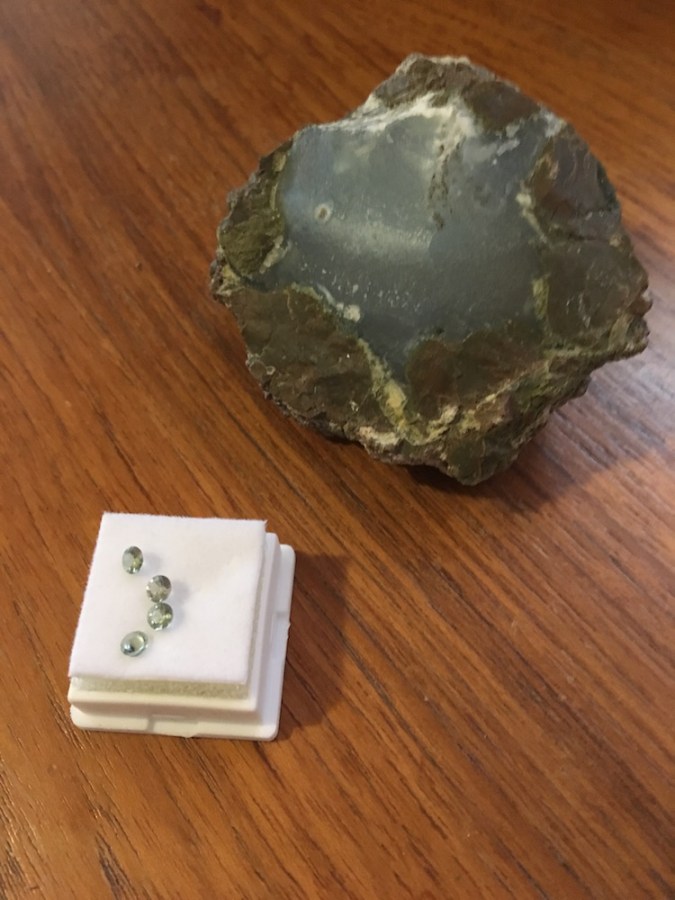 I've loved gems and rocks ever since I was a kid, and now that I am adult and make my own purchasing decisions, I've acquired a nice little collection of loose gemstones that I like to look at. Yes, I'm a dragon, no, I don't plan on making them into jewelry, and yes, I have a little pouch for them. The stones pictured are my most recent additions: a raw agate and a few green sapphires. Also, when I was a kid I collected turtles, but that collection is now spread across seven nieces and nephews.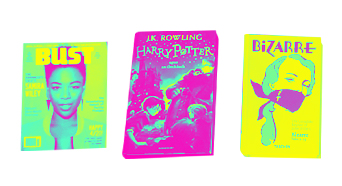 Laura M, Staff Writer: Waving Cat Figurines
I have a small collection of waving cat figurines set up on my bookshelf to greet me whenever I walk in the front door.
There are a lot of origin stories for maneki nekos, but the most popular one is this: A Samurai was walking by a temple one day and noticed a cat beckoning to him. As he began moving towards it, the tree behind him was immediately struck by lightning. The Samurai was struck with how lucky he was that the cat saved his life, so… he began making clay cat figurines en masse? I don't know, the story is a little fuzzy on that point. Regardless, these lucky cats are a thing! I think they're pretty cute.
Carrie, Staff Writer: Peau de Loup Button Downs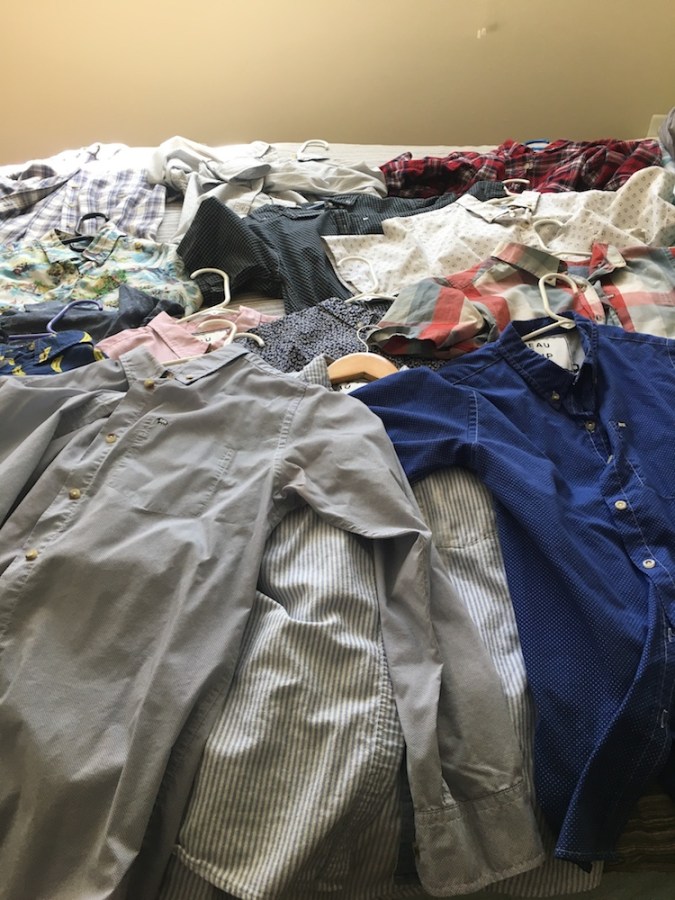 If brand loyalty counts as a collection then I definitely fit the bill here. I didn't accumulate this sheer mass of shirts from the same company on purpose; it just kind of happened and when you find the one that fits, you find the one that fits, y'know?
I didn't think I could wear button downs until I found Peau de Loup. And not just because of the all-too-familiar "boob gap" issue. My spine is, shall we say, uniquely shaped and pushes my torso forward, so even though my chest is relatively small, it ends up straining even the most well-meaning traditional shirts. Enter PDL. Now I wear these basically daily, at work or at play, and they've opened up a whole new realm of fashion as I've built outfits around them (hello, patterned suits, where have you been all my life). They've helped me gain confidence and grow into my aesthetic self more than I ever thought I would. This is what it means to feel comfortable in your clothes.
My favorite PDL is definitely the banana shirt, but the one that looks like a bunch of upside down Republican party logos is going over really well in DC right now.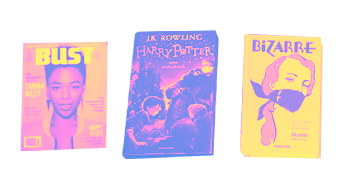 Carolyn Yates, NSFW Editor and Literary Editor: Old Weird Queer/Sex Books
Moving between cities in Canada and then to Los Angeles and lately again in Los Angeles to somewhere much smaller means that my book collection has been in a constant state of division or deletion, which is too bad since I tend to feel if I don't have at least one entire wall of books in my house I'm doing it wrong. Lately I'm a library kinda girl, but the books I'm still into collecting are vintage queer books or sex books, like lesbian pulp fiction, or collected (mostly hetero) (so far) BDSM journals from the turn of the century, or titles like The Sexual Key to the Tarot.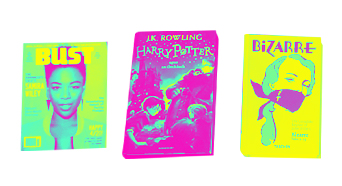 Stef Schwartz, Vapid Fluff Editor: My Ex's Friends
FUNNY STORY: three of the people I consider to be my best friends on this earth are people who used to be close friends with my significant ex girlfriends. I swear to you I did not steal them on purpose! In each case, they were friends who lived in Brooklyn and we ran into each other from time to time and we cautiously interacted without drawing lines in the sand until SOMEHOW I won them over with my winning personality (and none of them talk to my exes anymore). I like to joke that stealing my exes' friends is my superpower, and if we broke up and I didn't steal any of your friends, you should probably think about your friends.
Alexis, Staff Writer: Poetry Books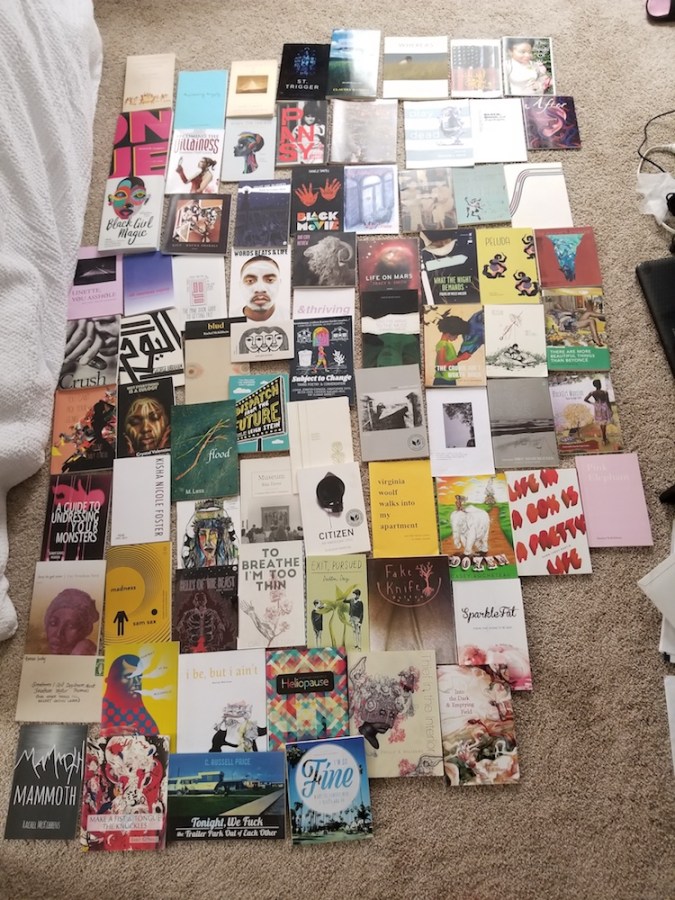 Poetry books. Whenever I hear one of my favorite poet's poet has a new book, I'm like, well I need to get that immediately (which is like within the year). I think I've only been collecting since I've gotten out of school, because I remember Langston Hughes, Dr. Maya Angelou and Edgar Allan Poe being my main favorites. Like I talked about Langston Hughes so much my English teachers begged me to pick a different poet for one of my final projects and that's kind of how the collection began. She gave me Museum by Rita Dove after a rounding rendition of "Who's that Doggy in the Window?" by the entire department, so I thought it was special enough that I keep going. My mom has always been an advocate of collecting books (a little less so since she has Kindle, in that she's more about borrowing than owning) so it's also a comforting thing from when I was a kid. I've invested…a lot of money into poetry books, especially when I can get them signed by the authors and stuff. I actually cannot tell you which one means the most to me because when I go to pick one from my shelf, fifteen come along with it. If there was some way I could physically carry all these books with me wherever I could, I'd do it, I love them so much.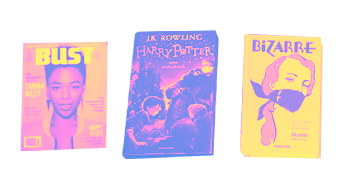 Valerie Anne, Staff Writer: Funko POPs
I think I've always had a collection. When I was little it was keychains – I had a huge box of them and my dad would bring me one from every city he visited. I had ones that made noise, those ones with cheesy phrases from Spencers, tons of them. I don't remember why. My brother and I sort of collected Beanie Babies but considering how hard we played with them I think it's more accurate to say we amassed them. For a while after high school there was no point in collecting things; I moved every 8-12 months for 7 years. But after a few years in my current apartment, I suddenly found myself with a new collection: Funky POPs. It started when they announced they were making Orphan Black POPs, and the little Cosima was too damn cute to pass up. It spiraled from there. They can run anywhere from $10-25 for the solo ones, more for Exclusives or sets, it really depends. Hot Topic sells them and sometimes have sales, sometimes you can find them on Amazon, but some are only available at certain Comic Cons and events. I'm very particular about who I buy though; this isn't just a "gotta catch 'em all" situation for me. So far all of my POPs are women except Felix from Orphan Black. They're all from my favorite shows (or, in the case of the new Ghostbusters, movie) and are arranged so they're hanging out with their friends. I keep them in their boxes because I think they display better that way, and I have most of mine on shelves in my room (though I recently ran out of space and need more shelves.) I do have two at work, one because my secret santa gave me a Cosima which I obviously already had so my clone of a clone stays at work, and the other is Jessica Jones because my best friend at work, Jess, changed jobs, so my mother sent me Jessica Jones so that I would "still have a Jessica at work" with me. I think they're worth the investment because they make me very happy and are displayed like art in my home, not just in a box to occasionally be perused like my keychain collection. I feel like they represent me as a person because of how curated they are, and it's fun that the collection will never really be "complete" because even one character can have a bunch of different POPs because they will have special outfits or props. (For example, I have a regular Rachel Duncan and a Rachel Duncan with a pencil in her eye.) My most prized piece in my collection is my Buffy/Faith Set. My friend Nic got it for me after I missed out on getting one at NYCC, and I love them so much. Buffy the Vampire Slayer, and Buffy and Faith specifically, are a huge part of who I am as a person, and I love the characters and my POPs so much. I love their classic outfits, I love their tiny stakes, I love everything about them.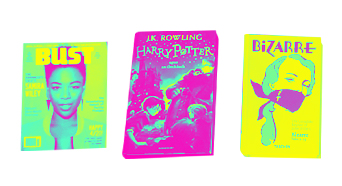 Reneice, Staff Writer: Greeting Cards
I cannot stop myself from buying cute greeting cards. I have a giant box of them in my office that I constantly add new stock to because I can't leave a good greeting card behind once I meet it. If there is a life event they make cards for, I have one, and most likely it also has glitter, a rainbow, or a pun on it. The idea is that I buy these ahead of time so that I'm always ready when birthdays and celebrations come around but what usually happens is I buy a card specifically for someone or thing, bring it home to meet its new friends, then forget to mail or sign or give the card to the person it was meant for. Sometimes I get so attached to a new card that I decide to keep it for "something special" (nevermind that I'm buying it explicitly for celebrating a special day) and use an older one, but as I flip through the other cards to find a replacement I realize I'm attached to them all. Thus I am the proud owner of a beautiful and solely aspirational collection of unused greeting cards.
Rachel, Managing Editor: Tarot Decks and Rosaries
I am sort of counting these as the same collection even though they're technically different items because I think the instinct with both is the same: owning just one is an indication that you take it seriously and it has a functional role in your spiritual life, owning a bunch makes it a fun collection! Possibly I am the only one who thinks that and the reality is the opposite. Anyhow! The rosaries are generally also souvenirs of trips, especially places with Marian significance, which I've always had a soft spot from since I was a little girl — off the top of my head I have rosaries from Notre Dame, Barcelona, and Vijayawada. The tarot decks I mostly shop for online, the kind of totally unnecessary impulse purchase that I can often justify by reminding myself that these are mostly coming from small-time indie (often queer) artists. Is that enough to make it worth spending $50 on them? Probably not, but here we are!