Hello and welcome to this thing we're trying out where we help you figure out what you're gonna put in your mouth this week. Some of these are recipes we've tried, some of these are recipes we're looking forward to trying, all of them are fucking delicious. Tell us what you want to put in your piehole or suggest your own recipes, and next week we'll check in and talk about which things we made, which things we loved, and which things have changed us irreversibly as people. Last week, we ate things that come in our CSA boxes.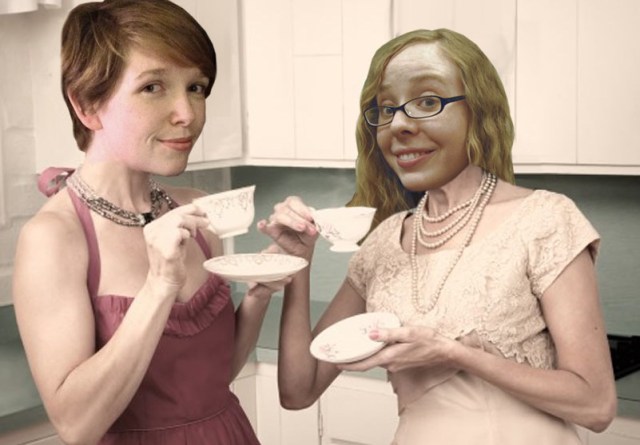 Why hello there, party people. This weekend was my 27th birthday, and to celebrate my fleeting youth and my ever-increasing amount of wisdom, I ate approximately two million funfetti cupcakes. I love funfetti because it's clearly the best cupcake in the entire world (source: duh), and they're so easy to make, but they're also kind of… plain. Don't let the sprinkles fool you. They're just for color.
Every once in awhile I get the urge to be a little bit fancy and make fancy cupcakes that take more than a box mix. Cupcakes are the perfect vessel for fun and surprising flavor combinations. They're quick to bake, take way less effort than a cake and are exactly what every party needs because you don't have to get fussy with serving them.
Here's a list of 27 of those for the next time you're feeling a little fancy, too:
1. Chocolate Beet Cupcakes with Cream Cheese Icing
---
2. Carrot Cake Cupcakes with Dulce de Leche Buttercream
---
3. Gluten-free Cinnamon Roll Cupcakes
---
4. Charlie and the Chocolate Factory Vegan Cupcakes
---
5. Lemon Raspberry Cupcakes
---
6. Sugar Cookie Cupcakes
---
7. Apple Cupcakes with Caramel Buttercream
---
8. Peaches and Cream Cupcakes
---
9. Peanut Butter Chocolate Vegan Cupcakes
---
10. Coconut Lime Cupcakes
This flavor combination in a cupcake: my personal dream.
---
11. Gluten-Free Strawberry Cupcakes
---
12. Samoas Cupcakes
---
13. Chocolate Peanut Butter Cookie Dough S'more Cupcakes
---
14. Strawberry Margarita Cupcake
---
15. Vanilla Bean Cupcakes with Vanilla Cream Cheese Frosting
---
16. Creamsicle Cupcakes
With washi tape flags! My heart melts.
---
17. Honey Chamomile Cupcakes
---
18. Nutella Cupcakes
---
19. Ginger Zucchini Cupcakes with an Orange-Spiced Cream Cheese Frosting
---
20. Root Beer Cupcakes with Cream Soda Frosting
Root beer is my favorite thing in the world, so these look extra delicious to me.
---
21. Cookies and Cream Cupcakes
---
22. Strawberry Cupcakes with Strawberry Meringue Buttercream
---
23. Vegan Fall Acorn Cupcakes
---
24. Mocha Cupcake Recipe
---
25. Red Velvet Cupcakes
---
26. Chocolate Guinness Cupcakes with Bailey's Buttercream Icing
---
27. Ice Cream Cone Cupcakes
I have an intense soft spot in my heart for ice cream cone cupcakes because my sorority used to make them at retreats. They're soooo yummy. The cone adds that extra bit of crunch and sweetness. Yum!
---
What's your favorite cupcake recipe?