Yo, whatever. This sounds way fancier than it is; ultimately, it's no different than preparing a roasted whole chicken, it's just smaller. And if you've never done a whole chicken, you should! My brother roasts a chicken every weekend—you have ample leftovers for weekday lunches and can make a great stock with the collateral damage. If you need stock tips (but not the lucrative ones), hit me up.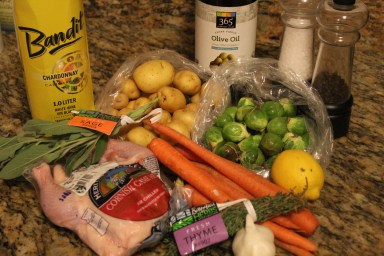 Ingredients (serves 2)
1 whole Cornish game hen (or one per person if you're really hungry)
1/2 lb potatoes (red, fingerling, whatever)
6-8 skinny carrots
1/2 lb Brussels sprouts
Fresh thyme
Fresh sage
1 lemon
1 small bulb of garlic (small!)
White wine (sub in veggie or chicken stock if you don't roll that way)
Salt & freshly ground pepper (I use kosher salt or sea salt in a grinder)
Olive oil
Optional deglazing sauce:
Half of a small shallot, finely diced
Chicken stock
Small knob of butter
Directions
It's not complicated.
Preheat the oven to 400. Start out by quartering your potatoes (lengthwise, widthwise, whatever!) and peeling/cutting your carrots. You want the potatoes to be roughly uniform in size (about an inch at their thickest), and the carrots to be about 2-3 inches long and relatively skinny (so leave the ends as they are, then halve/quarter the thicker parts). Pick about 3 tbsp worth of thyme leaves.
Marni's thyme tip: working with one twig at a time, pull against the grain of the branch to free the leaves most efficiently.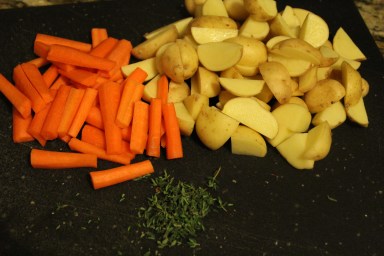 Throw all of that into a roasting pan or glass casserole dish, splash it with about 1/4 cup white wine (or stock) and sprinkle with salt & pepper. Mix that up and throw it in the oven to get it going, since the bird is small enough that the potatoes will take a bit longer and you are all about timing!
Get your bird out. If you want a crispier skin (and this goes especially for roasted chicken), remove whatever weird shit you have to remove (neck, organs, excessive fat pieces), rinse it inside and out with cold water, and dry it thoroughly with paper towels. Save whatever bits you can for stock if that's your plan. Salt it all over (including inside the cavity) and let it sit in the fridge on a wire rack over a baking sheet for as long as you can (overnight for a large bird). This is called "dry brining" and really makes the skin crispy and the meat juicy. If you're like me and, unless it's a special occasion like Thanksgiving, forget about that kind of shit until you're already cooking, then don't worry about it: rinse the little bugger and dry it off.
Take your little garlic bulb and halve it horizontally, setting one half aside for use. Because the hen is so wee, cut your lemon into quarters and set two aside for stuffing. Pluck off 4-5 sage leaves.
Shove all of that into the cavity. Using butcher's twine or whatever string you can find (as long as it's not dyed), tie the legs together over the open cavity to help keep all of the bird's meat and cheese from spilling out everywhere. Salt the entire hen liberally.
I don't make the rules, you know? You can get creative. Don't like sage? Use different herbs! Use an orange for all I care. It's hard to get this wrong.
Prepare a little dish of olive oil and add some more fresh thyme, salt, and pepper.
After your potatoes have been in for 10-15 minutes, take them out, stir them around and place the bird directly on top of that ish. Make sure the wings and the little fat flap over the neck opening are tucked underneath. Brush it all over with your herbed oil. Stick it back in the oven and set the timer for about 30 minutes.
Aside: When a Canadian buddy of mine was visiting during Canadian Thanksgiving a few years ago, I prepared Cornish game hens for the first time and researched it a little first. Per my internet findings, I draped bacon slices over the breasts to prevent them from drying out. It was delicious, but it also caused the smoke alarm to go off a lot. I haven't done it since and haven't noticed an appreciable difference.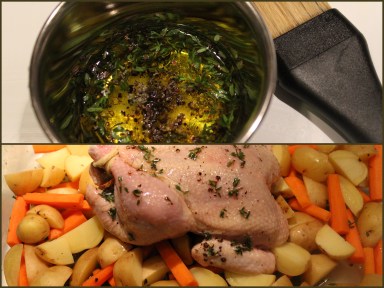 Once the bird is in, clean up your shit. It's so nice when you finish preparing a big meal and look around and have almost no dishes to deal with. Cut off the Brussels sprout nubs, halve them, and throw them in a bowl. Add a glug of olive oil, some salt and pepper, and mix it around. When your timer goes off, check on the situation – it should look like the carrots have started to caramelize and the potatoes are pretty soft and maybe even browning a little at the edges. If it doesn't look like that, give it another 10 minutes or so. Once you feel emotionally and spiritually ready, pull it out and add your brussels sprouts to the mix. Stir it around and stick it back in. Set your timer for another 15 minutes.
At this point it's all feeling. You decide when it's time, you know? If your timer goes off but you're not convinced, put it back in! You are the master of your domain. You could also use a meat thermometer in the thickest part of the thigh (165° F/73.8° C). Once you're convinced that your poor little bird just can't take anymore because it's a child, it's just a child, then remove it to a cutting board and tent it with foil. The little guy needs to rest for some minutes. It's been a rough night.
Optional Next Level: Remove your vegetables to a bowl and cover with foil to keep warm. Splash some wine into your baking vessel and scrape up everything you can. Heat a small pan to medium heat and transfer your pan drippings (if you're using a roasting pan you can actually just skip the smaller pan and do all of this in the roasting pan directly over a burner).
Mince half of a shallot and throw it in. Once it's reduced a little, splash in some chicken stock. Reduce some more. When it looks just about ready, stir in a small knob of butter to make it even richer and more delicious. I mean I say this is optional but I don't really believe that, you know? Do this.
After the hen has rested for 5-10 minutes, remove the string and cut the whole bird in half, splitting it through the breastbone and spine. This may require some confidence. You can do this! You've already gotten this far; just grab your chef's knife and go for it. Right down the middle. I believe in you. Once it's lying there in two halves, defeated and humiliated, remove the contents of the cavity, grab a plate and serve up a nice portion of your vegetables. Add one half hen and finish with a few spoonfuls of sauce. Serve with white wine and a smile.