As we all speculated, the Gay Girl in Damascus was not who she claimed to be. It was a 40-year-old man from Georgia (the state in America) named Tom MacMaster. He's from Georgia, was in school in Scotland (where the IP address was) and most recently spoke to the press from Istanbul, Turkey, where he is vacationing with his wife. None of it was true.
He never expected so much attention on his blog but apparently when he got it he just couldn't stop. Here he is!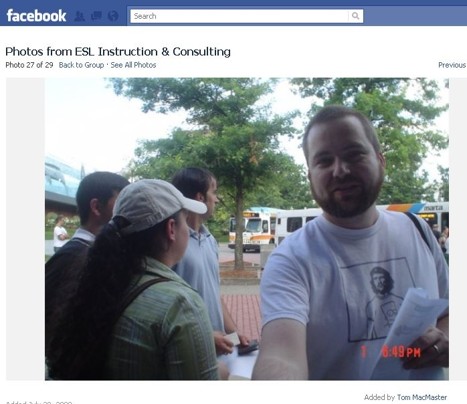 An "apology" has been posted on the Gay Girl in Damascus blog, suspiciously absent of explanations like "why" and "don't you feel guilty about riling up THE ENTIRE COUNTRY about your alleged kidnapping?"
He still thinks he did a good thing by staging the blog. I don't know if he's worthy of a "whatever helps you sleep at night, dude," but well — read it.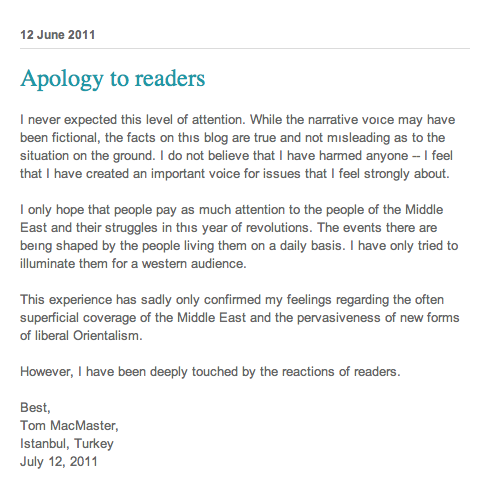 Hear that? He's deeply touched!
Blogging in Syria has been forbidden for eight years, according to Gay Middle East.  I think that Sami Hamwi says it best in that Gay Middle East article which I suggest you read in its entirety:
"To Mr. MacMaster, I say shame on you!!! There are bloggers in Syria who are trying as hard as they can to report news and stories from the country. We have to deal with too many difficulties than you can imagine. What you have done has harmed many, put us all in danger, and made us worry about our LGBT activism. Add to that, that it might have caused doubts about the authenticity of our blogs, stories, and us. Your apology is not accepted, since I have myself started to investigate Amina's arrest. I could have put myself in a grave danger inquiring about a fictitious figure. Really… Shame on you!!!"
ETA: The Washington Post has a more detailed article about this asshole:
MacMaster, a Middle East peace activist who is now working on his master's degree at the University of Edinburgh in Scotland, wrote that he fictionalized the account of a gay woman in Syria to illuminate the situation for a Western audience. Amina's story may have remained believable, but he wrote of her arrest, his fans — in a desire to help the woman they had grown to care about — found a trail of evidence that led back to MacMaster.
In telephone interviews and e-mail exchanges with The Post over the past three days, MacMaster initially denied any connection to Amina. He insisted he had never heard of her before the news of the arrest and that he had been unaware of the blog.
"Look, if I was the genius who had pulled this off, I would say, 'Yeah,' and write a book," said MacMaster, reached in Istanbul, where he is vacationing with his wife, a graduate student working on a PhD in international relations.
ETA Monday 10am PST: MacMaster has released a more extensive apology on his blog, in which he sounds pathological and confused and still not entirely sympathetic:
Ever since I was a child, I've wanted to write fiction but, when my first attempts met with universal rejection, I took a more serious look at my own work and I realized that I could not write conversation in a natural way nor could I convincingly write characters who weren't me. I tried to get better and did various exercises (such as simply copying overheard conversations). Eventually, I would set up a number of profiles on dating sites with identities that were not my own as ways of interacting with real people in conversation but with a different personality than my own.
And on and on:
I didn't mean to harm anyone who is upset. I didn't mean to hurt the causes which I myself believe in. I didn't mean to malign anyone. My intentions were good; I got carried away. I owe apologies to those I hurt and will do all in my power to make things right. I only wanted to set forth real information through the use of artfully crafted fiction. I was too successful and I was too caught up in what I was doing. I ignored the consequences of my action.