I was gonna start this off by complaining about how many shitty DJs there are, but I don't want to start with a tone of negativity, because the mixtape I'm about to share with you all is a ray of delicious sunshine.
I was poking around Homoground, a music blog/podcast of queer music, and found DJ Lil Ray's most recent 20minmix (Okay it's 24 minutes). IT IS SO GOOD. I plan on playing it on repeat whenever I'm getting my pre-game on. She fits in 16 tracks, mixed pretty freakin well, all of which are perfect for getting down with your bad self. It is oh-so-appropriately titled "Bad Girl Workout Plan." Of course, it would have been ideal if I'd gotten this out to y'all before the weekend, but for all you weeknight drinkers, GET THIS ON YR STEREO NOW. For the rest of you, it can wait til Thursday or Friday I suppose. Actually no it can't. Right now. On your stereo.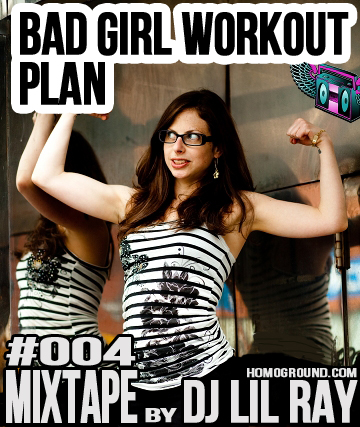 Bad Girl Workout Plan by djlilray
Track list:
1. Funkerman – Brooklyn In Da House / Fake Radio One Skit
2. Chemical Brothers – Swoon (Boys Noize Summer Mix)
3. Sleigh Bells – Tell 'Em (Diplo Remix)
4. Stupid Fresh – Do The Dog (Rico Tubbs Remix)
5. AC Slater – Take You Feat. Ninjasonik (Drop The Lime Remix)
6. Alex Metric – Shirley You Can't Be Serious?
7. Tittsworth – Tear the Club (Steve Starks Remix)
8. DJ Mujava – Mugwanti (R3hab Remix)
9. Martin Solveig and Dragonette – Hello (Sidney Samson Remix)
10. Douster and Savage Skulls Feat. Robyn – Bad Gal (Crookers and Douster Caliente Edit)
11. Mohombi – Bumpy Ride (Chaosz Bootleg)
12. Timbaland Feat. SoShy – Morning After Dark (Wolfgang Gartner Remix)
13. Fukkk Offf – More Than Friends (Congorock Remix)
14. Chaka Khan – Ain't Nobody (Kid Kaio Dirty House Bootleg)
15. Jason Herd Feat. Roland Clark – I Feel Good (Juan Kidd Remix)
16. Dirty Money Feat. Swizz Beatz – Ass On The Floor (Party Break Remix)
Homoground's bio of Lil Ray:
"Lil Ray was a frowny, humorless activist who took refuge from the sad, sad world at dive bars and dance parties. She gave community organizing a shot (and turns out that party planning is basically the same thing). Then, when they learned that she's a walking music encyclopedia, her friends told her to try this DJing thing. Six months later, she was in over her head with a weekly Saturday night dance party of her own. This was in Atlanta. A year later, after some shit went down, which is a whole 'nother Oprah, she moved to Brooklyn and tried her hardest to get some kind of nonprofit job. When that didn't work at all, she fell back on her side project, the DJing, and things fell into place. You can find her bouncing around from dive bars to lounges, queer parties to vegan parties, women's shelters to kids' basketball tournaments, and anywhere else with a soundsystem…or even an electrical outlet. Life is much more fun for Lil Ray now."
More Lil Ray on soundcloud, twitter, facebook, and her website.
As a closing note, Bumpy Ride is my new jam.