INTELLIGENCE GAP: The American Family Association has announced they will put their boycott of the Gap on hold for the weekend … because "a Gap official has reported to the pro-family group that it will unveil a new Christmas-themed commercial this weekend. " Bet you didn't even know this whole thing was happening to begin with, yeah?
Well, here's how it started: On November 11th, the American Family Association announced a Gap Inc boycott because for years Gap has ignored the AFA's request to reognize Christmas in its ads.
Last year, Gap issued this politically-correct statement to Christmas shoppers: "Gap recognizes that many traditions are celebrated throughout this season and we feel it is important to display holiday signage that is inclusive to everyone."
Christmas is special because of Jesus. It's not just a "winter holiday.wp_postsFor millions of Americans the giving and receiving of gifts is in honor of the One who gave Himself. For the Gap to pretend that isn't the foundation of the Christmas season is political correctness at best and religious bigotry at worst. The Gap is censoring the word Christmas, pure and simple.
"I interpret Gap's decision as a warning sign to Christians to get out there and tell people about Jesus Christ," writes the exec. assistant to the president of the AFA. That's fucking scary.
However, as Dan Neil of the LA Times pointed out — they're wrong! Gap does highlight Christmas, like all over its boxer shorts?
Anyhow, The Virgin Mary is such a f*cking stage Mom, it'd seem.
INTERN ARMIES: One area of the job market continues to boom — UNPAID INTERNSHIPS! That's right, all ye ingrates, the unpaid internship market is a'flutter! In boom times, companies with too much work for existing employees — yet not enough work to justify another hire — may have turned to temporary workers. But with the economy still in the doldrums, companies again are opting for unpaid or low-paid internships to get the extra work done. The article cites a company that charges $799 to place clients in unpaid internships. ""A company gets as much from an intern as the intern gets from the company — if it's a good internship." (@nytimes)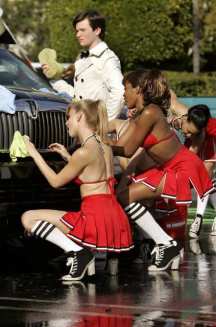 GLEE: Is Glee anti-Christian? This author heard her pastor say so and goes on to make a good case against him, by highlighting encouraging things like the episode where they all had to move around in wheelchairs. The fact that Glee is about a club full of misfits already makes it ripe gospel ground; Jesus was not likely to be sitting at the cool kids' table in the cafeteria. (@time)
SAN FRANCISCO: Entertainment Commission Becomes Powerful Force: Terrance Alan, a member of San Francisco's Entertainment Commission, was granted day-to-day control over "the rowdy popular clubs that, owners estimate, represent $1 billion of the city's $8 billion in annual tourist revenue." 57-year-old Mr. Alan's resumè includes starring in low-budget gay porn, owning strip joints and teaching handicapped children. "Mr. Alan's muscle is being viewed warily by many who wonder how the commission will use its new power." (@nytimes)
SAME SEX MARRIAGE: In Australia, senator says Gay Marriage is Like Incest: "A bloke cannot marry his brother; it is not right,wp_postsFielding is reported saying in The Age. "A woman cannot marry their sister; it is not right. A bloke cannot marry a bloke because it is not right, and a female cannot marry a female because it is not right. I don't support this.wp_posts(@samesame)
SHOPPING: I used to wish my life was more like a J-Crew catalog but obviously I was confused about alot of  things back then. Dear Santa, have you seen the December JCrew? Have you ever tried this, St. Nick? Going out it lots of cute layers instead of a coat? Does it work for you? Really? Are you warm enough? Can you still move your arms? Huh. (@jezebel)
PUNKED: Sarah Palin gets totally punked by a Canadian comedian asking about socialized medicine and how to get health care out of Canada.