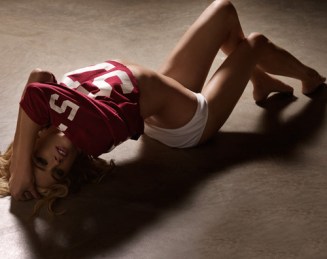 CONSTANT CRAVING: Women Who Want to Want – Studies suggest that around 30 percent of young and middle-aged women (defined as between 20 and 60 percent of women) go through extended periods of feeling dim desire — no desire for sex whatsoever — and 7 to 15 percent of all young or middle aged women (between 20-60 years old) feel depressed over a lack of sexual desire.
Lori Brottois now one of the world's leading specialists in what is known as hypoactive sexual desire disorder in women. She is in charge of defining the condition's criteria for the next Diagnostic and Statistical Manual of Mental Disorders, which is complicated especially as the chapter on Sexualty has been plagued by former snafus like characterizing homosexuality as a mental disorder until 1987.
"Women who talk about having no libido, she recalled thinking at the time, describe their disconnection and despair during sex in something of the same way borderline-personality patients talk about their entire lives."
Her methods for treatment have then been much like her strategies for treating Borderline. It's a really interesting read, and the cover story in Sunday's New York Times Magazine.
MORE ON THE LADY VIAGRA THING: In another New York Times article, we learn that 44.6 percent of those age 45 to 64 reported a problem with desire, arousal or orgasm, compared with 27.2 percent of women age 18 to 44 — but now the new female viagra might be the "elixir of love" they've been looking for.
THE FRISKY: The Frisky names Heroes' Claire & Gretchen as one of the top six couplings they'd like to see on the teevee this season! (@the frisky)
HOW TO: How to perform tribadism: Tribadism or so called frottage(dry humping) is one of the most enjoyable sex practices among lesbian women. Many lesbians find tribadism extremely arousing where you can both enjoy the sort of non-penetrating sex and have quite intense orgasm.
SEXY TUMBLR ALERT: Basically this is what you are going to do all day, just face it – things that excite me.
SEX FADS: 8 New Internet Sex Fads: From an iPhone app that measures and scores your sexual prowess to a website that's tracking where, when and how the entire world is getting laid, internet sexcessories are getting stranger by the day. (@the daily beast)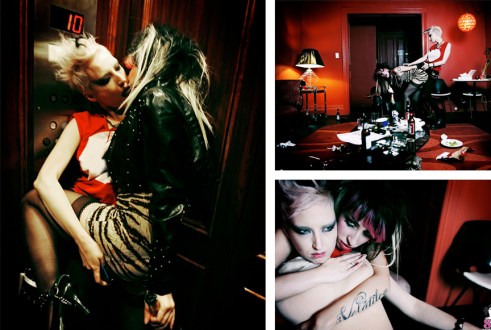 QUEER PORN:Courtney Trouble is v. excited about the release of her new film Roulette Dirty South: "… this film sets out to expose the diverity of desire through a collection of vignettes, paying careful attention to high chemistry, queer desire, and of course, incredible music by queer musicians … Roulette is a game of chance, and like the game, this film is fun, flirtatious, and full of surprises. Starring real couples, gorgeous solo acts, and Trouble's first documented female ejaculation."
SEXY TOYS: Sex Toys and I Are Back Together: "Sex toys are like online-hookups; when they are good you fall in love and fantasize about moving in with them right away. When they're bad you feel dirty and possibly end up rocking back and forth in a corner of your therapist's office petting your hair and mumbling to yourself. "(@shewired)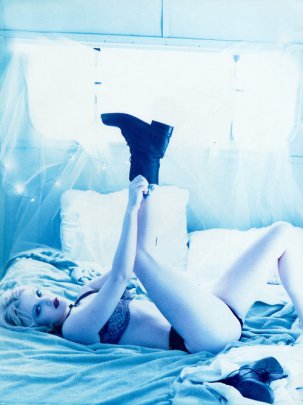 DIVA: Lesbian DIVA UK magazine has launched its XXX Lesbian Sex Website so you can go watch lesbian sex right now if you want!
MOONLIGHT: According to this writer, Twilight "represents a backlash to the 'hooking up' culture … a way for young girls to acknowledge their emerging sexuality without actually having sex," because "girls want love not just sex." BLERGH. Holy generalizations, batman! But I do understand that in high school, the social pressure on boys to have NSA sex is redic and part of our misogynistic society etc etc.
DAILY SEX: The 50 Sexiest Calendars of 2010. (@coed)
SEX WORKERS: Audacia Ray reflects on what a year of professional feminism has done for her perspective on the Sex Worker movement in the U.S., with special attention on her conversation on a group of Indian sex workers who asked: "If the movement in America has so many well-educated people in it, why haven't you collectivized? Why isn't your movement bigger and better? And if you can't do that, what hope do we have?" (@waking vixen)
DIRTY GIRLS: Rachel Kramer Bussel:"Remember when I said that my erotica doesn't sell? Well, a lot of it doesn't sell that well, at least, not in proportion to the time it takes me to edit the books/money+effort spent promoting them. But I just got yet another royalty check for Dirty Girls: Erotica for Women and was thrilled to see that since it went on sale in April 2008, it's sold over 10,000 copies, making it far and away my bestselling book (that I get royalties on). I'm so thrilled so wanted to share some information about it here." The first story in the book, Fucking Around, is by Riese who edits this here website.