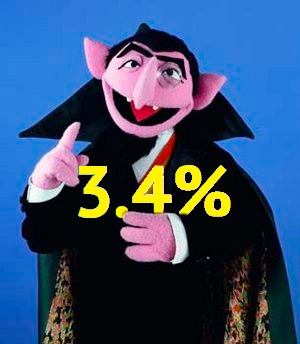 You gays! There's a new study out about how many of us there are out there and this time they're saying Club LGBT is even smaller than we thought. In what is the largest study to date of LGBT demographics in the U.S. — over 120,000 individuals were surveyed — Gallup reports that 3.4 percent of American adults identify as lesbian, gay, bisexual or transgender. Their results are similar to last year's William's Institute study that reported that 3.5 percent of the population is LGBT.
But before we get to the cold hard facts, let's take a second to talk about their methodology. When it comes to statistics, looking at the research they performed tells us almost as much as the data. In this case, Gallup added a new question to their Gallup Daily tracking interviews starting in June. Along with questions about health, politics and other demographic information, respondents were asked, "Do you, personally, identify as lesbian, gay, bisexual, or transgender?" Of course, limiting the question to those four identities and grouping them together puts constraints on the study. Our genderqueer and pansexual brethren are just as queer as we are, but many of them are excluded from the data because they don't "personally identify" as L, G, B or T.
Whether or not they're aware that their wording excludes a significant segment of the rainbow, Gallup seems to recognize its limitations and is upfront about what their data does and does not tell us. They explain that they "chose the broad measure of personal identification as LGBT because this grouping of four statuses is commonly used in current American discourse, and as a result has important cultural and political significance." They also realize that asking about self-identification during a phone interview won't result in a figure that reflects the true number of queer people in the country:
Measuring sexual orientation and gender identity can be challenging since these concepts involve complex social and cultural patterns. As a group still subject to social stigma, many of those who identify as lesbian, gay, bisexual, or transgender may not be forthcoming about this identity when asked about it in a survey. Therefore, it's likely that some Americans in what is commonly referred to as "the closet" would not be included in the estimates derived from the Gallup interviews. Thus, the 3.4% estimate can best be represented as adult Americans who publicly identify themselves as part of the LGBT community when asked in a survey context."
With that in mind, let's take a look at some of the key findings
+People of color are more likely to identify as LGBT than white respondents. 4.6% of Black interviewees, 4.3% of Asians, 4% of Hispanics and 3.2% of white identify as LGBT.
+Younger people are more likely to identify as LGBT. 6.4% of 18-29-year-olds, 3.2% of 30-49-years-olds, 2.6% of 50-64-year-olds and 1.9% of 65+-year-olds answered the interview question in the affirmative.
+Slightly more women identify as LGBT. Looking at the 18-29 age group, the gap greatly widens. LGBT people account for 8.3% of young women and only 4.6% of young men.
+LGBT people tends to have lower levels of education and income. The education cohort who identified most frequently as LGBT were those who've had some college. At 4%, they're followed by individuals with a high school education or less, college graduates and people with a postgraduate education. LGBT people also accounted for the highest percentage of the population in the lowest earning brackets. They compose 5.1% of respondents who make less than $24,000 annually.
+Individuals in domestic partnerships and single people who have never married are more likely to be LGBT. 12.8% of domestic partners and 7% of singles are LGBT while only 1.3% of married people are.
+LGBT women are just as likely as non-LGBT women to be raising children. 32% of all women have a child under 18 living at their home. 31% of non-LGBT men are raising children while only 16% of LGBT men are.
Do you know what I see here? Intersectionality! Microsoft Word might not know it's a word, but we sure as hell do and we're here to talk about it. When it comes to data like this, there's still a lot that's left to interpretation. For example, reading that many LGBT people are less educated and earn less money appears to be a dismal (although understandable, considering the history of discrimination) stat. But what if, instead of telling a story about LGBT people, it's simply illustrating facts about what it's like to be young in the U.S.? In an excellent breakdown of the education/income question, Jezebel shows how a lurking variable like age can totally change the way we see the situation. 24-year-olds (6.4% of whom are LGBT) are significantly less likely to earn $80,000 than 53-year-olds (LGBT rate: 2.6%). If we could control for age, we would have a better idea of what's going on, causality-wise.
Similarly, relationship and parent status might benefit from a little three-way table action. One interpretation of the data that shows that roughly half as man LGBT men as non-LGBT men and all women are raising kids is to assume that women are naturally nurturers and that, without the companionship of women, men are unwilling or unable to care for children. It wouldn't be the first time gay men would be stereotyped as shallow, apathetic party boys. Controlling for relationship status might reveal more about the structures of these families and allow us to consider alternatives that take custody laws (perhaps a gay woman is raising children from her former marriage to a man) or the difficulties of adoption (the high cost and various anti-gay state laws make it difficult for gay men to have children) into account.
One of the most inscrutable findings of the study revolves around race. Despite a lack of visibility of LGBT people of color in the media and, as Gallup themselves point out, enduring "stereotypes that portray the LGBT community as predominantly white, highly educated, and very wealthy," 33 percent of respondents who identified as LGBT were people of color. While it's difficult to find research that sheds much light on this outcome, this kind of information could help encourage further research on an often-overlooked segment of the community. It also helps fight back against damaging beliefs about people of color and their acceptance of queerness. The more we know about our mutual struggles and joys and our unique conflicts, the harder it becomes to tear each other down.
A larger study on LGBT identities takes us one step closer to what I hope to see happen some day soon: a queer question on the Census. It's not just about recognizing our existence, it's about knowing how to improve society. Each study written and every interview performed allows us, our neighbors and our government to know more about the queer experience. Even with its flaws, Gallup's poll — and their promise to include the question on all future surveys — is a valuable tool for finding solutions to demonstrably real problems.