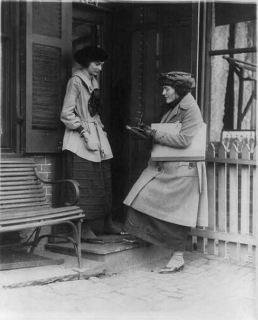 The American Community Survey is in trouble. Earlier this month, House Republicans pushed to cut funding for the long-form census, arguing that the survey is an unconstitutional invasion of privacy. So far, they're succeeding; the House voted 232-190 in favor of the Webster-Lankford amendment, a bill that, if passed by the Senate, would prohibit public funding of the ACS.
As largest government-run household survey in the U.S., the ACS is used to make decisions about public spending and policy and to measure change throughout the country. If you've ever attended a public school, travelled on public transportation, gone to the hospital, taken out a loan, driven on a road, voted, applied for health insurance, had a job or gone to the library, you've taken advantage of information compiled by the ACS.
The quiet ubiquity of ACS data is just one of the reasons conservatives are fighting to end the survey. They cite questions about respondents' home plumbing and difficulty getting dressed as proof that Big Brother has finally landed. Representative Ron Paul calls the survey "ludicrous and insulting" and warns that we "can only imagine the countless malevolent ways our federal bureaucrats could use this information."
Perhaps I'm just a child of the Information Age, but I'm actually struggling to imagine what exactly is so threatening about a survey that, at worst, will produce data that will continue to be ignored by lawmakers who are more comfortable overlooking social and economic stratification and, at best, can be used to measure the effectiveness of the government. What's more, the arguments made against funding the ACS point to a scientific ignorance that goes beyond the typical see-no-evil-hear-no-evil M.O. of the far right. In defending his position, Rep. Webster decried the $2.4 billion the survey costs to administer. "We're spending $70 per person to fill this out. That's just not cost effective, especially since in the end this is not a scientific survey. It's a random survey." Well, except that not only does the survey help government agencies decide how to spend over $400 billion in federal funds each year, it's the randomness of the ACS that ensures its statistical accuracy.
The concern over privacy, if anything, reveals a shockingly low confidence in the U.S. government from people who overwhelmingly come from groups that have experienced little disenfranchisement and discrimination. (Since we're talking about information, here's some demographic data for you: of the representatives who voted in favor of the amendment, 1 was African-American (out of 41 African-American Reps), 1 was Asian-American (out of 8), 7 were Latino/a (out of 29) and 20 were women (out of 76)). The results of the survey are confidential and don't get any more specific than the block a respondent lives on.
Which brings us to the big question behind all of this: Why do Webster and his 231 cohorts care so much about blocking information about the state of our citizens? Desert Beacon asks if it's another way for fiscal conservatives to cut back on federal programs that they disapprove of.
"Hey, here's a way to eliminate Medicaid and other federal programs! Just make it impossible to calculate how the federal funds should be distributed…  So how much funding should Nevada's Medicaid program for those in poverty receive?  Who would know?   How many Nevada schools are eligible for funding to provide for at-risk students? Who would know? How should funding for law enforcement efforts at curtailing methamphetamine use be distributed?  Who would know, because law enforcement agencies rely on datasets from the ACS to make predictive calculations."

Maybe it's the fear of having to confront fact that the America you know isn't the same America that everyone else experiences. Ignorance is bliss, they say, and it sure is easy as long as you don't have any information. Data from the ACS upsets that balance; it brings up issues that make people uncomfortable: poverty, race, immigration, disability; everything that's impolite dinner conversation. But not talking about these things doesn't make inequality disappear, it only perpetuates that myth that we've create a place where everyone is given an equal chance. When that's something you don't want to believe, having statistics that disagree with you become a dangerous thing.
Some commentators don't believe that the Senate will pass the amendment and many have pointed out that the likelihood of President Obama signing on to federally (un)funded ignorance is low. While the House vote was almost perfectly divided along party lines, some conservatives are pushing back, accusing congress of "kill[ing] data that helps economic growth" and "feed[ing] the otherwise false narrative of political extremism." Hopefully, the threat of losing the ACS will encourage its supporters and users to be more vocal in their support for the relatively-unknown survey and help make public information a public value.