Welcome to this week's edition of sick, sad, world amigx! There's a lot going on right now and a lot of us are grieving because the world is not a happy place. Bombings and shootings seem to be the norm now, and nowhere feels safe for anyone. I'm scared and overwhelmed around the clock, it seems. I never expected I'd live most of my adult life in fear, and yet here I am.
I was thinking about what to talk about this week, but everything has been so sad lately that all I've wanted to do is cuddle with my cats, post pictures of my cats, watch videos of cats, and not think about how hard it can be sometimes to be me in America every day. So that's what I'm gonna do today. I'm gonna celebrate the purest of beings this week: pets.
Is there anything as beautiful and pure as a pet? My pets have honestly saved my life. They came to me when I needed structure and routine in my life and have helped me when I feel myself spiraling out of control. They're full of love, energy, and they are so stinking adorable. My pets remind me that while there isn't much that I can control in this world, there will always be something beautiful in it. Pets are untarnished by capitalism, white supremacy, heterosexism, and all those other ugly things that make me want to sometimes sit down and just never get up again.
I have three cats, in case you didn't know — Anya, Alexei, and Buffy. They have an instagram account, obviously, because they are perfect superstars and their adoring fans deserve to be able to see them on the reg (so you should follow them).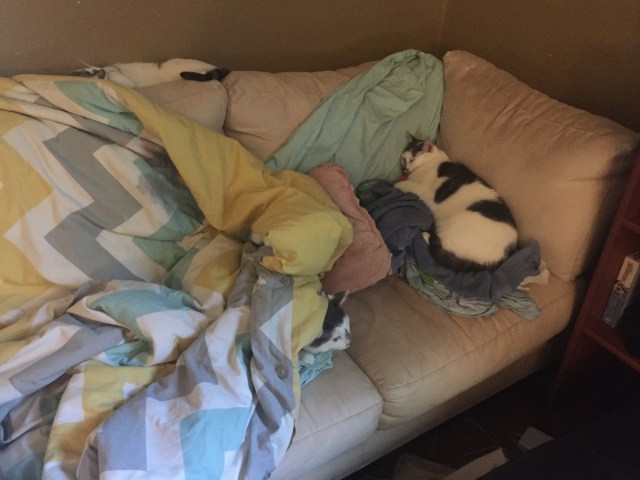 They've all got such distinct personalities: Anya is a mother hen with no time for shenanigans. Alexei is a 16-pound oval who is afraid of doorbells and people. Buffy is mean, adventurous, teeny tiny, and always running. Like, she never stops running.
I'm also taking care of myself with videos of small, adorable animals this week. Here are my top five:
Ricky
Kitten in a Box
https://vine.co/v/heY07mXh3Hx
Pippa's Got a Job
Grumpy Humphrey and the Kittens
Pot Bellied Piglets
We spend a lot of time focusing on tragedy, and it's important to talk about tragedies so that they don't happen again. But it's also important to smile and to laugh. We can't let those who wish to keep the world divided and unequal take away our joy.
How are y'all healing yourselves this weekend? How are you reminding yourselves that there is an endless supply of love in the world, even though we're reminded every day that there's also way too much hate? How are you supporting your communities? I love you to pieces and I can't wait to hear about your weeks and your lives. Take care of yourselves and each other friends. We are all we've got.
---
How To Post A Photo In The Comments:
Find a photo on the web, right click (on a Mac, control+click), hit "Copy Image URLwp_postsand then…
code it in to your comment like so:
If you need to upload the photo you love from your computer, try using imgur. To learn more about posting photos, check out Ali's step-by-step guide.
How To Post A Video In The Comments, Too:
Find a video on YouTube or Vimeo or WHATEVER and click "embed." Copy that code, paste it, you're good to go!