Feature image via r. nial bradshaw
I think summer is mostly the worst: the heat, the sun all over the place everywhere, the vague sense that I somehow ought to be enjoying fun in said awful sun, but there is one thing even a dedicated summer-hater like me has to admit is pretty great and that's tomatoes. It's like summer's way of saying "sorry it's not Fall yet". Sure, you can technically get tomatoes all year long, but the rest of the year they are just pink-ish baseballs unless you want to shell out for hothouse varieties. They're only really good when they are fresh from the vine at the peak of summer. And they are so good, just then, just now. I could more or less eat them like apples and be pretty happy, but with a little gussying up (at the very least a sprinkle of salt and drizzle of balsamic) they can be truly magical. That's why, when good tomatoes hit my store or farm stand, I think up excuses to eat them for pretty much every meal.
One such excuse is the tomato salad. Salads are great for when it's too hot to cook, but if you are eating salad every day you'll get bored of lettuce real fast. Mix it up with these tomato-based salads. Both of the salads in this article can be served as an entree for three or four people, or as a side for six. While tomato salads keep a little better than lettuce ones (and can even be improved with a couple hours marinating), if they started out really ripe they disintegrate after two or three days, so plan to eat them without too much delay.
Pesto Caprese Salad
This variation of the classic Italian caprese salad uses pesto instead of plain basil for a bit more zest. It works because of the quality of ingredients. It needs really good fresh whole milk mozzarella, of the kind we in my house call "booby mozzarella" because when squeezed it has roughly the texture and give of, well, you get the point. I also use balsamic glaze, which is the perfect bridge between that sort of legendary balsamic that is carefully aged in some Italian grandmother's basement for decades until it is the consistency of honey, and something you can actually conceivably afford. It gives you some notion of the taste of the former while costing less than ten bucks. Serve this salad with a nice crusty bread, or toss with cooked, cooled penne (I like Sam's Mill gluten-free) for a complete meal.
1 1/2 lbs (680 gr) tomatoes chopped into a rough dice
8 oz mozzarella, you can either cut it into cubes, or be lazy and buy the kind that is already cherry sized (see above. I'm lazy)
2-4 Tbsp pesto (see recipe below, or use store bought), or to taste
1 Tbsp Balsamic glaze, or to taste
Toss the tomatoes and mozzarella, then drop on pesto and drizzle balsamic glaze over it all for an artistic presentation. Just toss it all together if you don't care about pretty.
Pesto
This makes way more than you need for the salad, so you can freeze the rest or just eat lots of other tasty pesto-based dishes in short order.
2 C packed fresh basil
1/4 C pine nuts, walnuts, or some combo (pine nuts are traditional, but expensive and the other flavors in pesto are so strong that it doesn't make that huge a difference if you use walnuts instead)
2-3 cloves of garlic
1/2 C olive oil
1/2 C grated parmesan cheese
Put everything in the bowl of a food processor or blender and whizz them together until they form a smooth paste. If you are using a blender, you may need to add ¼ C of plain water to make it chop and mix properly. It will be just as tasty, but it makes it sort of creamy, as you can see below.
Shrimp Bacon Avocado Salad
It is a truth universally acknowledged that either avocado or bacon make everything (except most desserts) better, so put them together and it's really magic. Here the creamy smoothness of the avocado sets off the crispy, smokey bacon which adds depth to the sweet tomatoes and shrimp. It's perfect with some cornbread for a semi-fancy summer supper.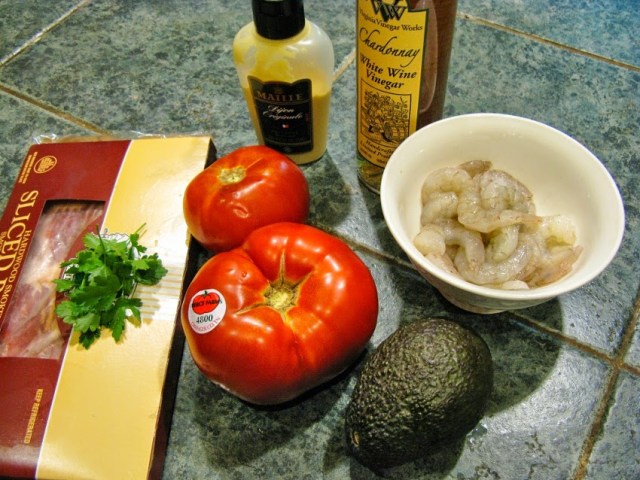 4 oz shrimp, peeled and deveined
1/4 tsp sea salt
2-4 slices bacon, cut into small-ish pieces
1 1/2 lbs tomatoes, chopped into a rough dice
1 avocado
2 Tbsp fresh parsley, chopped (optional)
1-2 Tbsp dijon mustard
2 Tbsp olive or grapeseed oil
1 Tbsp white wine vinegar
In a small bowl, toss shrimp with salt and set aside.
Put bacon in a skillet then place skillet over medium-low heat and cook until bacon is crisp, 5-10 minutes, then remove bacon to paper towels to drain, leaving the fat in the pan.
While bacon cooks, put tomatoes in a large bowl then add diced avocado and parsley. To keep avocado from browning, rub a small amount of vinegar or lime juice onto the knife before you cut it.
After the bacon is done, add shrimp to the skillet and turn heat up to medium. Cook, turning once, until they turn pink and are opaque, about 1-2 minutes each side. Add shrimp and drained bacon to the salad, take the skillet off heat, and drain all but about 1 Tbsp of fat from the skillet.
Add oil to the skillet and stir to combine, then add mustard and vinegar and whisk until you have a smooth dressing. Pour the dressing over the salad and toss to combine.
So go forth and make the most of the brief bit of perfection on Earth that is the summertime tomato.