Want to spread some tarot love this holiday season? Treat your friends (or yourself) to some handmade woo with these self-published tarot decks and handcrafted accessories!
Tarot and oracle decks
The Dark Goddess Tarot by Ellen Lorenzi-Prince | This one's been on my wish-list for over a year. Each card is illustrated with goddesses and mythical female figures from diverse cultures, unabashedly celebrating witchy women of the world.
The Emily Dickinson Tarot Deck | I'm so happy this deck exists I can't even type straight.
Unicorns of the Universe Tarot by Rebecca Shoenecker | A gorgeous, accessible and colourful tarot deck with a sense of humour:
The decks' creator worked hard to tame the wild, mystical Unicorn. It wasn't easy. The Unicorns were shy and sometimes they had difficulty concentrating. But through their friendship, the Unicorns began to share their secrets.
The Mary-el Tarot (signed edition) by Marie White | Not for the faint-hearted, this incredible tarot deck is the magnum opus of artist Marie White. The oversized cards are filled with darkness and light and the mythological symbolism.
Mirrors of the Heart Favourable Cards Deck by Lily S May | A simple and beautiful lino-cut oracle deck. Explore Lily's shop for one-off cloth-wrapped decks! $2.50 from the sale of each deck goes to the Stephen Lewis Foundation.
Spirit Speak Tarot by Mary Elizabeth Evans | Pre-order the third printing of this monochrome folk-art deck which has feminist undertones.
The Alchemist's Oracle by Lauren Aletta | This hand-drawn oracle deck will appeal to lovers of the Wild Unknown Tarot. Fifty cards, bringing messages such as 'responsibility', 'healing' and 'standstill'.
The Badger's Forest Tarot | For nature-lovers, a whimsical watercolour deck featuring cute woodland animals.
Other tarot goodies
The Alternative Tarot Course Gift Certificate | Yep, it's a plug for my very own 'learn tarot' course, which quite frankly is brilliant and insanely affordable! Learn tarot your own way with eight weeks (or set your own pace) of exercises to get you acquainted with your tarot cards.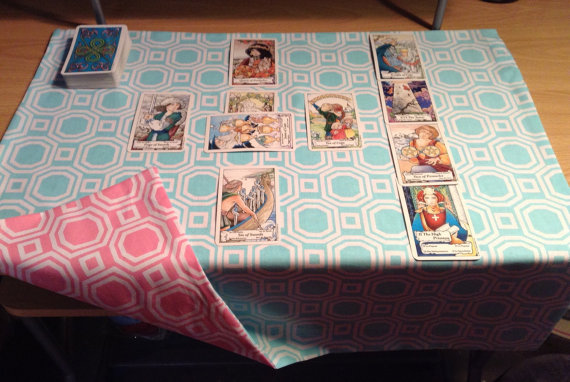 Double-sided Tarot/Altar Cloth | Sturdy, well-made cloths for tarot reading in style.
Handmade Tarot Card Wraps | One-off wraps made from silk and cotton to keep your tarot cards cosy and safe.
She Is Sitting in the Night: Revisioning Thea's Tarot by Oliver Pickle | My favourite tarot book, this is a queer tarot guidebook, published by Montreal indie publishers Metonomy Press earlier this year. (Read a review on Autostraddle!)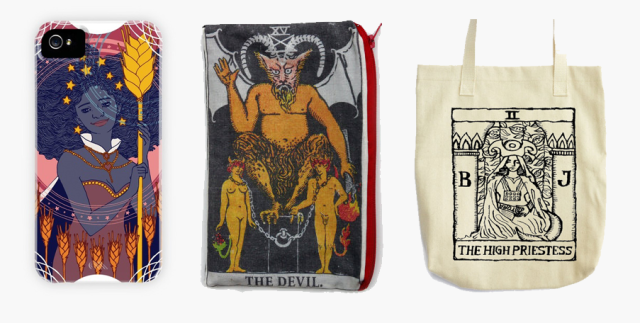 Tarot Card Phone Cases by Trung Nguyen | Featuring images from Trung's forthcoming tarot deck.
The Devil Makeup Case | An appropriate holder for materialistic pleasures.
Tarot Card Tote Bags | I'll take the High Priestess.
---
Do you make tarot decks or accessories? Drop a link in the comments so we can check you out!