As Autostraddle's community editor, I have a very personal interest in Autostraddle IRL Meet-Ups. I like to see our community grow and thrive both on the internet and in real life, and meet-ups have long been a huge part of Autostraddle's community success. We're not just a content creating website – we're a family. Meet-ups allow us to see our family in person once in a while! At its best, an Autostraddle meet-up is relaxed, relaxing, and Very Fun.
Sometimes the idea of hosting a meet up can be overwhelming, though. I totally get it. Adult obligations are super annoying and often very draining, some of us are shy and some of us are introverts and some of us just dislike responsibility, and also, it just seems like a lot of work! And I totally get that, I do, all of it, and I will never ever force you to host a meet-up.
But! Just hear me out. (I'm very persistent.) A meet-up does not always have to be a whole scenario! There are a lot of very fun very chill ways to meet up with your fellow Straddlers that are just like, the easiest things in the world to plan. You barely even have to plan – you could practically host the meet-up the very next day! For example, at A-Camp this week I'm hosting a newbie campfire meet up for all our new campers, and here's the premise: I'm going to invite all the new campers to this event, I'm going to make a campfire, I'm going to show up with s'more supplies, and I'm going to gently suggest everyone talk to each other and make s'mores and eat them. IT'S GOING TO BE GREAT! And it was so, so easy to plan, it will be so, so easy to execute, and it will feel so, so amazing afterwards.
So if you are the kind of human who would love to host a meet up but just feels too overwhelmed to get the ball rolling – or even if you're just the kind of person who would consider hosting a meet up, maybe, you're not committing to anything but you'll think about it OKAY – this post is for you. Below, please feast your eyes on five extremely low key, easy to plan, Very Fun meet-up suggestions. Get excited to meet your fellow Straddlers in person with these sweet events, bbs. You're welcome!
---
Host A Bonfire / S'more Party
So, like I said, campfires / bonfires are Very Easy. Here's what you do: Invite queers to a bonfire. Make a fire. Queers show up. BOOM YOU ARE DONE! No but seriously, who doesn't love hanging around a fire, talking and laughing and roasting s'mores and drinking sparkling water or booze if that's your thing? You're all cozy and happy, then someone whips out a guitar and soon everyone is singing along to an acoustic cover of a Taylor Swift song but you're changing the lyrics to make it hella gay, everyone takes turns feeding the fire and the warmth it emits reminds you of the warmth that comes from queer community, oh my goddess you're starting to feel kind of weepy, but it's dark so it's fine, you can totally be sentimental for a minute… Doesn't that sound nice?! It is, it is very nice, and it takes essentially zero planning and hardly any work to pull off.
Meet Up As A Group At A Public Event
This is arguably The Easiest Option on the whole list! A great way to "host a meet up" without taking any responsibility is to suggest y'all meet up as a group at a public event you're planning on attending. This can be a sporting event, a concert, a university lecture, a reading…literally anything that is happening in a public space that multiple queer people are planning on attending works. This is especially great for folks who are shy or folks who are worried about not having anything to talk about, because the event sort of removes that pressure. Sometimes you literally cannot speak during the event because it's rude, and sometimes you just don't have to. If things seem to be going well you can all go for food or drinks or ice cream after the event and more talking may or may not happen then, but again, anyone who isn't comfortable with that can just go home and still feel like they spent some enjoyable time in a group of queers in a low key fun way. Another thing that's fun about this option is sometimes your general activity just turns into a meet up, absolutely zero effort needed! If you live in a town or city with a sizable queer population, going to certain events all but guarantees you'll be hanging with other queers. For example, I'm going to see Janelle Monae with every other queer in Portland in June and you know what, as of right now I'm calling it a meet up. We're all meeting up there, Portland! See ya then.
Have A Potluck Picnic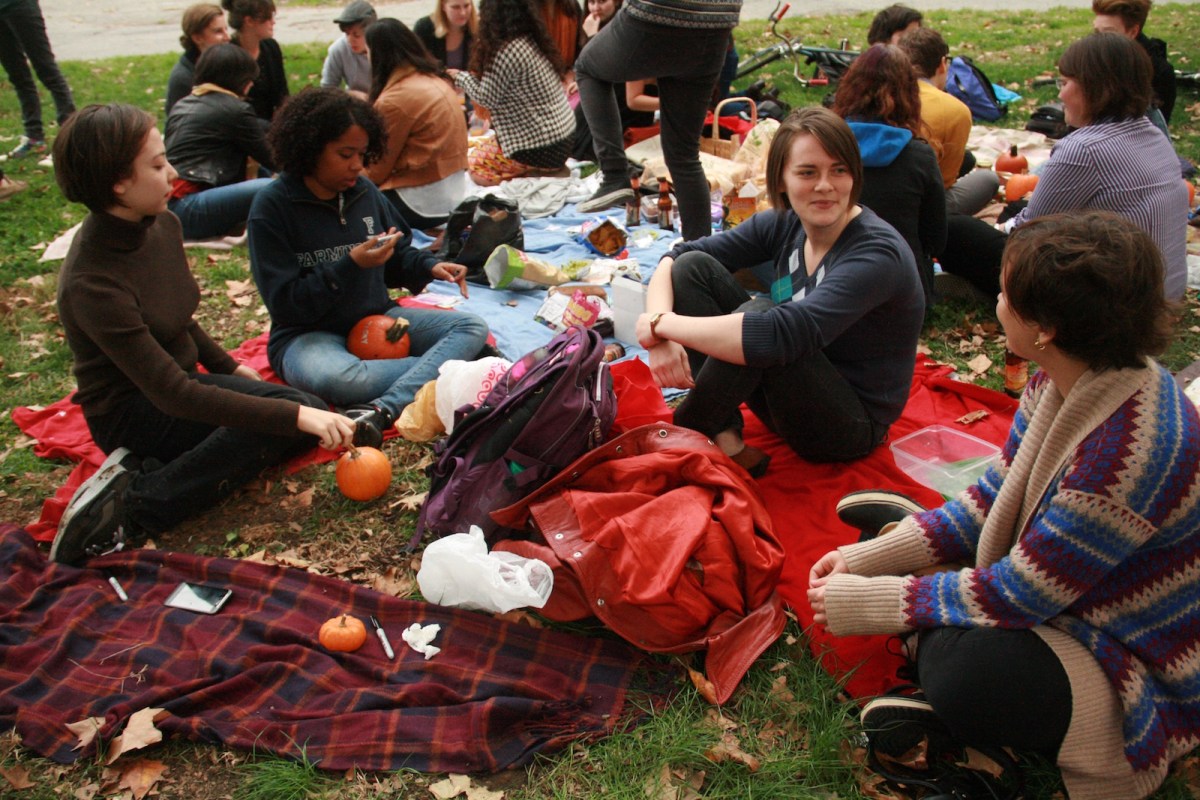 This is a pretty chill option. Not the most chill, but not too much effort either. As the picnic host, your main jobs include: choosing a nice park and bringing a big blanket and a frisbee or two. A potluck is awesome because it spreads out the labor of food-making, is almost always less expensive than going out to eat at a restaurant (unless you make a supremely lavish potluck contribution in which case, please join me at my next potluck asap), and it's pretty simple in its execution. Also, if you're a big group of friendly looking queers having a nice fun time eating food on a blanket in a park, it is very likely you will attract other queers you don't even know just from looking so fun. This has happened to me on multiple occasions in different cities, and it's always a really nice feeling knowing that your new friend woke up that day with no idea they were going to attend a meet up and then ended their day with like 7 to 42 new friends.
Current Events Club
I think sometimes book clubs can be overwhelming for people because there's an expectation that you need to do a lot of work beforehand: you need to read a whole book! And that is true, that is exactly what you are expected to do before attending a book club meet up. But what if…what if you could discuss a thing with a group of smart queer humans, without committing to reading 150-300 pages beforehand? What then? Well good news, you totally can! Here's the deal: pick a day for your meet up. On that day, every human attending will bring their favorite / most horrifying / funniest / weirdest / etc article from the past week. Then y'all will sit in a circle, and one by one each person will present their article! After they've summarized it and given some of their thoughts, you can all chat about it…kind of like a book club! Or a report club. But minus the prep.
Journal Alone But Together
But, you're saying to me by now, Vanessa, you're being really annoying. I literally do not want to meet up with other people. I want to drink tea and write in my journal by myself. Sure, being surrounded by other queers would be cool, but that's not a meet up! That's journaling alone but together! To which I say…I'm sorry I'm so annoying but like, WHAT A GREAT IDEA! Host a meet up at a tea shop. Tell everyone to bring their journal. Do brief introductions, or don't. Then…journal! Alone! With no talking! But…together. That's beautiful. And, might I add: very low key. As promised.
Okay there you go! Five wonderful low key easy to plan meet up ideas! Hopefully this is very inspiring for next month, when we start planning Autostraddle Pride Meet-Ups, and for the rest of your life! And in all seriousness: thank you, from the bottom of my heart, to every single human reading this website who has ever hosted an Autostraddle Meet Up. I know it's not easy, I am grateful for you, your fellow Straddlers are grateful for you, and I love you. If you're ever in Portland, come find me and I'll build you a bonfire and make you a s'more – pinky swear.