It's not always easy or cost-effective to increase the anchors of you wardrobe like pants, shirts, or even shoes. Maybe your size isn't available in-store, and even if it's in stock online, the huge discrepancies between brands and even sometimes within them can pose fit problems (not to mention the issue of affording it all).
Luckily for folks who skew towards the dapper side of things, accessories can totally make an outfit — and require little or no sizing info, as well as a much smaller portion of your budget. Here are some of the sharpest ties, socks, pocket squares, and other little touches in stores right now.
Ties

1. Spotted Tie 2. Floral Tie 3. Chambray Tie 4. Nautical Bow Tie 5. Knitted Dot Bow Tie 6. Horse Racing Bow Tie
Ties (bow and regular) are such a fun way to play with gender expression. Choose a "men's" design like a nautical print or plain chambray, a floral pattern most often seen in womenswear, or some classic spots and dots for good measure.
---
Pocket Squares

1. Green Swiss Dot Square 2. Shades of Pink Square 3. Floral Square 4. Paint Splat Square 5. Red Tartan Square 6. Tropical Leaves Square
Similarly, the colors and prints on a pocket square can challenge perceptions about who can wear what. Choose a perfectly preppy plaid, a giant pink madras look, or an abstract pattern inspired by paint splatters.
---
Clips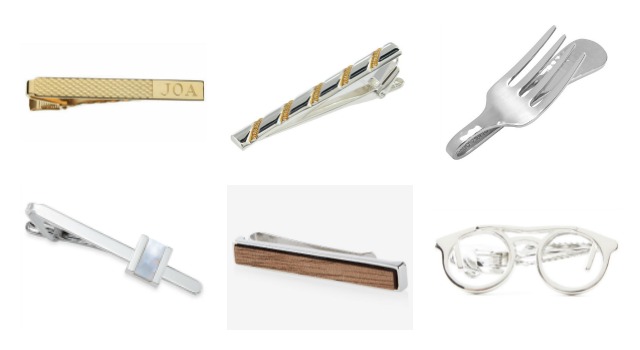 1. Monogrammed Clip 2. Silver and Gold Clip 3. Fork Clip 4. Mother of Pearl Detail Clip 5. Wood Inlay Clip 6. Glasses Clip
Tie clips are the perfect place to take your class level up a notch, or to get wild and whimsical. For the former, a monogrammed or inlaid option is ideal; for the latter, try some spectacles or a funny fork.
---
Cufflinks

1. Rod Cufflinks 2. Knot Cufflinks 3. Skull Cufflinks 4. Monogrammed Cufflinks 5. Pineapple Cufflinks 6. Art Deco Cufflinks
Cufflinks, too, offer opportunities for personalization and personality. Get playful with pineapples, tied up in knots, or for something a little more macabre, pick up some skulls and crossbones.
---
Socks

1. Bunny Socks 2. Paisley Socks 3. Mushroom Socks 4. Yellow Ruled Socks 5. Blue Star Socks 6. Vespa Socks
Finally, a little flashy footwear never hurt anybody! From classics like paisley and tiny star prints to socks for animal, vegetable, and vehicle lovers, these pairs might just convince you to hop on the cropped pants bandwagon.
Let's talk accessories! What are your tips for super snappy occasion dressing, and what little flourishes will you be sporting this wedding season?