I am really excited about this week's recipe y'all. Following the success of my microwave "baked" apples and hearing how much people enjoyed them I've been spending more and more time in my kitchen working out recipes for delectable mouthwatering desserts that don't require an oven or a huge time commitment. Its been a nice reminder of how much I really love an excuse to get creative with cooking and baking. Finding ways to make desserts more accessible to people with unique kitchen challenges and/or dietary needs is like a fun puzzle that I get to eat at the end. Edible puzzles are obviously the best kind of puzzle. It also makes people really, really happy to be thought of and included, especially because food is such a social thing. Guests always gather around the kitchen and table at parties, food is the number one gift we usually give to someone who is going through something difficult or celebrating a major accomplishment, and it's also tied to every holiday and tradition I can think of. It's a big giant deal and the fact that so many people are often left out of the enjoyment of food is honestly heartbreaking. They can't really participate in the chatter about the best dish at a potluck, or maybe they wanted to bring something but felt they couldn't make something worthy of sharing in their oven-less kitchen.
I want no baker left behind, so today's recipe is another oven-free gem!  It's a cherry-apple crisp made entirely on the stovetop in one skillet. Another bonus – it only takes 20 minutes to make. There's a splash of balsamic and a hint of ginger in there to bump up the complexity, and it's finished with a sprinkle of toasted oat and walnut crumble on top. If cherries and apple aren't your favorite this would be amazing with any berries or pie friendly fruit (think apples, pears, rhubarb, peaches, plums). I intended to have it a-la-mode but realized I'd left my freezer door open overnight so all my ice cream was sad and melted, but honestly it doesn't need anything else. I took one bite and the moment that juicy cherry and sweet apple hit my tongue my day was instantly a million times better. I think this might be my new favorite "I'm having a last minute dinner party on a 100 degree day and need a dessert" recipe. Oh, and also my "I want to make a dessert and eat the whole thing myself" recipe, and if you try it out it just might be yours too.
Stovetop Cherry Apple Crisp
For the topping:
1/2 cup all purpose flour
1/4 cup chopped walnuts
1/4 cup rolled oats
1/4 cup brown sugar
1/4 teaspoon salt
4 tablespoons unsalted butter
For the filling:
3 of your favorite type of apples (I used fuji) peeled, cored, and cubed
1 lb bag of frozen cherries, defrosted and drained
1/2 cup granulated sugar
1/2 teaspoon fresh ginger, minced
1 tablespoon balsamic vinegar
1 teaspoon vanilla extract
2 teaspoons cornstarch
1/2 teaspoon salt
2 tablespoons butter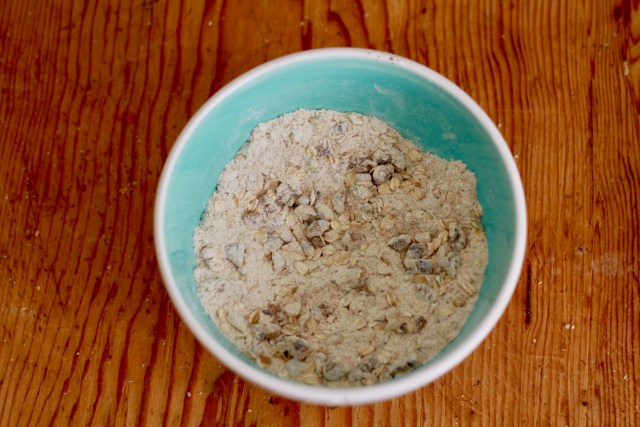 Combine the flour, oats, walnuts, brown sugar, and salt in a bowl and mix it all together. Set aside.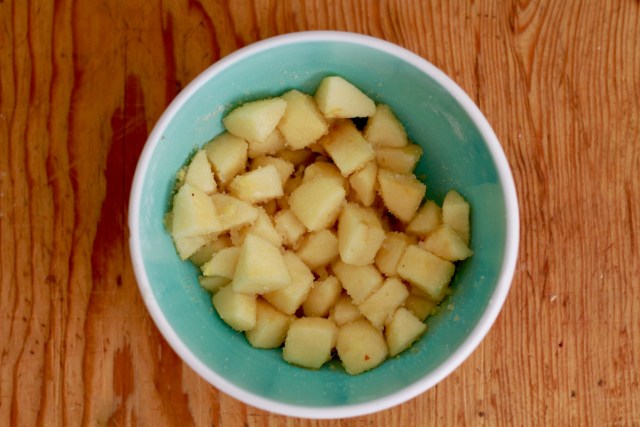 In a medium bowl combine the apples, granulated sugar, and ginger, and mix with your hands rubbing the ginger into the sugar and making sure all the apples are coated. Set that aside and grab another bowl for the cherries, balsamic vinegar, vanilla, salt, and cornstarch. Stir and set aside as well.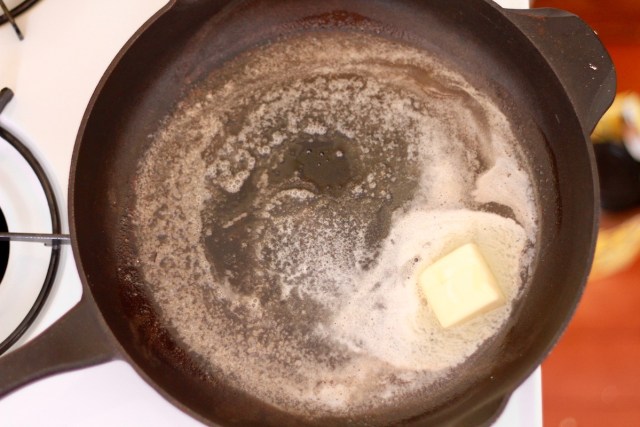 Place a large skillet over medium heat and melt 4 tablespoons butter. I think melting butter is the sexiest thing ever and that is the only reason this got it's own step, don't judge me.
Add the crumble mixture to the pan and mix together allowing the flour to absorb the butter and start to form little clumps. Continue cooking the crumble topping until it is toasted and lightly browned, about 6-8 minutes. Remove from the heat and pour the crumble onto a plate to cool.
Melt the remaining 2 tablespoons of butter then add the apple and sugar mixture, and cook until the mixture starts to bubble and smell like sweet apple heaven, about two minutes.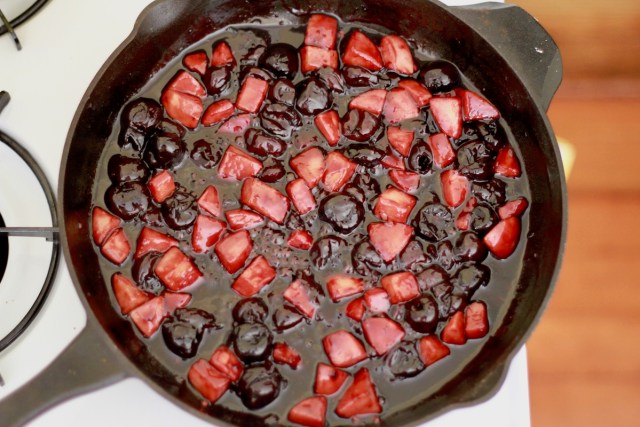 Now add in the cherries, stir everything together, cover the pan and cook for 8 minutes remembering to give it a good stir every 3-4 minutes. When it's done things should be hot and soft and bubbly and the juices should be thick and syrupy.
Once it's done turn off the heat, top it (I hope someone is enjoying the number of times I've said top in this post) with the crumble mixture, and serve. I like to serve it straight out of the pan…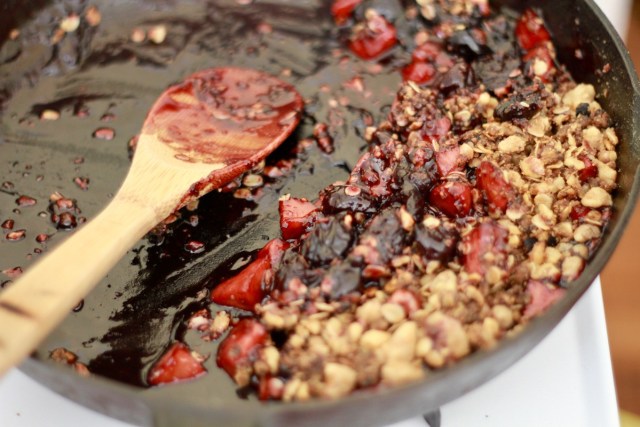 … but it's cute on a plate too.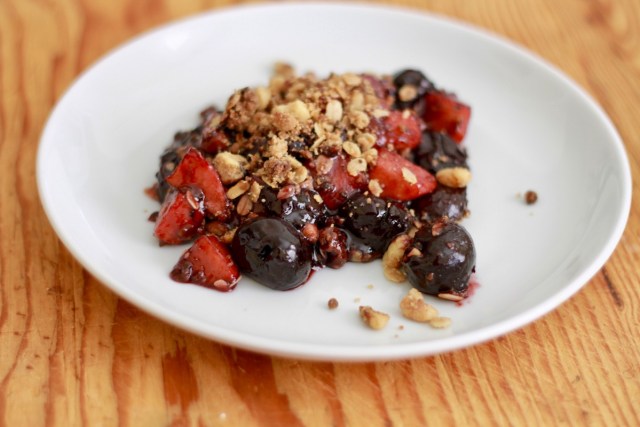 Dig in! And please, if you make this leave a comment for me and tell me all about it. I love hearing from you!