Last week on Getting In Bed With Kristin someone asked us about recipes that don't require an oven and I've been thinking about it ever since. It slips my mind pretty often that many people don't have ovens but still want to bake, and this was a great reminder of that. I don't want anyone to be left out! Given this reminder I decided to give my oven a break this week and create another recipe anywhere there is a microwave to be found. I'm also planning things for the crockpot and stovetop, but today I bring you microwave "baked" apples filled with walnuts and dried cranberries that get mixed with a little sugar, spice, and everything nice (aka butter).
This recipe makes an unbelievably quick and easy dessert for four that tastes like it spent an hour slow roasting in the oven, not just ten minutes in the microwave. The apples come out perfectly soft and their tartness compliments the sweet, nutty, cinnamon, ginger and nutmeg dusted filling. The butter rounds everything out but can easily substituted with coconut oil or, for a savory twist that's my personal favorite, bacon grease. It's lit.
These apples would be the cutest to make for a dorm room sleepover, to curb a last minute sugar craving, or for date night in your tiny kitchen. This would also be a great recipe to make with children since it's so simple to assemble and has kid-friendly flavors. Wherever you make it, I suggest you go ahead and buy enough to make it twice and save yourself the regret.
Ingredients:
2 Granny Smith or other tart/green apples
2 tablespoons walnuts, chopped
2 tablespoons dried cranberries, chopped
2 tablespoons brown sugar
2 tablespoons butter (or coconut oil or bacon grease), melted
1/8 teaspoon vanilla extract
1/8 teaspoon orange zest
1/8 teaspoon cinnamon
pinch of nutmeg
pinch of ginger
pinch of salt
Combine all ingredients in a small bowl and stir together until incorporated. Set aside.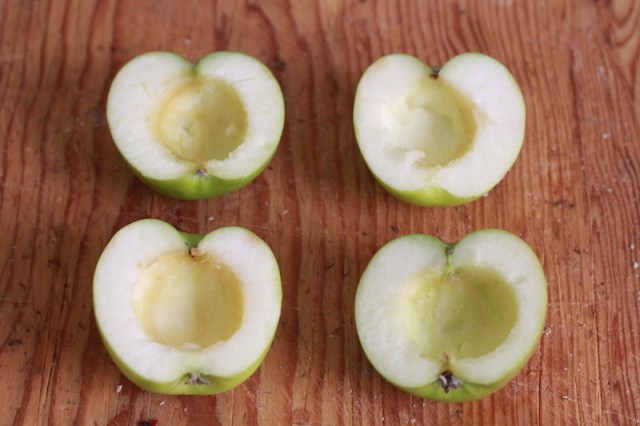 Halve and core the apples, making a little bowl in the middle of each for the filling.
Butter or oil a microwave safe baking or other dish with high edges. Place the apple halves into the dish, then cover tightly with plastic wrap. Cut a slit in the middle for ventilation then microwave on 50% power for ten minutes. I suggest a dance party while you wait.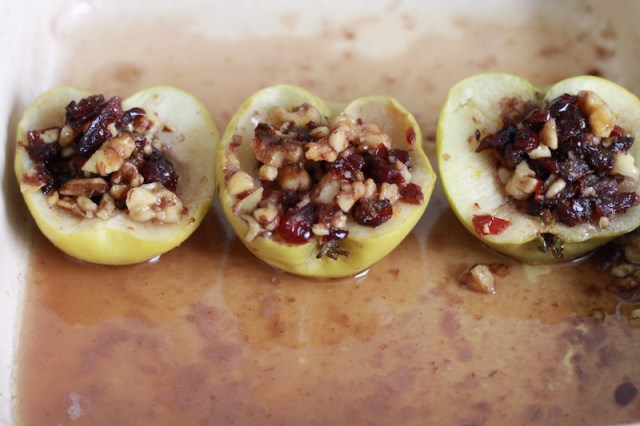 Allow to sit in the microwave for 1 minute, then remove. The apples should be tender and buttery and amazing, but also VERY hot so let them cool for a few minutes.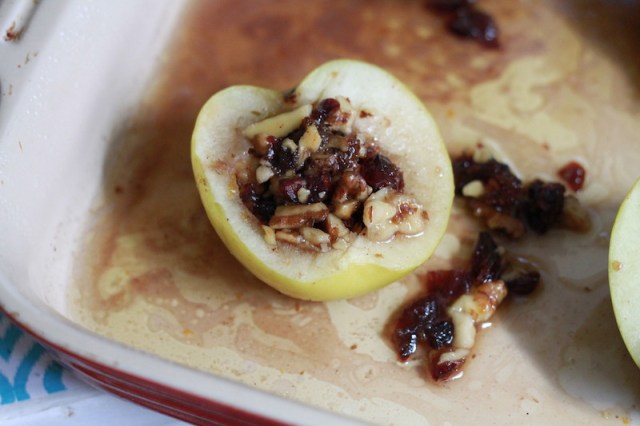 Serve! They're amazing just as they are…
…or topped with ice cream and finished with a drizzle of maple syrup.