Taxes and GLAAD
Thank You, Uncle Sam for the pennies you call a tax-refund. Living right on and sometimes even below the poverty line made it so easy for me to view my tax refund as a way to live big for awhile. I used to spend that change on well-deserved bullshit: bottle-poppin', new kicks, cab rides from the city to my crib in the Bronx, fancy dinners, illicit activities and buying people's affection. Basic shit. I felt like I deserved all the things I saw people with continuous funds enjoying. And I did and do deserve to enjoy myself, but damn if I didn't have to do some soul-searching. What is that type of excessive and often shallow entertainment really worth? Why did I want them? I ended up asking myself, at this point, since my essential needs are consistently being met, what should I really do with my money?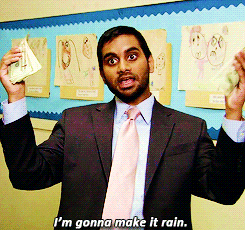 Last year, I put almost every dime of my refund into paying my student loans, aka the U.S. government's strip club fund. This year though, I decided to invest that money into myself. I've set some aside for a new computer, paid some bills and budgeted the rest for my very first suit. A suit felt important to me, like it was worth having, worth investing in. And then I realized that I actually needed one. The arts center I work for was throwing a benefit and I'd just been asked by Lizz to help cover the GLAAD Awards all in the same week. Both reasons to not just float by on old jeans, freshly scrubbed kicks and shirts that don't fit anymore.
---
Get It Together: Bodies and Community Edition
But something happened to me, like everything inside of me went directly into panic mode. Anxiety dreams haunted me at night with thoughts of "what am I going to wear" just playing over and over in my head. I found myself on a two-day insecurity and self-loathing bender. I plotted ways of getting out of the work commitment and I blew off giving Lizz an answer re: the GLAAD Awards.
You guise, I almost pissed off my directors and turned down chillin at the big gay award show because of the stress I felt about finding clothes to fit my body and the money it would take to purchase them.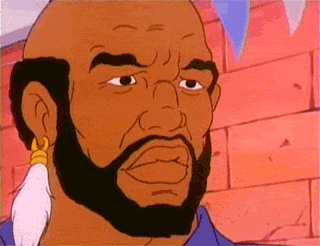 No but seriously though, like what the hell are bodies sometimes? One minute I'm a 36D with a 30-inch waist and the next I'm a 38DD with a 38-inch waist and nothing fits and I don't trust anything on a hanger and why can't I just work/write/live while being naked in bed? But then I woke up and realized that I needed to get it the fuck together like yesterday. If any brown chunky queer on the planet could find a suit, it was gonna be me. I tweeted, texted, Facebook-messaged and emailed the humans in my queer community especially those connected to fashion. The lovely people at Bindle and Keep emailed me back saying they could work with me BUT it'd take six to eight weeks to have a finished suit. Obvs that makes sense because they're a bespoke suit company, but my needs were way more immediate. Also, I needed this suit literally like the week before the magical St. Harridan pop-up shop in NYC. Argh.
So I kept hunting. I referenced all the articles I could find about MOC individuals buying suits: Queering the Workplace, The Style Manual: Suits 201 and Wedding Guest Suit for Butch (there are more out there too). As for my body image issues, I've been dealing with them my whole life. I've learned to indulge them, honor that they exist and then peacefully move forward with a little extra love for and patience with myself. But even with all the self-love and amazing suit-purchasing advice, one thing still had me feeling like this was Mission Impossible: the price tag.
---
Economic Inequality and Being Dapper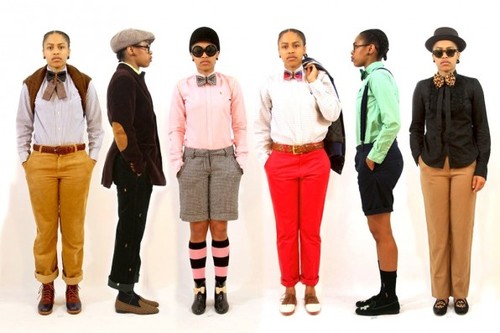 So many of us remain silent when it comes to the truth about the cost of new clothes, good clothes, work clothes, dapper clothes — all the damn clothes. We are both blessed and bombarded with perfectly shot, edited, and cropped photographs of cherubic queers dressed in their dapper best or in high fashion ultra femme vintage gear. They fall into our laps via tumblr, Pinterest, dapperQ, Autostraddle. They reflect the way we dress and the way we wish we could dress. Queer fashion is so fucking in right now. Right? But what so many of those images fail to mention is the price of all those damn clothes. Who can afford a 3 piece suit, wing-tipped shoes, a badass wristwatch, diamond equality cuff-links, polka-dot socks made of organic cotton, and a checkered button down shirt that isn't your brother's hand me down? Don't forget your silk pocket-square and please, get a fucking haircut. ALL OF THE MONEY. And yo, some people have it. Maybe you come from money and money ain't a thing and it never will be. Maybe you came from money but you also make your own, so you're basically a queer Kardashian. That's cool too. Or maybe, you sew like a BEAST and make all your own cool stuff, while also thrifting like a champ on the weekends. Seriously, I'm so jealous.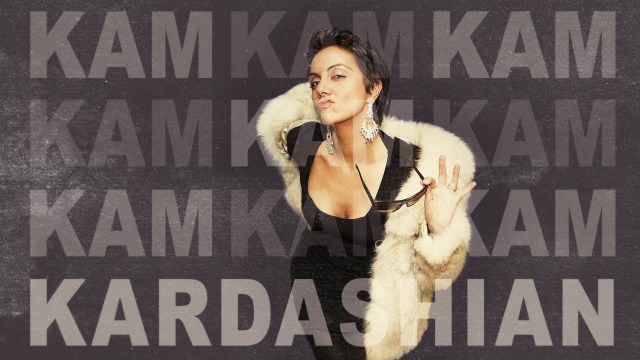 None of that is my life. I'm a brown dyke living in the Bronx, working 40 hours a week at an non-profit arts center. I'm finally with it enough to pay all my bills on time, if at all. I've got a roof over my head and some change in my savings account. I'm not complaining. It's been worse for me but fuck, just having a job feels like a blessing sometimes. Living in this city makes it feel like I'm scraping by with every penny just to live. My play money is tight and I don't know how to sew. I wear clothes until they've given up on life and I'm not ashamed. I often wonder how regular people buy new clothes all the time. Clothes in the hood and at super-low discount shops never seem to last very long. Fancy clothes cost so much, like why isn't everyone just running around in cloth diapers? What is someone like me supposed to do when they need to look good in real life?
---
Spending Limits Like a Doña
Many of the brands highlighted on queer and non-queer fashion blogs are still out of a broke bitch's price range. Asking me to drop $700 – $1500 for a suit is like asking me if I'm cool with not paying my rent for a month. Still though, I knew that investments involve some sacrifice, some connection to the future and a little faith. My friends told me to create a Suit Budget, a reasonable list for the amount of money I would be willing and able to spend. I made the budget and a pact with myself to stick to it.
The suit itself: $350
Tailoring: $150-200
Extras (shoes, hair, etc): $100
Creating this type of budget put me in control of my money and gave me a very clear sense of how much I had to roll with. Normally, I keep it all in my head but seriously writing it down and saving it in my notes helped so much. It reminded me of the way my grandmother used to keep all the families finances in order. Sometimes I wonder what she would think of me wearing men's clothing. In my mind, she'd just want me to find something fly.
One of my friends said that she and her cis male partner would actually go to the store with me. I agreed and to be honest I intended to use their white privilege to get the best service and attention that my money couldn't buy. My friend's partner was such a sweet addition. At our request, he researched the best places to find a suit given my unique dimensions, time crunch and tight budget. His findings made me sad; our options were limited to The Men's Warehouse and/or something like a Burlington Coat Factory. Womp womp. First of all, fuck Men's Warehouse. I tried to shop at the one in Scarsdale (yes, I'm gonna shout you out), and the men there treated me like gay was a disease and I didn't have the right to shop there. Second, every Burlington Coat Factory I've ever been to smelled like culo. But being broke + having no time to waste + dressing my fat-booty = OMG we're going to Burlington Fucking Coat Factory.
---
A Wonderland of Suits with a Side of Gender Policing
Because of the lack of fucks given at a Burlington Coat Factory, white privilege isn't honored one bit. So, yay but also GODDAMMIT. Everyone that worked there treated us with the same "I'll help you because I work here, but I'd rather be anywhere but here" attitude. Fine. Whatev. Let's get this done. From one of the suit articles, I'd learned that the best suit for my body would be a 3 piece, one vent suit. After some steely and insistent looks from my white homegirl, the dude in the men's section measured me. Once I had my measurements, finding the suit took less than 30 minutes. Unfortunately, I wasn't allowed to try my suit on in the fitting room within the suit section. The young woman working in that section had a minor freak out when I asked if I could. She stiffened up, turned completely red and was like, "AHH, ERR, UM NO THIS IS FOR MENS."
My white angels almost skewered her for gender discrimination but I stopped them. Under different circumstances, I may have taken that moment to stand up and demand entrance to the men's fitting room. This type of gender policing is dehumanizing, pretty much pointless/absurd, and causes so many beautiful people undue pain. But like, I knew what I was getting into going to a place like Burlington Coat Factory. It's like going to chill with white people you don't know or being chatted up by strange men; I just expect people to act unintentionally reckless. I came in for a suit, not a fight. The finish line was so close and schooling someone at their place of employment on gender politics and respect was not on my to-do-list. I put on my thickest skin knowing that I will only engage in battles that are worthy of my energy. This one wasn't.
I went downstairs to the women's dressing room and tried on my suit from the Steve Harvey Collection. The women in the dressing room told me it looked awesome and it fit and so then all of a sudden I had a suit.
Did I mention that the suit I found was under budget?
Suit Budget: $350
Actual Cost of Suit: $150
---
Tailoring: The Story of the Sweetest Human on the Planet
Pero, like why does a suit need to be tailored if it was purchased using exact measurements? A suit jacket needs to fit your shoulders and the pants need to fit your waist. All other things can and will be nipped, tucked, cut and sewn to fit the rest of the contours of your body.
My final text was to a dear sweet Southern gay dandy friend of mine. He sent me information for a tailor he thought would be perfect for me. And literally, y'all, she was so perfect that I'm gonna share her info with you. Her name is Maria and she's a super sweet Mexicana who has an eye for size and didn't poke me once with any pins. She complimented my suit and didn't even blink when I came in with my girlfriend. She was basically my long lost Titi Tailor and I will never bring my clothes anywhere else. AND she tailored the suit and two shirts for less than what I had budgeted.
If you're in New York and need a heaven-sent sastre, go to:
Maria at Legacy Garment Care
304 West 117th St, NY NY 10026
Tailoring Budget: $150 – $200.
Actual Cost of Tailoring: $120 ($20 tip included!)
---
I Spent Like 400 Bucks on this, Just to be like…You Ain't Up on this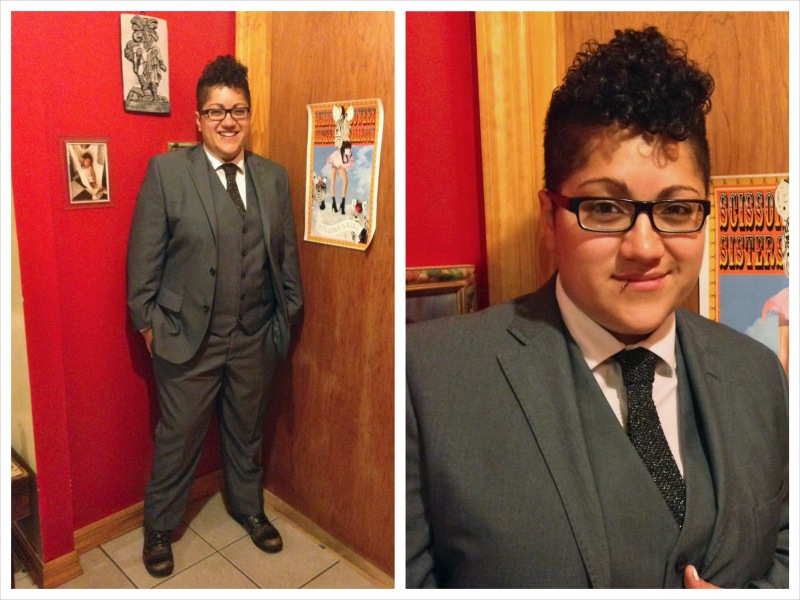 Now I have a suit that fits me. I also have a vest and jacket to mix and match with other things. As good as it feels, I still don't think that clothing deserves too much of my hard-earned funds. I like to look good, feel good, and yes, that extends into what I wear, but it also has a lot to do with how I feel about myself. Most of the time, I don't notice what anyone is wearing and I definitely don't remember what anyone else had on the next day. Fashion policing is just another way to judge people and segregate each other. Like f*ck your white parties and your black tie affairs and your power-professionals-only meet ups and a big f*ck you to all the dyke bars that ban specific items of clothing like fitteds and kicks. Also, I need to remember that the Internet and all its shiny pictures of beautiful people in fresh gear shouldn't be what I measure myself against. I have to continue to appreciate but also deconstruct the images presented to me and know when to step away and just do me. Maybe I'll start a fly and broke tumblr or something.
My queer communities are constantly in motion. We're always recreating and re-imagining the world so that it is true for us, so that we can just exist. It's our duty to be forever transparent and call bullshit when we see it. We need to have more conversations about money, finances, and how to best determine what is worth spending money on.  All of us experience such different economic realities. So why do we try so hard to be money-blind? Why is that one of the few things that we seem to allow to permeate into our worlds without question? Like as if high fashion was the only type of fashion. Price tags should be visible, unedited. There shouldn't be any shame in a lack of funds. Our spaces need to be accessible for all of us. This goes beyond buying a suit.