Welcome to the 13th recap of the second season of Faking It, a heart-pounding docudrama about the time I called the police to walk me to school because Anna and Jessie left without me, from the same network that brought you Paris Hilton's My New BFF.
---
We open in a resplendent morning at Blue Oasis in the Red Heart of Texas High, where the children are doing Tai-Chi under the advisement of their wise Vice Principal Penelope Delia Fisher.
Shane's stressing out 'cause Duke's signed on the Faking It edition of Grindr, "Stubble," for the fourth time that day. Liam points out that it sure sounds like Shane wants monogamy. Shane protests, "No, ew! We're gay, I just want him to only be gay for me." Apparently to Shane, gay = poly. Meanwhile, Karma's wearing tight pants and telling Liam to sneak out Friday night so she can chain him to a lamppost and let loose a pack of wild coyotes upon his body or something.
More importantly, Karma wants to know if Amy did her part to progress her stupid not-a-lesbian storyline last night but alas, she didn't, 'cause Reagan apparently stood her up after doing some window-snooping. Amy's gonna go over right after school and tell her everything, though, so you can all look forward to that scene.
---
Good news: that scene starts now.
Reagan confesses that she listened in and Amy should know this:
Reagan: After everything I've been through with my ex, how could you not tell me that you're into guys?
Amy: Because I'm not sure I am. I only slept with one.
Reagan first shames Amy for having Karma's boyfriend as her Singular Man To Sleep With and then questions how she might ever trust Amy when Amy also intentionally pretended like Karma didn't exist for a solid portion of their initial courtship.
Reader: is Amy stupid? Is Shane stupid? Is Karma stupid? Is Liam stupid? Because they tell some epically stupid lies. What was Amy's endgame when she downplayed Karma's existence way back when? Did she honestly intend to never tell Reagan about Karma? She knew she'd get found out eventually, so … why? WHO ARE THESE MONSTERS? Oh but, more importantly:
Amy: Karma's not a lesbian!
Reagan: Neither are you!
Amy: I AM.
Reagan: And you're just realizing it now?
Amy: Part of questioning your sexuality is eventually getting an answer and survey says "lesbian"!
Reagan: Prove it.
Amy proves it by sticking her tongue down Reagan's throat. The scene cuts before the inevitable fist-a-thon begins.
---
Cut to Shane's basement bachelor pad, where he's fooling around with his hot MMA boyfriend and then, inevitably, fighting about Stubble. Apparently Shane told Duke that "monogamy was for straight people" and so Duke's just doing his Big Gay Duty to follow the open relationship rule Shane made, okay?
---
Cut to Karma and Amy, strolling along the fine path we call "life," discussing Amy's big conversation with Reagan.
Karma: You told her you were a lesbian?
Amy: I'm a girl in a monogamous relationship with another girl. What else would you call me?
Karma: Uh, I'm gonna go with "Amy."
Really high up on my list of pet peeves is the statement "Why do I have to be gay or straight? Why can't I just be Lorna / Doris / Ethel / whatevermynameis?" Welp, GENIUS, because your name is your name. Your sexual orientation is not your name. In fact, nothing is your name besides your name. You definitely don't have to change your name to "gay" or "bisexual," and you don't have to pick a sexual orientation if you don't want to, but defining your sexuality is not a process that begins and ends with you bursting out of somebody's vagina and obtaining a legal name. Okay? Okay good.
Karma: What about the fact that you're sometimes attracted to guys?
Amy: That hasn't happened in ages, I think it's all cleared up!
Karma: Amy, it's not a rash.
WHAT ABOUT TEH MENZ, AMY? Huh? What about them? WHAT ABOUT THE TIME YOU SAID YOU LIKED THAT GUY?
Well, forget about it 'cause it's College Application season, and obviously Karma and Amy have spent their whole entire lives planning to attend the very same imaginary college that luckily has a booth right there at the Hippie High College Fair, staffed by a nice-looking woman that Amy should probably have sex with.
Ms. University says Karmy should sign up for Summer Scholars, a program that'd enable them to live in the dorms and take classes for free all summer long! Just imagine the lies they could tell to all the new people they meet! Karma and Amy have spontaneous orgasms and then are told only 30 in 3,000 applicants get in, so probs their spots would go to one of the extras at this school who actually attend class. Or, you know, to Lauren Cooper.
Lauren's barely gotten through her Don't You Want Me Baby Presentation, replete with illustrative business card…
…when she spots a more pressing issue cross-campus! This is actually a really important image progression here: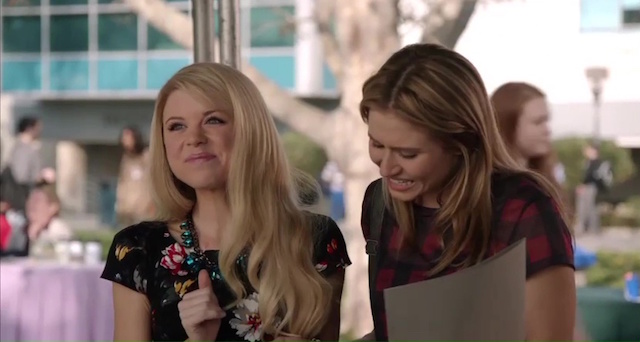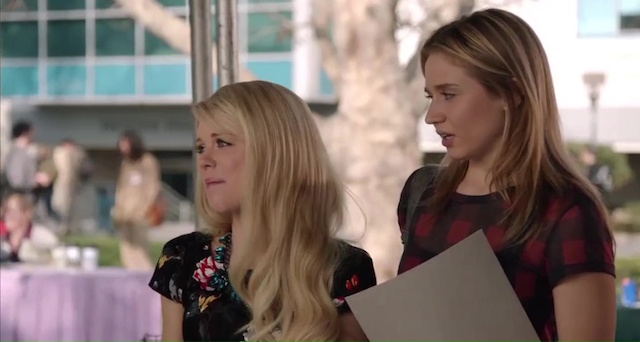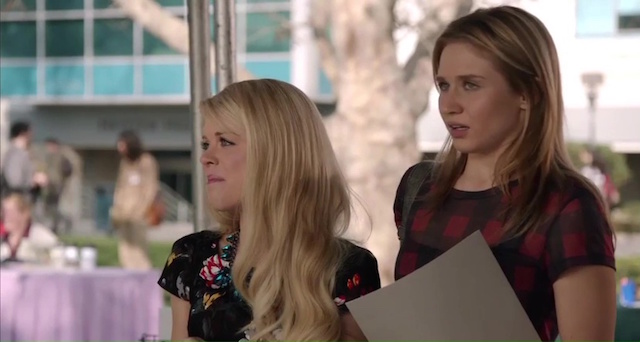 Guess who just got a new job at Hester Hayride High School? Yup, it's Theo!
Some bro yells "FUCK YOU, NARC," as he passes gas along the path as Theo explains to Lauren that after the big outing, he's been relegated to working security at Hogwinds Happy High School For Hamsters. Oh and —
Theo: I want you back.
Lauren: The fact that you even think you have a chance shows that you have no clue how deeply you hurt me. Just stay the hell away!
Yeah, they're gonna get back together.
---
Well, as you can see, it's already been a big day at Hester and this day shows no signs of slowing down, because Xander is back!
Xander wants Liam to spend his summer at the Southwest Artists Colony Program, an undoubtedly inspiring experience involving yurts that'll for sure snag Liam a spot at a Top Art School. Xander hands him a flyer and for some reason unbenkownst to those of us unfamiliar with Liam's inner monologue, this interaction has lead Liam to believe that Xander is his father.
I hope the paper he handed Liam was a paternity test.
---
Back at Chez Fawcett, Karma and Amy are looking over their applications for the Summer program even though everybody knows they should really be spending the summer at the Beverly Hills Beach Club with Kelly and Donna. Karma's concerned that her B-average and half-hearted attempt at extracurriculars won't get her in, and just as she's wondering aloud what she's been doing with her life, Queen Lauren arrives with some truth serum:
Lauren: Chasing boys and the approval of others. Hate to rain on your parade.
Lauren's got a better strategy to make up for the f-bomb she dropped on the college rep: she will display her life-long passion for baton-twirling and make a lasting impression. Colleges like passion, Lauren tells them, and you can't just fake it. Before this turns into a roundtable about sexual experiences with batons, Karma and Amy are inspired, for some g-dforsaken reason, to fake their way into the Summer Scholars Program.
Okay, they definitley invented "being a lesbian to get popular," but pretending to do something they don't actually do to get into college? Honeys. That lie is older than college!
---
Cut to their newest scheme: pretending to be organic farmers with green thumbs who have their own juice truck! They've even made a video and put a lot of leafy vegetables into baskets!
They show their video to Felix and he says the whole thing is a bunch of baloney and that Amy's acting, in particular, is lacking. Amy says she's a great actress, like when she convinced Felix she was attracted to him.
Karma's still trying to make Amlix happen:
Karma: Are you attracted to Felix?
Amy: Ew, no, gross. But you heard him, we're never gonna get into Clemont with this.
What does Felix know anyway? Everybody knows he's really A CAT.
Pages: 1 2See entire article on one page