Welcome to the first recap of the first season of Faking It, a brand new show from the musical network that brought you I Want a Famous Face and Carmen and Dave: An MTV Love Story. 
---
We open in bed with a lesbian, just like I do every morning.
Meet Amy and Karma.
The primary bond between Amy and Karma is a shared love of delivering exposition over the telephone. In the span of a two-minute phone call we learn:
Karma's mom is a hippie who makes tea and reads astrological charts, and Karma wishes she had a normal Mom.
Amy's mom is doing something fancy with a steam iron in the hallway, and Amy wishes she had a normal Mom.
Amy doesn't like rodents as pets.
Also, Karma's going to pretend to be blind to improve her social standing, because why anything. Amy asks how she plans to pull off this plan, but alas, Karma's only capable of delivering additional exposition:
Karma: We live in Austin, a blue oasis in a red sea of Texas.
Amy: Yup, haven't forgotten.
Karma: And our high school is so tolerant and accepting, the outcasts are the in-crowd!
---
Cut to said Blue Oasis High School, where Karma's committed to getting popular by wearing a new Google Glass model inspired by the protective goggles my oral surgeon Dr. Fear made me wear before he sticking pliers down my throat.
Karma's certain that having a brain tumor over her optic nerve is that special something that'll earn the tricky twosome golden invitations to Shane Harvey's Super Cool Party. Amy's skeptical about attending the party at all, noting that "we hate high school during the day, I doubt we'd like it better at night after it's been drinking." Amy would rather stay home and watch child slavery documentaries on Netflix. AMEN. Karma insists that if they don't ascend the social ladder pronto, they'll become "socially awkward weirdo losers who make their own organic juices and sell them at farmer's markets." So basically: lesbians. Sorry, I mean: AWESOME LESBIANS.
Amy points out that Karma barfs around cute boys and before we can discuss how that might be a sign of latent lesbianism, we're interrupted by Lauren and her lady sidekicks.
Lauren is Fake Quinn Junior, basically. You know: shops at Talbots Too, has blonde hair, is traditionally attractive in a way that makes me sleepy, feels entitled to everything and is bitchy when she doesn't get it. Then Lauren and Amy volley some exposition at our necks. We learn:
Lauren's Dad is marrying Amy's mom.
Amy's Mom is a weather girl / meteorologist.
Lauren likes to tan on her special bench.
Lauren's sad that she's stuck at this "kumbaya freakshow of a high school" instead of McKinley or West Beverly where she could shine or Sunnydale High where she could die in the hellmouth.
Lauren, still angling to get Amy and Karma off her bench, yells "You've got five seconds to hop in your canoe and paddle back to the Isle of Lesbos so I can get my Vitamin D!" just as two young lads are strolling past them on the quad.
YUP, THIS IS THE MOMENT.
The Moment When Everything Changes Forever.
Because these two young men would like to know more about The Isle of Lesbos Lauren is speaking of so loudly. Maybe Shane could buy himself a new sweater there:
"Bullying the gays, someone reeks of the late '90s," says Shane to Lauren, who screams about how she'd be more popular in another part of Texas and recedes offscreen. Shane, who will soon confess that he's always wanted lesbian friends, invites Amy and Karma to his party! Attractive fashionable gay men LOVE attractive fashionable gay women, it's true, and it's all fun and games until they make a demeaning joke about butch lesbians and you have to point out that you wake up next to one every morning. Oh, then Liam introduces himself and Karma throws up. BOYS.
---
Starsweep to Shane Harvey's Party Party, where Karma and Amy are sitting on a couch feeling weird.
Meanwhile, Lauren and her sockless boyfriend are chatting it up with Shane and his bestie Ivy.
Ivy tells Lauren and her sockless boyfriend to beat it 'cause they weren't invited and are probs missing a Young Republicans Event somewhere somehow.
Lauren says it's important for the frontrunners in The Homecoming King and Queen Contest to make an appearance at social events, but Shane says nobody cares about patriarchal institutions like Homecoming Queen. Then Liam runs into Karma and spills beer all over her dress and then she passes out.
---
Shane finds Amy outside in her overalls and asks her who went "under the covers" first, which must be a thing the kids are saying these days because I am an adult who has never heard such a thing.
Shane: I won't blab, gay scout's honor! I just really want us to be friends. I've been craving lesbian energy in my life.
Amy: Look, I'm oddly flattered but I'm not gay.
Shane tells her that it's totes okay to be gay, and she is like, um neat, okay bye.
---
Back in the party, Liam's oggling Karma's now-visible nipples (because of the beer spill) and apologizing for the mishap when a drunk girl in a tight dress crashes onto his lap, calls him Pooh Bear, and is summarily dismissed. Liam explains to Karma that he's not a douchebag 'cause he tells girls straight-up that he's not interested in anything serious so then if they have feelings it's totally not his fault.
Karma says something annoying about women raising families, and Liam responds that it's so great to have a lesbian around but before Karma can correct him, Amy pops in to demand that they bust this pop stand.
Liam: "Someone likes 'em bossy!"
But before the troubling twosome can safely escape the Fiesta, Shane seizes their hands in his and marches them into the center ring of the party and calls this Outing To Order.
Shane: "Two friends of ours are scared tonight. They're hiding in this teeny tiny dark little closet afraid to come out, afraid we'll reject them! Here at Hester High we do things differently. We accept everyone! Can I get an AMEN, Brenda?" [BRENDA GIVES AN AMEN] "How do we prove to them that we're not your typical high school, that we accept them, that they're safe. There's only one way I can think of. Let's elect them HOMECOMING QUEENS!"
Everybody starts chanting "All hail the queens."
I think this is your standard-issue TOTAL NIGHTMARE for anybody who is actually in the closet, sidenote. What the fuck, Shane?
---
The next morning at an underpopulated bus stop, Amy and Karma are discussing the situation: Amy wants to come clean but Karma wants to see how it "plays out" 'cause going gay has already gotten them an invite to a terrible party and straight guys love lesbians and Liam is a straight guy.
Then they get into a mini-fight about Liam 'cause Amy says he could get anyone in school and she doesn't want Karma to get hurt and blah blah blah, and then a goth kid gives them muffins. "My Moms and I baked them for you two. They're gluten-free," he says. "You got my vote!"
Karma: Maybe I wanna get hurt. Maybe I wanna feel something other than boredom.
Amy: I'm sorry if spending time with me is so boring!
Now that they're fighting in public, everybody is totally sold on the lesbian thing. Then the chick who banged Artie on Glee last week interrupts their lez-squab to schedule a photo shoot, which's when Amy and Karma notice that the school's been decked out in Karma and Amy swag.
Lauren's going crazy ripping signs down as fast as Liam and Shane can hang them up.
Liam: Anyone think the lipstick one is kinda sexy?
Shane: Typical male. Trying to prove virility by turning a lesbian straight.
---
Outside, Karma is delivering lesbian spirit vibes to an unborn fetus when Amy shows up to once again plea that they shut it down.
Karma convinces Amy to maintain 'cause now everybody knows who they are, which's the only thing in the whole world that matters. "I have been getting a lot of free baked goods," Amy notes. Plus, Karma's supes excited for the photo shoot and has even bought fake eyelashes. "I guess that makes me the butch one," says Amy. "Good! We're agreed!" says Karma before dashing off to apply the lashes.
---
At yet another key moment of this sunny spring day, Liam is making terrible art outside and ruining nature.
Karma flirts with Liam about the symbolism inherent in the toy donkey he's hung up inside a brass orb of male tears. Meanwhile, Amy's trying to hunt her down, Ivy the photographer in tow, noting "Karma would be late for her own funeral. It drives me bonkers, but I love her." See this is what's so neat about their plan is that best friendship in high school is often nearly indistinguishable from girlfriendship. BUT just as Karma and Ivy round the corner…
Cut to the locker room, where Karma wants to talk about how Liam's lips are like mattresses and he's friends with gays and feminists and drives an eco-friendly vehicle and Amy wants to talk about how she doesn't want to be girlfriends anymore.
Amy: "I'm done pretending I'm a lesbian and I'm not gonna do it anymore."
Karma: "But being gay is the best thing that ever happened to us!"
Amy: "No, it's the best thing that ever happened to YOU. You got your popularity and your photo spread and your kiss with Liam. I never wanted any of this."
Karma: "Then why did you go along with it?"
Amy: "Because you're my best friend and I wanted you to be happy."
Karma: "Well it worked, I'm happy."
Amy: "Well, I'm not. Can't we just forget the past few days ever happened and just go back to the way things were, just the two of us?"
Obvs Lauren has overheard.
---
Cut to the next day at Blue Oasis High School For The Gay and Douchey, where Liam finds Karma sitting alone staring wistfully at the sky thinking about her life and her choices.
Karma tells Liam that she and Amy broke up and he's like it was 'cause I sucked your face off next to my shitty art project? And she's like, no, it's 'cause we grew apart, we're not actually going to address the impact of me kissing another human on my relationship with my girlfriend for reasons beyond my comprehension.
BUT as soon as Karma launches into a monologue about all the things she loves about Amy — like that she makes scavenger hunts for Karma's birthday, only talks during the commercials and made Karma laugh when her gam-gam died, she realizes that she must return to her lesbian notgirlfriend ASAP because their love is tried and true like the earth and the moon and the stars above.
---
Karma is afraid of heights, so she figures Amy's hiding out on the roof, and heads up there to track her down.
Whoops wrong show. HERE:
Karma admits that she's been selfish and that Amy was right.
Karma: "I'm not as strong as you are, Amy. I care too much about what those people down there think, and in this school you have to stand out to fit in and I'm so fucking ordinary."
Amy: "You are not."
Karma: "Please. Being gay finally made me interesting. But if the price of that is losing you then it's not worth it. You're the Fey to my Poehler. The Rihanna to my Katy Perry. The Lucy to my Ethel."
Yes, it's true, these two are just the latest in a long line of female friends with homoerotic tension that people who like that sort of thing get really invested in.
Amy says that it's okay, she'll do whatever for Karma. "Let's be lesbians!" she says. If only more women could adopt that same attitude, you know?
---
Cut to the Big Assembly, where some ambitious student has built a beautiful balloon arch for Principal Penelope Deliah Fisher to stand beneath while Fake Quinn Junior gives a speech about the values of traditions while her boyfriend stands there thinking about blow jobs.
Principal Penelope Delia Fisher can barely contain her excitement regarding their very first same-gender candidates for homecoming royalty!
Wait hang on. I feel like… I don't know. That doesn't feel right to me. I feel like I'm here to help them make an impression.
PERFECT.
Anyhow, before they can speak, Lauren seizes the microphone!
Lauren: "I know that you think you're being all "open-minded" by electing these two homecoming queens, but I think you all should know they're not really lesbians. They're just pretending to be so that all of you will like them, I heard them talking about it in the locker room this morning! They're MOCKING the gay rights movement."
Well, um. She has a point. Principal Penelope Delia Fisher is like, IS THAT TRUE? And before Karma can finish the sentence opening with "we can explain—", Amy's like, "if we're faking it, would I do this?" and then lays a big wet smacker right on her face.
For the record, this kiss lasts for 40 seconds. FORTY SECONDS. Do you know how long Santana and Brittany have kissed on Glee? I don't, but I'm guessing it's in the neighborhood of six seconds. That being said, how did they kiss for 40 seconds without moving ANY OTHER BODY PARTS besides their mouths?? Why wasn't Susie Bright brought in to consult. Well, I guess they were in front of the entire school, that's probs not the best time for second base. Especially if you JUST went to second base on the roof.
Some lesbian in the audience right now is about to commit second degree manslaughter. If I were in that auditorium, I would be tweeting up a fucking thunderstorm. #notblessed
WHOA, says Karma.
I know, says Amy, all caught up in the whiplash with confetti in her hair and her heart in her stomach.
Way to sell it, says Karma.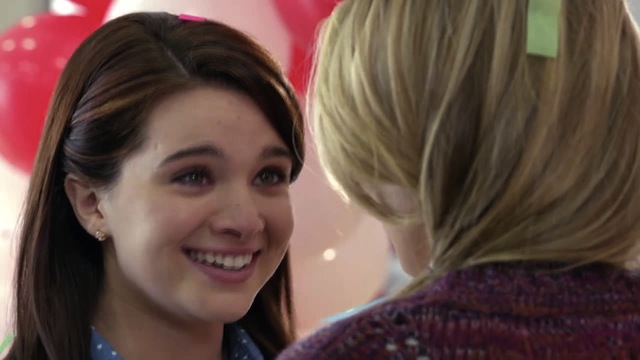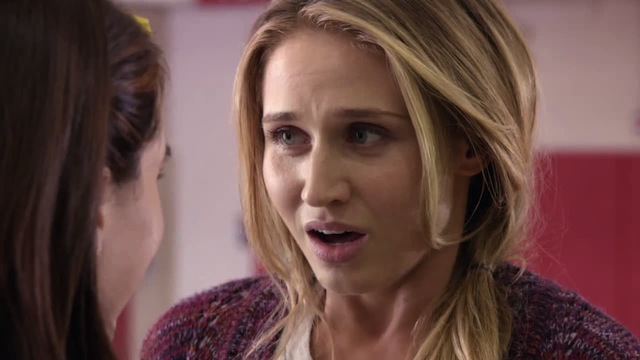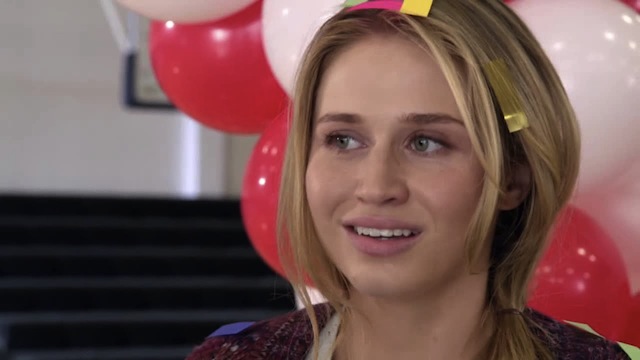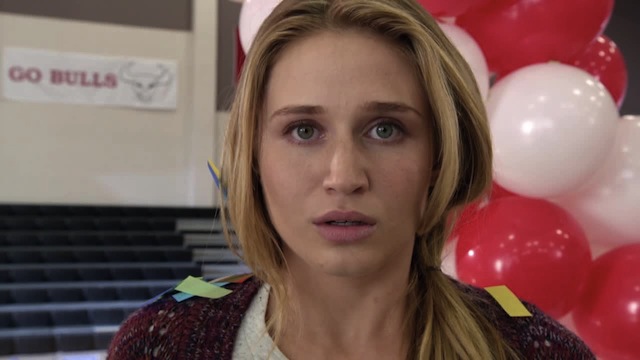 WHOA, says Amy again, but not out loud.
Pages: 1 2 See entire article on one page