Cut to the locker room, where Karma wants to talk about how Liam's lips are like mattresses and he's friends with gays and feminists and drives an eco-friendly vehicle and Amy wants to talk about how she doesn't want to be girlfriends anymore.
Amy: "I'm done pretending I'm a lesbian and I'm not gonna do it anymore."
Karma: "But being gay is the best thing that ever happened to us!"
Amy: "No, it's the best thing that ever happened to YOU. You got your popularity and your photo spread and your kiss with Liam. I never wanted any of this."
Karma: "Then why did you go along with it?"
Amy: "Because you're my best friend and I wanted you to be happy."
Karma: "Well it worked, I'm happy."
Amy: "Well, I'm not. Can't we just forget the past few days ever happened and just go back to the way things were, just the two of us?"
Obvs Lauren has overheard.
---
Cut to the next day at Blue Oasis High School For The Gay and Douchey, where Liam finds Karma sitting alone staring wistfully at the sky thinking about her life and her choices.
Karma tells Liam that she and Amy broke up and he's like it was 'cause I sucked your face off next to my shitty art project? And she's like, no, it's 'cause we grew apart, we're not actually going to address the impact of me kissing another human on my relationship with my girlfriend for reasons beyond my comprehension.
BUT as soon as Karma launches into a monologue about all the things she loves about Amy — like that she makes scavenger hunts for Karma's birthday, only talks during the commercials and made Karma laugh when her gam-gam died, she realizes that she must return to her lesbian notgirlfriend ASAP because their love is tried and true like the earth and the moon and the stars above.
---
Karma is afraid of heights, so she figures Amy's hiding out on the roof, and heads up there to track her down.
Whoops wrong show. HERE:
Karma admits that she's been selfish and that Amy was right.
Karma: "I'm not as strong as you are, Amy. I care too much about what those people down there think, and in this school you have to stand out to fit in and I'm so fucking ordinary."
Amy: "You are not."
Karma: "Please. Being gay finally made me interesting. But if the price of that is losing you then it's not worth it. You're the Fey to my Poehler. The Rihanna to my Katy Perry. The Lucy to my Ethel."
Yes, it's true, these two are just the latest in a long line of female friends with homoerotic tension that people who like that sort of thing get really invested in.
Amy says that it's okay, she'll do whatever for Karma. "Let's be lesbians!" she says. If only more women could adopt that same attitude, you know?
---
Cut to the Big Assembly, where some ambitious student has built a beautiful balloon arch for Principal Penelope Deliah Fisher to stand beneath while Fake Quinn Junior gives a speech about the values of traditions while her boyfriend stands there thinking about blow jobs.
Principal Penelope Delia Fisher can barely contain her excitement regarding their very first same-gender candidates for homecoming royalty!
Wait hang on. I feel like… I don't know. That doesn't feel right to me. I feel like I'm here to help them make an impression.
PERFECT.
Anyhow, before they can speak, Lauren seizes the microphone!
Lauren: "I know that you think you're being all "open-minded" by electing these two homecoming queens, but I think you all should know they're not really lesbians. They're just pretending to be so that all of you will like them, I heard them talking about it in the locker room this morning! They're MOCKING the gay rights movement."
Well, um. She has a point. Principal Penelope Delia Fisher is like, IS THAT TRUE? And before Karma can finish the sentence opening with "we can explain—", Amy's like, "if we're faking it, would I do this?" and then lays a big wet smacker right on her face.
For the record, this kiss lasts for 40 seconds. FORTY SECONDS. Do you know how long Santana and Brittany have kissed on Glee? I don't, but I'm guessing it's in the neighborhood of six seconds. That being said, how did they kiss for 40 seconds without moving ANY OTHER BODY PARTS besides their mouths?? Why wasn't Susie Bright brought in to consult. Well, I guess they were in front of the entire school, that's probs not the best time for second base. Especially if you JUST went to second base on the roof.
Some lesbian in the audience right now is about to commit second degree manslaughter. If I were in that auditorium, I would be tweeting up a fucking thunderstorm. #notblessed
WHOA, says Karma.
I know, says Amy, all caught up in the whiplash with confetti in her hair and her heart in her stomach.
Way to sell it, says Karma.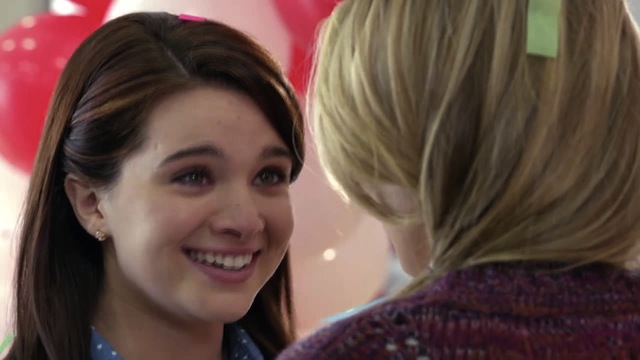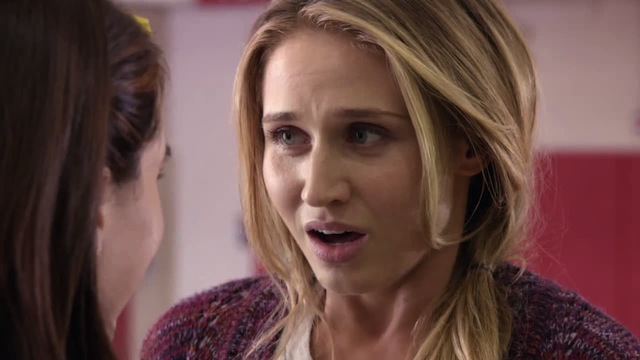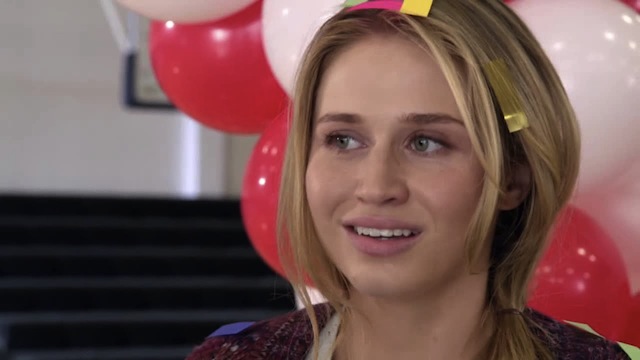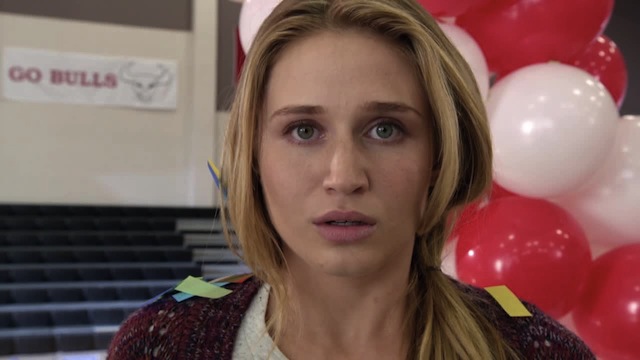 WHOA, says Amy again, but not out loud.
Pages: 1 2 See entire article on one page