This year, San Francisco Pride gave Grand Marshal honors to trans woman author and advocate Janet Mock as well as Jewlyes Gutierrez, a young Latina trans woman who was initially given a misdemeanor battery charge for defending herself against ongoing bullying from three cis girls at her Bay Area high school. While those charges were later dropped as she entered a court-ordered restorative justice program, the incident still speaks to systemic violence trans women of color face and the victim blaming our society often employs in support of it. San Francisco Pride also named Chelsea Manning as an Honorary Grand Marshal.
Meanwhile on the other side of the country, actress Laverne Cox, who was recently the first out trans woman to appear on the cover of Time magazine, was named Grand Marshal for NYC Pride.
It was in this context that SF Weekly's Pride Week issue ran a feature from Rachel Swan on income inequality between women and men in queer communities, and how that has played into forces that are compelling women in traditional queer neighborhoods in the Mission District and Castro to move across the Bay for Oakland and elsewhere. While the feature itself speaks to an important and often overlooked issue facing the lesbian community, the choice for the accompanying cover art was in incredibly poor taste, featuring two crossed arrow signs, one labeled "chicks" and the other labeled "dicks."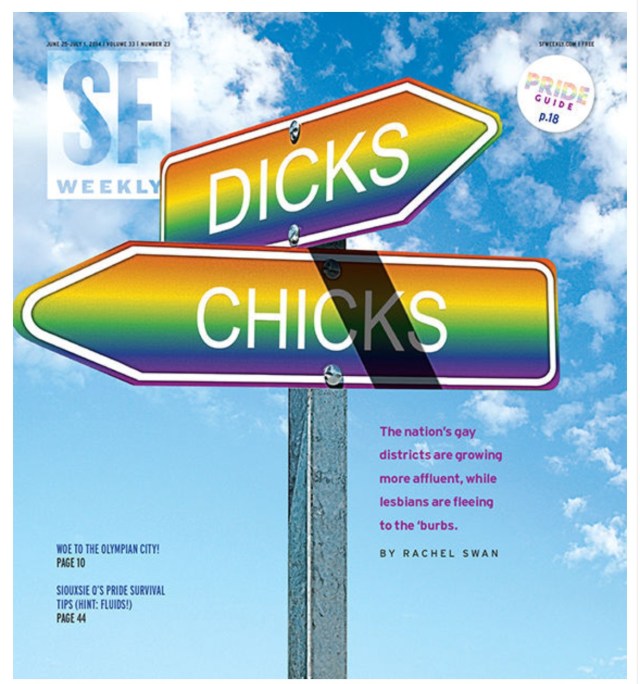 Even just at a glance, the image comes across as blatantly trans-misogynistic given that the words "chicks" and "dicks" are mostly commonly associated through the phrase "chicks with dicks," one of numerous slurs commonly employed to degrade trans women and essentialize them according to genitalia. The phrase is also commonly used in a dehumanizing manner in porn.
Beyond this obvious association, even taking the image at face value is still gross and essentializes human beings according to genitalia. This is only emphasized by an unfortunate phrase appearing in the first paragraph of the article itself, which refers to a trans man who previously ran a bar in the Mission back when he was a "biological woman." This ridiculous, out-dated phrase as it is traditionally employed points to a supposed one-to-one correspondence between chromosomal normative XX bodies and womanhood that doesn't exist and has never existed. And given how often transphobes use this type of phrasing to paint their bigotry with a false "scientific" veneer, seeing this casually employed in a supposedly queer-positive context is incredibly disappointing. (For a recent example of how these types of narratives are used to degrade trans woman, consider Kevin D. Williamson's disgusting hit piece on Laverne Cox for the right wing National Review.)
As a woman with a penis, when I see these signs with "chicks" and "dicks" pointing in perpendicular directions, it feels like this falls into the tired narrative in which trans men's stories are featured (albeit imperfectly) in the lesbian community, while trans women are ignored at best, or even outright belittled and shown the door.
To make a much more general point, given that we would almost certainly never (at least one hopes) see the "opposite" phraseology of referring to men as "studs" while referring to women according to any number of slang terms for a vagina, maybe that's an indication that this particular way of classifying human beings isn't really doing anybody any good, no matter how playfully it might have been intended.
Given the reality in which last November a trans teen in Oakland was hospitalized after being casually set on fire aboard a bus by another teen (while laughing!), getting this stuff right is important, and introducing a bunch of transphobic nonsense in an otherwise decent and important article is just a disgrace to us all in the end.