Getting an apology feels like winning but I wouldn't bust out the celebration maracas quite yet in the Facebook "real name" debacle. (For a little background you can read a piece I wrote last week about their crackdown on individuals not using their legal names and the consequential flocking to new social media platforms).
Last Wednesday Oct 1 Facebook Chief Product Officer Chris Cox took to the social media platform using his personal account to issue an apology saying:
I want to apologize to the affected community of drag queens, drag kings, transgender, and extensive community of our friends, neighbors, and members of the LGBT community for the hardship that we've put you through in dealing with your Facebook accounts over the past few weeks…
What he didn't say was that the "real name" policy was wrong or that it was changing. Instead he defended the policy with the explanation that "…99 percent of which are bad actors doing bad things: impersonation, bullying, trolling, domestic violence, scams, hate speech, and more…" and reiterating that Facebook is a community of real people and names in real life.
Furthermore, this statement never appeared on an official platform and Facebook never issued a formal press release. That may be because some of the assertions Cox makes don't seem to be true. "Our policy has never been to require everyone on Facebook to use their legal name" is a dubious claim to make after explaining earlier that, "The process we follow has been to ask the flagged accounts to verify they are using real names by submitting some form of ID" and when users received a message stating:
Your account has been temporarily suspended because it looks like you're not using your real name. Facebook is a community where people use their real identities. We require everyone to provide their full name so you always know who you're connecting with…
Perhaps even more glaring is the claim that the individual referenced in the "apology" was not specifically targeting the LGBT community. In a thorough and well-researched article Daily Dot reporter (and former Technostraddle founder/editor) Taylor Hatmaker refutes this claim with an extensive interview with the person who believes they are this individual, and who goes by the handle RealNamePolice.
Their initial Twitter account @RealNamePolice wasn't created until Sept 19th but the user claimed to have begun as early as Sept 8th. A couple days later Sister Roma, a member of the non-profit drag queen organization Sisters of Perpetual Indulgence wrote a post that became the catalyst for much of the anti-Facebook outcry that was to follow.
Hatmaker goes on to quote RealNamePolice's process in reporting users, which was most certainly targeting both drag queens and other members of the LGBT community or, as they call them, "secular sodomites."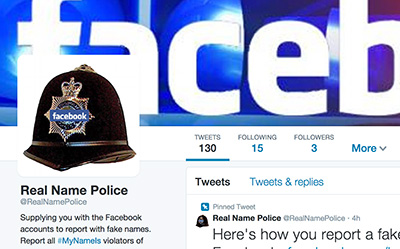 The week of Sept. 8 is when I noticed the policy and began reporting. I recall someone saying that their friend's account was impacted by the policy so I looked it up. Over the course of a week, I reported hundreds to thousands of accounts… I reported nearly everyone which I [later] saw represented at the first meeting [between Facebook and the drag queens on Sept. 17] as well as hundreds of others…
The profile photo of a person in drag combined with a non-typical name was a huge indicator. Heklina Heklina. Sister Roma. Hedda Lettuce as well as all the characters on the RuPaul show…
Associated Twitter and Tumblr accounts have also said things such as, "Beware sodomites, perverts, and fags," and "The sodomites and perverts names shall be know to all realnamepolice.tumblr.com."
Facebook's choice not to identify the user that has been reporting names may make FB feel like they have enough plausible deniability to pretend that the LGBT community was not a target, but their lack of transparency in combination with the overwhelming evidence that someone was clearly targeting queer folks makes all their explanation sound that much more disingenuous. So what could make them sound even more insincere? How about a project to create a new Facebook-run anonymous social network?
Facebook I may not yet have the strength to break up with you but I am definitely ready to see other people.