30. Arizona finds a new wingman, Grey's Anatomy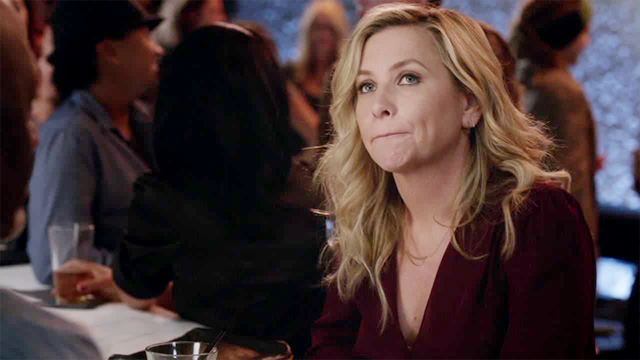 Arizona is extra cute on this season of Grey's Anatomy, especially when she revealed to Webber that she brought him out to a lesbian bar to help her get over her fear of dating again.
29. Luisa is a beautiful mess, Jane the Virgin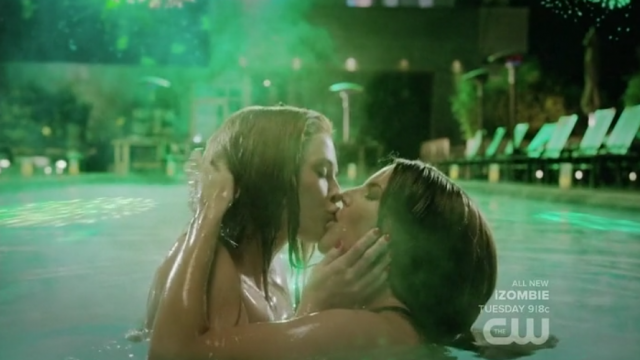 Jane the Virgin was my favorite TV show of 2015, and Luisa was one of the best parts of it. She's an absolute wreck and has been duped now by two crime lords, but gosh, I love her.
28. Cosima and Shay fall in like, Orphan Black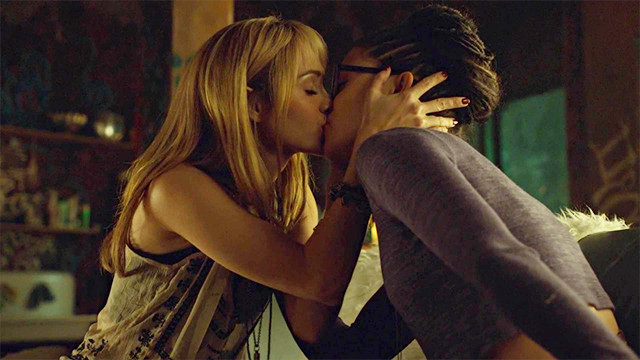 Bringing on a beloved Canadian sci-fi actor to play Cosima's new love interest was a brilliant move by Orphan Black's writers. Delphine and Cosima will always be my favorite couple on this show, but I don't mind watching these two flirt and get their smooch on while I wait for Delphine to be resurrected.
27. Max sets sail with Anne, Black Sails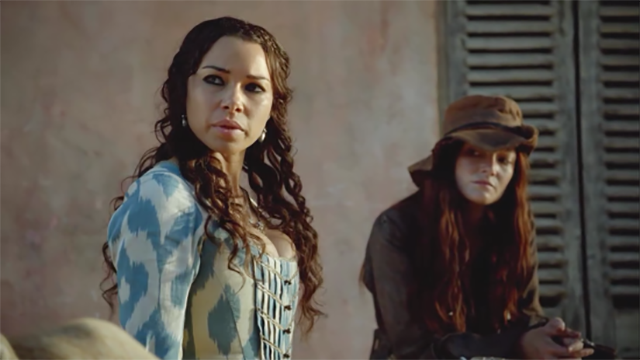 I'll always have a soft spot for Eleanor, but Max needs her millions and Anne Bonney is just the pirate to take her where she needs to go to collect that treasure.
26. Root and Shaw smooch with their mouths, Person of Interest
Person of Interest is one of the very few shows in American TV history that decided to focus on the female characters because they're better, and also let two of them kiss just because their on-screen chemistry is so good. And on CBS, no less!
25. Bo and Lauren are endgame, Lost Girl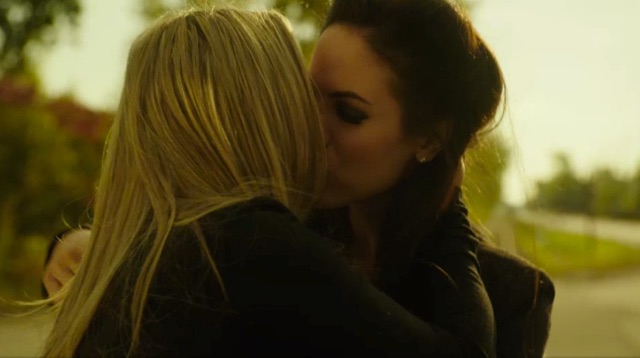 Suck it, Dyson.
24. Surprise! Tiana is queer, Empire
Though the storyline didn't really go anywhere, it was an awesome shock when we found out that Hakeem's new girlfriend also had a girlfriend. I hear Freda Gatz is in the market for a new love.
23. Real friendship between trans women, Transparent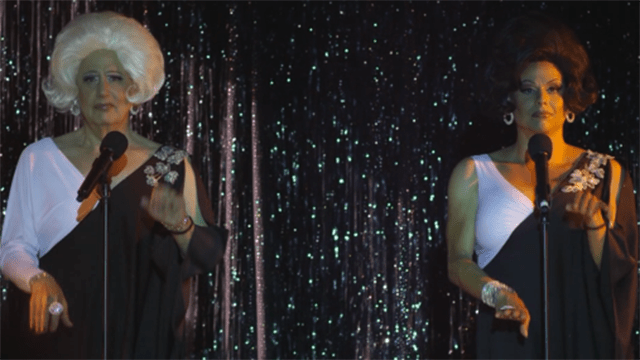 I feel like this is the kind of trans TV we've been waiting for. It's finally here. From going dancing together, making lasagna, to teaching Maura all about Yaaas Queen and getting cunt, these three showed trans women just being themselves among themselves. And Davina, oh, Davina. There's this thing she says to Maura in Episode 7 that's my favorite line in the entire show since "My whole life I've been pretending I was a woman." Davina, you have my whole heart. Ah, and Shea! he's so wonderful and there's a really wonderful conversation she has with Maura in Episode 8 that made me just want to hug her. I'm just so in love with these characters and their relationships with each other.
22. Paige McCullers bounces up out of Rosewood, Pretty Little Liars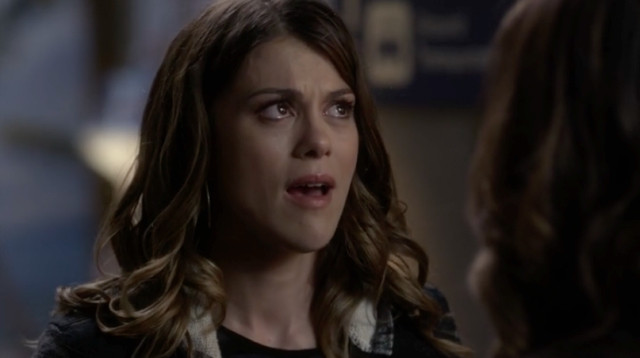 Paige McCullers: The only human with a functioning brain in Rosewood, PA. You were too good for that town, McCullers. If staying away means staying alive, I'll miss you forever, but do it, girl. See the world, fingerbang your way up the PCH, get married barefoot on the beach at sunset to a woman who deserves you. We'll always have coconut cupcakes. I hated to see her go (HATED IT), but her sendoff was a triumph worthy of her character.
21. Nomi and Amanita are so in love, Sense8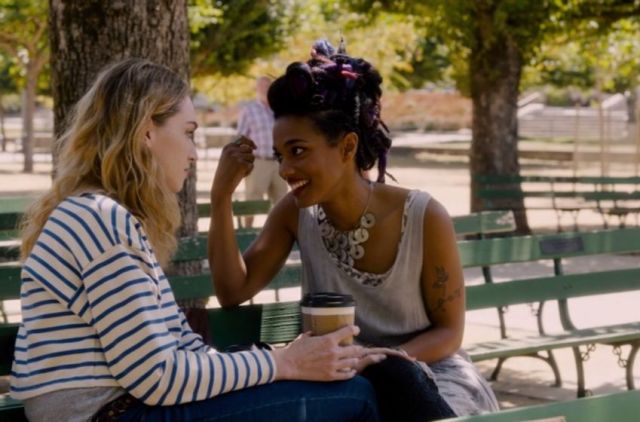 It was a year of never-before-seen queer romances on TV, and Nomi and Amanita were one of our favorites. A transgender character played by a transgender actor in an interracial lesbian relationship! It was sweet and sexy and fun, and we really do need more of it.
20. Jeri Hogarth is an evil power lesbian, Jessica Jones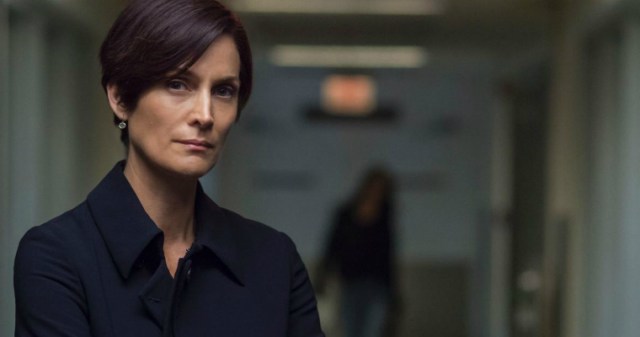 As long as queer characters aren't evil because they're queer (a trope as old as time), I am a-okay with them. Take Jeri Hogarth, the ultimate antihero. She was one of the most compelling lesbians on TV this year, on a show with two other marvelously dynamic female characters. There's no telling how much she's going to ramp up the bad guy hijinks next season, now that she's basically started making Horcruxes out of her dead wife's things.
19. Denise is the best, Master of None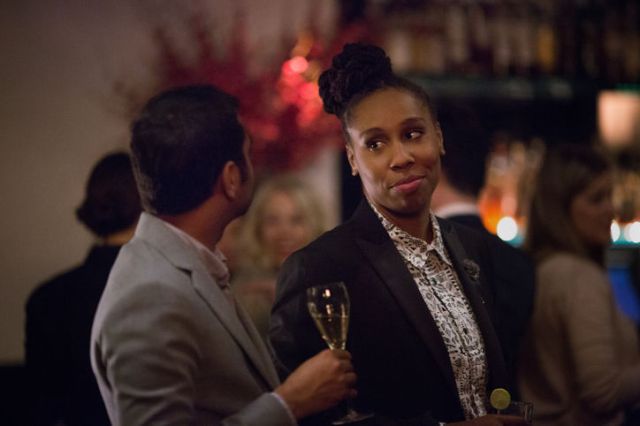 A masculine of center black lesbian character played by a real life masculine of center black lesbian comic? Yes, please. More of that, please.
18. Delphine sacrifices herself for Cosima, Orphan Black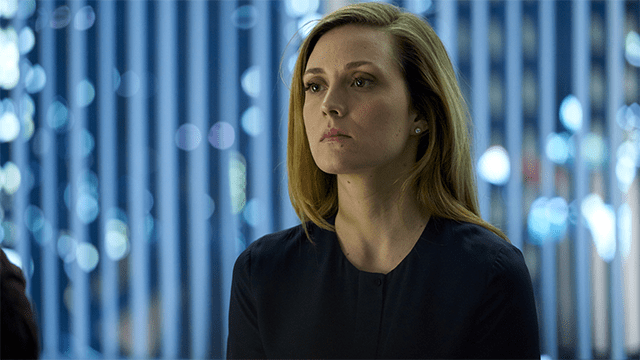 Nobody wants to see a queer character die, but if she's got to go (because she has signed on to headline her own TV show), let her go out like a Slytherin HBIC who's doing it all for the love of her life, am I right? (And hey, maybe she's not dead. We never saw a body.)
17. Stef and Lena get their shit together, The Fosters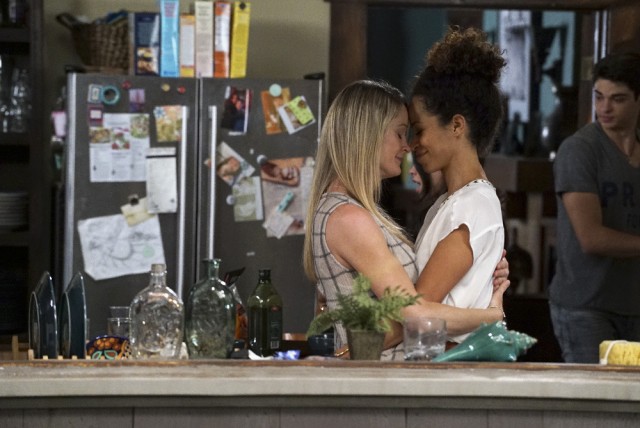 It was a rough season for our favorite lesbian moms, but they worked it out in the end, like they always do. It was a relief, I'll tell ya; I never want to see their lips on other people's lips as long as I live.
16. Marceline and PB grow old together, Adventure Time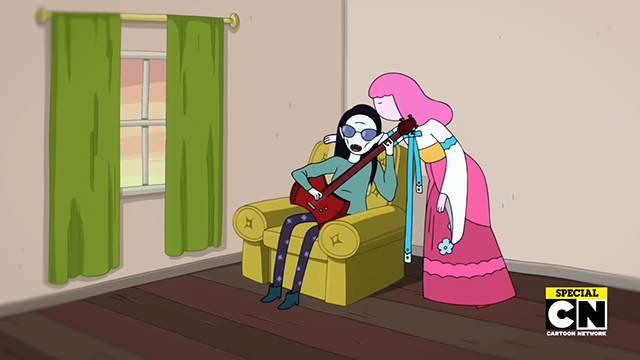 Finally! Bubbeline is canon on-screen!
15. Soso and Poussey hold hands like sea otters, Orange Is the New Black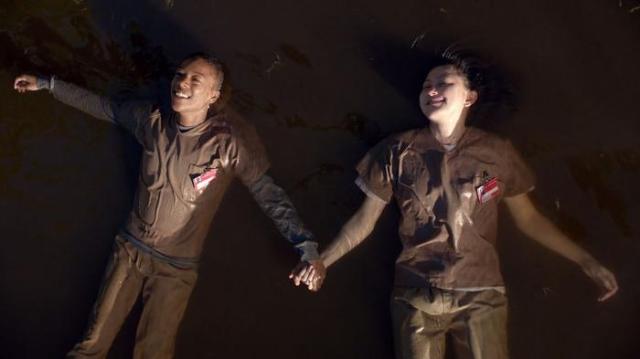 After battling terrible depression all season long, Poussey and Soso found a moment of comfort and understanding with each other in the show's final minutes. Much deserved!
14. Shelly and Maura's relationship, Transparent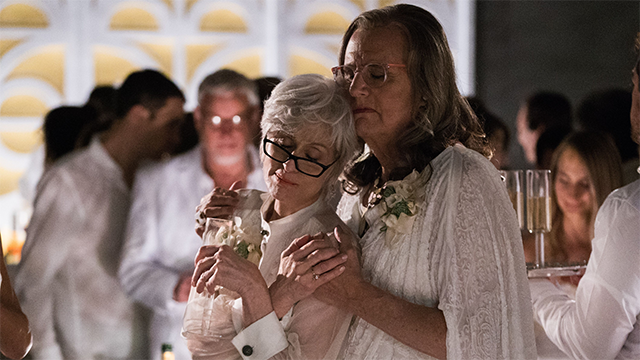 I think this is the first time this story has ever been told on TV!
13. M-Chuck visits a plantation, Survivor's Remorse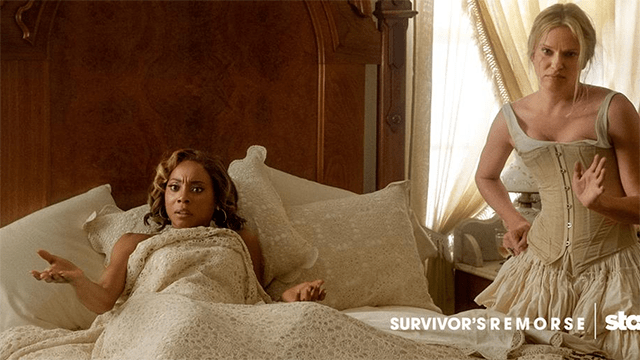 Survivor's Remorse is criminally under-watched (probably because Starz makes it nearly impossible to view its shows). This season, M-Chuck visited a plantation in south Georgia that paid actors to re-create a pre-Civil War atmosphere for tourists. She was outraged, but not outraged enough to keep her from sleeping with one of the actors, the white woman who was playing the plantation owner's daughter, in the plantation's master bedroom. Few things on TV surprise me in a delightful way, but this thing sure did.
12. Jill is Annalise's BFF, How to Get Away With Murder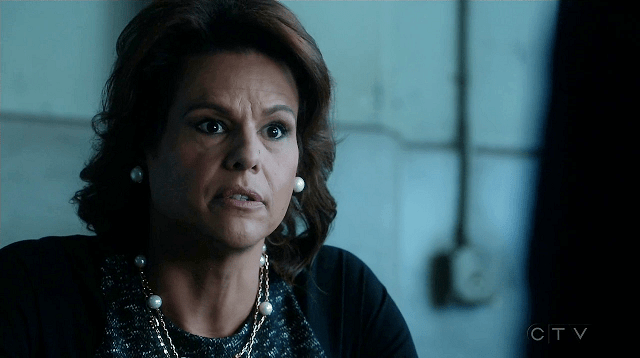 There was no shocking reveal [that Jill is trans], no discussion by the show's main characters on whether or not they should respect her identity, no tragic end, no tragic beginning. Instead, Jill was treated with respect by all the characters that mattered. The only people who were transphobic jerks were portrayed as transphobic jerks, Jill wasn't murdered and the show talked about real trans issues like transmisogyny in the police and court system and the way men who sleep with trans women often mistreat the women they're sleeping with.
11. Unique returns triumphant with an entire trans choir, Glee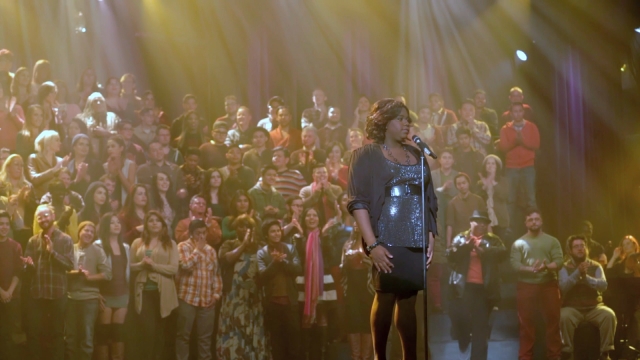 Glee never, ever, ever treated Unique right, and this scene had all the makings of the "magical black woman" trope, where she arrives on the scene to guide a white man through his tough times to a place of enlightenment, but damn, it was just so good to see Unique return and SHINE like the star she always was.
10. Brenna will not let her bisexuality be erased, Chasing Life
Brenna was one of the few bisexual characters on TV to actually label her sexuality and say the word "bisexual" every time someone tried to call her gay or straight. She even threw down in a GSA meeting at her new school, addressing all kinds of bi stereotypes in a way we never get to see on TV, and coming out triumphant. I'm still mourning the fact that ABC Family Freeform cancelled this gem of a show.
9. Raven comes out, Black-ish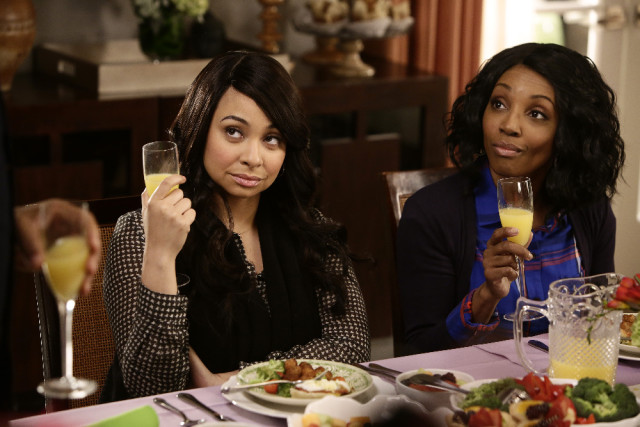 One of the best queer standalone episodes of 2015 was Raven playing Dre's gay sister on Black-ish. It was funny and sweet and so true to life. When she came out and revealed that her live-in mechanic was actually her girlfriend, her family refused to believe her, but they came around by the episode's end.
8. Lauren comes out to defend Hester High, Faking It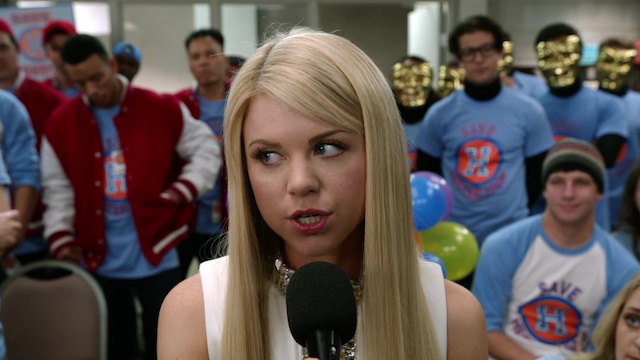 Faking It has 99 problems, but Lauren Cooper ain't one. After keeping it a secret for a season and a half, she came out as intersex in front of all her peers to save Hester High. She continues to be the highlight of this show, one of our favorite TV characters, and the hero Texas deserves.
7. Freda Gatz arrives to take over the world, Empire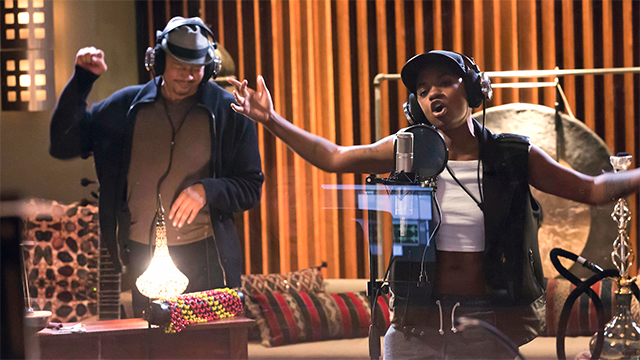 Season two of Empire has caused a lot of frustration among viewers, but one thing we can all agree on is that Freda Gatz is the truth. If only she can stay out from under Lucious' thumb!
6. Big Boo gets a backstory, Orange Is the New Black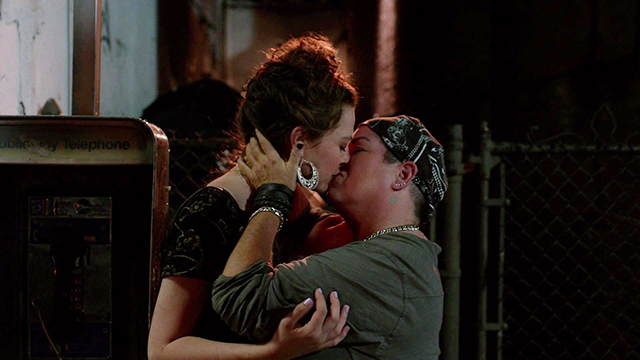 We hardly ever get to see masculine of center women on TV, but OITNB gave us Big Boo's story from the very beginning and it resonated deeply with us.
5. Ali and Syd fall in love, breakup, Transparent
There were more ladies falling in love with ladies stories on TV than ever before in 2015, but Syd and Ali's felt the most real to us. Carrie Brownstein crushed it.
4. Brittany and Santana get married, Glee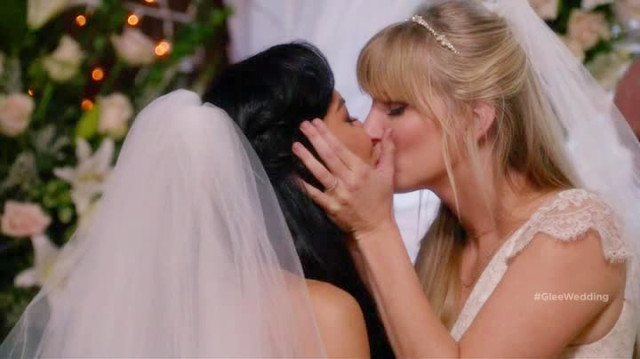 2009: "Sex isn't dating. If it were, Santana and I would be dating."
2015: "I would have suffered it all, just for the tiny chance that I'd be up here, marrying you."
3. Garnet is really Ruby and Sapphire, Steven Universe
When Garnet revealed that she is actually two gems fused together in a lesbian marriage, my heart nearly exploded out of my chest. It was so romantic and it was the first animated series in America to really, really go there in a way that required no interpretation of subtext. Truly, Steven Universe is one of the best written and most feminist shows on TV; and this moment was revolutionary in ways we'll be talking about for a long time.
2. Annalise and Eve sitting in a tree (K-I-S-S-I-N-G), How to Get Away With Murder
Oh, you know, just Viola Davis playing a bisexual antihero on the most watched night of TV in the United States for a role that made her the first black woman to ever receive an Emmy for Best Lead Actress in a Drama. No big deal. (Just kidding, this is an ENORMOUS deal.)
1. Suzanne's genius is finally revealed, Orange Is the New Black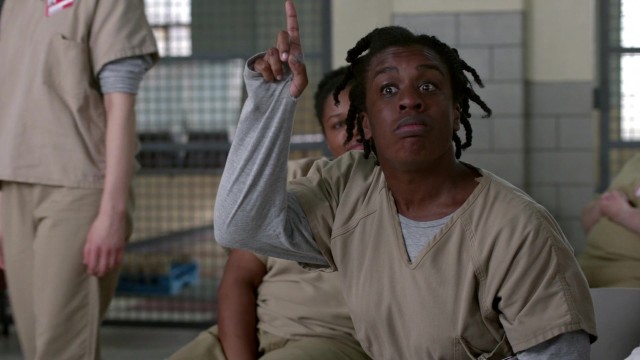 The first two seasons of OITNB were brutal for Suzanne, but she finally got a little bit of respite in season three, as she became a celebrity for of her Time Hump Chronicles novel, and she found love in a very sweet new inmate/super fan. There's a reason Uzo Aduba keeps getting nominated for every acting award on the planet, and it's because she breathing life into a character we have never see on our TVs before.
Pages: 1 2See entire article on one page