Emily Rios, who plays lesbian reporter Adriana Mendez in FX series The Bridge, came out during an interview at TCA's FX day. 
In the show, a crime drama about a bi-national police force attempting to catch a serial killer plaguing the Texas-Chihuahua border, Emily Rios plays reporter and Juarez native Adriana with a female partner who is a nurse named Lucy. About their dynamic, Rios says, "You're going to get more of that and her personal life, but it's very simple. It's because I don't want to be this big deal. You'll catch them in their home, you'll catch them possibly in the same bed, maybe kiss a little but it's nothing major."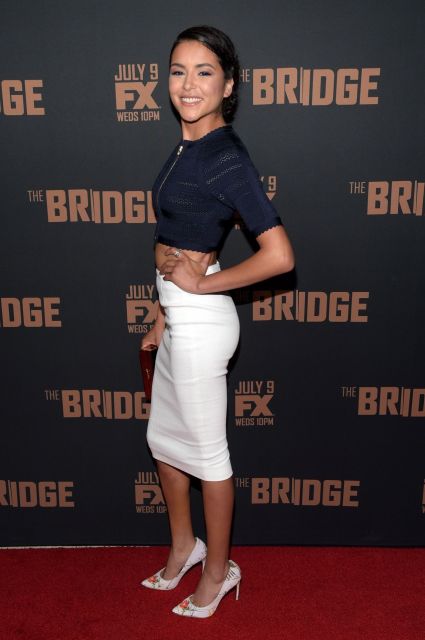 Of her role and character in The Bridge, Rios tells AfterEllen "I'm gay, personally, so being Mexican and a lesbian — this is why I love the character because I deal with the same type of things with my own family." Rios has also had a roles in Friday Night Lights, Breaking Bad, and Men Of A Certain Age, but this is the first in which her role reflects her real life and she gets to play a gay Latina woman — a very uncommon occurrence for most gay actors. What's more, she is allowed to exercise a level of control over how she is portrayed. "I try to tell [the writers], 'Listen, this is not how it happens. We are not this way,' They have an idea, or they want to have an idea of what really happens behind the scenes. And I'm like 'No!' So he loved that. Elwood, [executive producer] I came out to him and I was like, 'Look, feel free if you have any questions, I don't ever want it to be this" and he's like "Neither do I! It doesn't matter.' 'OK great!' It worked out wonderful."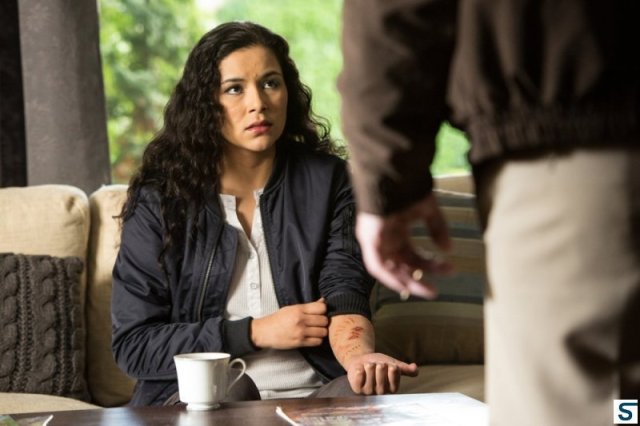 I first personally came upon Emily Rios a few years ago through her leading role in the film Quinceañera, a compelling, heart-touching movie about a young Mexican girl from a traditional family who is pushed out when it is discovered she is pregnant at the tender age of 15. She is sent to live with an elderly uncle along with her cousin, who is also ostracized for being gay. Admist familial and cultural upheaval and the internal strife and struggle that comes with "untraditional" identity and coming into one's own despite the desires and expectations of your loved ones around you and your community, the family deals with gentrification in their home of Echo Park. I loved how it so poignantly addressed identitad, machismo, Latina ideas of purity and womanness, slut-shaming, and homophobia in a working class Mexican-American family.
I identify hard with the narratives, perspectives, and struggles both in the work Rios does and in her own life. It excites me to add another out talented queer Latina, who joins the ranks of Michelle Rodriguez to the growing team!