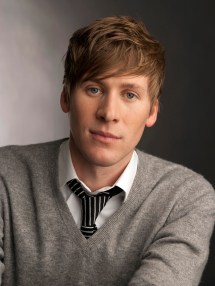 DUSTIN LANCE BLACK: True story: I once published a short story called "There is Hope in Hope" and it was about a dykey girl going to her parents' Hope College reunion and hooking up with her parents' college buddy's seemingly straight daughter. ANYHOO that's not what this is about, this is about Dustin Lance Black, Oscar-award-winning screenwriter of Milk and all around kickass dude.

Somehow Hope College scored Dustin Lance Black to swing by their campus 'cause he's nearby working on a film (initially I'd assumed he was planning to pick up some new wooden shoes or tulips in Holland, Michigan) to speak to a Screenwriting class and participate in a Sexuality Roundtable.
Well — until the heads of Hope College uninvited Dusty and his homosexual agenda. A girl named Charity (how can you dislike a girl named Charity, it's like Mother Theresa or Angelina Jolie) wrote autostraddle about her feelings on this:
I am not emailing you as a fan (even though I clearly am). I am emailing you because there is a movement that needs to be happening at my college and I hope that we (the GLTB community) can help. I am a junior at Hope College in Holland, MI it is an infamously Christian and Conservative school. We do not have a "recognized" GLTB group on campus because of the religious background of the school. So when the Sexuality Roundtable (that is what we have to call it) wanted to invite Dustin Lance Black to our school, we were denied. Please help! Our school needs a BIG wake up call! I have attached a couple of links to some newspapers that have written about it, including the Holland Sentinel (the local newspaper). Please post this on your blog/website so we can help our school open its eyes.
Consider Your Eyes Opened! Perez Hilton also complained, but as I have a strict no-linking-to-Perez Hilton rule, I'll just direct you to an Article from SameSame.au: Raised a Mormon himself, Black told the Sentinel "When I do live speaking tours, I'm all about reconciliation between the gay community and the religious community."
So what's the big issue? Apparently Black is just "too polarizing" for the school. I think its really amazing that someone is actually allowed to say that out loud and not get a tomato thrown at this face.
GLAAD Awards for Advertising: While many mainstream marketers still shy away from ads directed at gays and lesbians, a leading advocacy group found plenty of companies to honor this year, including Orbitz, Bertolli, Subaru and Allstate.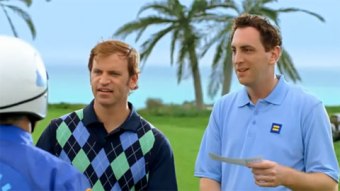 FOX NEWS: The Fox News vs. The White House debate rages on, and Jezebel has feelings I totally agree with.
GENDER: Autostraddle asks What Does a Lesbian Look Like? It's our first Roundtable in a long time, and we'd let Dustin Lance Black speak if he wanted to.
HOT BODIES:In related news, Jezebel breaks down a study revealing that men prefer women with hot bodies for short-term relationships and women with pretty faces for long-term: Butterfaces And "Size Zero Girls:" The Morality Of Female Attractiveness: I'm not against studies about human attractiveness per se — I just wish those who report on such studies could stop linking them to health or morality.
TRANSPHOBIA IN SEVENTEEN MAGAZINE: A young LGBT activist named Ariel Bustamante has launched a Facebook campaign against Seventeen magazine in response to its publication of an article titled "True Life Drama: My Boyfriend Turned Out to Be a Girl," that portrays transgender people in a highly negative way.  (@pamshouseblend)
RESTLESS VAGINA SYNDROME: A new article tracing the marketing of Female Sexual Dysfunction (FSD): Convincing women to feel distress is a key component of the drug company strategy to market a multi-billion-dollar pill that will cure billions of women of what may not ail them."(@inthesetimes)
GLEE KEEPS GETTING TEEN SEX RIGHT: Although Glee has been rightfully called out for getting a lot of things wrong (e.g., treating a wheelchair-using character as a comedic prop, too often reinforcing negative stereotypes while ostensibly sending them up), teen sexuality is one thing it consistently gets right, even within an over-the-top, credulity-straining universe. (@salon)