Little lesbian lambs there are so many incredible things happening for you today. Strais & Bisexuals too, obvs. Let's begin: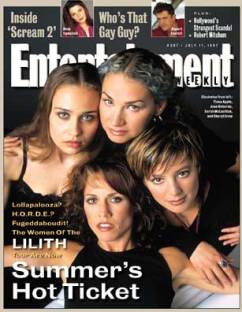 LILITH FAIR: Over at tripwire, everyone's getting excitant about the return of Lilith Fair: "we thought we'd make a little Fantasy League of the Main Stage acts, featuring some of the artists that are sure to be on the roster and some that we really really wish were." For those of you that missed this fantastic event in the 90's, your life unfortunately is incomplete. SORRY!
So — did y'all go to Lilith Fair? Who would you like to see play? [Riese sidenote: In Detroit we had Sarah McLachlan, The Indigo Girls, Sinead O'Conner … and I can't remember the rest. We had hummus and, I believe, um, mood enhancers?]
Tegan & Sara, Sarah McLachlan, The Indigo Girls, P!nk, Santigold and Uh Huh Her are listed as "shoo-ins." I'd put in votes for Chris Pureka, Melissa Ferrick, Fiona Apple, Amanda Palmer, Sleater-Kinney, Emily Haines, Imogene Heap … thoughts?
LIZ FELDMAN: Lesbians are gonna be on teevee? Really? I can hardly believe my eyes — Dorothy Snarker has the lowdown on Liz Feldman's new project!
THE LYNCH CAN DO NO WRONG: Jane Lynch has finally made it. Now that she's mainstream, she's now reported on in Page Six: "SAPPHIC 6-foot blonde Glee star Jane Lynch locking lips with her much shorter brunette gal pal at Blue Ribbon Brasserie in SoHo." It is kind of hilarious that they all-capsed "SAPPHIC." (@nypost) The Lynch also spoke to New York Magazine and provided this gem: "I don't know how to dress. I'm not very good at it. My mother also has a perfect body. She can take something off the rack, pay $1.99 for it, looks fantastic on her. I spend thousands of dollars to look like a homeless person, and I have to go to the tailor." (@nymag)
GLAMBERT: Some lucky bitches over at Yahoo were treated to a top secret listening session of Adam Lambert's upcoming musical masterpiece: "I am too excited about the audio glitterbombs that have been blasted directly into my unsuspecting ear canals … Yes, the music was THAT good, people. It was EXACTLY the extraterrestrial electro-opus I hoped and dreamed it would be..." Also, FYI, Adam Lambert is well aware of his album cover's terrible/AWESOMENESS. That's kinda the point. (@yahoo)
TRUE BLOOD: Would never do us wrong. We heart Alan Ball 4-evs, especially his promise of more gayness on True Blood for Laneia to recap! (@advocate)
BEING A FRIEND: Bea Arthur left 300K in her will to the Ali Forney Center. [Riese Sidenote: Haviland & I went to an Ali Forney Center benefit a few years ago and I did serious research about these cats the next day and what they do is f*cking AWESOME and SO NECESSARY. Yay Golden Girls!] (@velvetpark)
HOT CHICKS: Friends of Autostraddle fitness guru Lacy Stone & model Jessica Clark have started up a new webseries about lesbians in love, you should watch it b/c they are super cute!
BOOKS: After a petition with 4,000 signatures on change.org, children's publishing company Scholastic says that it will include Luv Ya Bunches, a book that it previously banned from its book fairs over a set of lesbian characters. (@advocate)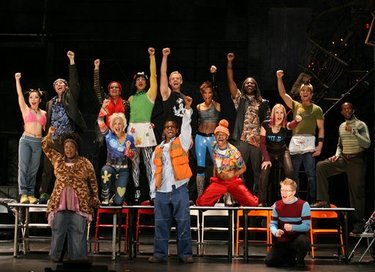 RENT: Parents are seeking to stop a high school in Nevada from staging two plays, Rent and The Laramie Project, claiming the productions about gay characters are "not suitable for students." Concerned Parents of Green Valley High School Students filed a 5-page lawsuit seeking to stop the shows from opening in November. (@advocate)
GAY MEN ON TV: A Cliffs Notes version of every gay (male) character on television for the past quarter century.  It's Time Travel Thursdays, starring: that guy from Dynasty, Melrose Place, Dawson's Creek, Desperate Housewives, and those guys from Brothers & Sisters. In retrospect, the cut-away kiss is completely insulting and shows how far we've come since the early 80s with series like Queer as Folk and The L Word. Attn: People with old VCR tapes – please make a lesbian version of this compilation!
ALICE : Preview the extended trailer for the upcoming Tim Burton film Alice In Wonderland. (@spike)
DOCUMENTARY "TRAINING RULES": Training Rules, a new documentary that examines how women's collegiate sports, caught in a web of homophobic practices, collude in the destruction of the lives and dreams of many of its most talented athletes is making it's way around the festival circuit and will be released on DVD early 2010. We talked about it like 10 years ago, so maybe you need it again now. Unless you're like 10 years ago or something.