Don't get me wrong, 2014 was a great year for comics fans. There were a bunch of super great comics about women and written by women, we finally got confirmation that a Captain Marvel movie and Wonder Woman movie are being made, misogynistic geek culture finally got called out in a big way and we even got Renee Montoya on a TV show! However, there's always room for improvement.
1. More trans women in comics
Yes, we have a few; there's Tong and Alysia Yeoh, representing Marvel and DC respectively, and then more recently The Wicked + The Divine and Trees showed that Image Comics has trans women as well. But I want more, and I want a main character and I want a superhero. I also want the characters we already have to be more prominent. I mean, Alysia has shown up twice in the new Batgirl run and I think Tong has only shown up in a few panels since FF ended. But come on, trans women are awesome; we should be in All The Comics.
2. Captain Marvel (or another new woman superhero) to show up in the Avengers: Age of Ultron or Ant-Man
I know that Scarlet Witch is a character in Age of Ultron, but that's not enough for me. We now know that a Captain Marvel movie is on the horizon, so why shouldn't we get a look at her as soon as possible? Also, I mean, come on; Wasp, also known as Janet van Dyne, was an original Avenger. She was a member of the team before Captain America. Yet she's being killed off screen in Ant Man. That's garbage. I want her to be on screen. Plus, after director Edgar Wright left the movie, my low level of excitement for Ant-Man became even lower, so they better do something to make me want to see it. Who am I kidding? Of course I'm going to see it in theatres. Comics and going to the movies are two of my top five favorite things in the world.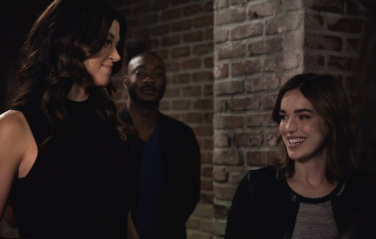 3. For Skye or Simmons or Melinda May or Bobbi Morse to come out on Agents of S.H.I.E.L.D.
Seriously, the only queer woman that's been on this show was unceremoniously fridged before she even got to be openly queer on the show. And these ladies are like, constantly flirting with each other. Is it really too much to ask for just one alive queer woman on this show?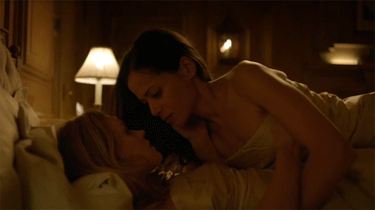 4. More screentime for Renee Montoya on Gotham, and maybe a longterm girlfriend for her
Renee is easily one of the best parts of this show, but she's barely on it. One of the bad things about this show being a prequel to the Batman universe is that we know the eventual lives of many of the characters. That means we know that Barbara Kean, who Renee is currently with will end up with Jim Gordon. So I want a real girlfriend for Renee, not one we're waiting for her to break up with.
5. More women, and especially women of color and queer women, creators, especially at The Big Two
If you don't know, "The Big Two" is referring to Marvel and DC Comics. As of October, Marvel had 10.8% women creators and DC only had 8.7%. That's terrible! There are some big name creators, like Gail Simone on Secret Six, Kelly Sue DeConnick on Captain Marvel and G. Willow Wilson on Ms. Marvel, but if studies show that in between 40% and 50% of comic book readers are female, then shouldn't those numbers be the same for creators?
6. No more rape in Batwoman, and for Batwoman to get a new series now that hers is ending
I don't feel like I need to say more. I mean, Batwoman's current storyline where she's being raped by her abusive vampire girlfriend is terrible, and the writer sees absolutely nothing wrong with it. Maybe after her current series ends we can get a new creative team, or maybe even get JH Williams III and WH Blackman back?
The first volume of this Supernatural Western by Kelly Sue DeConnick and Emily Rios was so freaking cool and so freaking good. It went on hiatus, and DeConnick has dropped a few hints about the next series, but there's been no formal announcement about when it will come out or what it will be about yet.
8. Miss America Chavez to show up again on a regular basis
She's maybe my favorite character in all of superhero comics and she's not even in a book right now! Keiron Gillen and Jamie McKelvie elevated her to superstar status in Young Avengers, but now that that series is done, she's disappeared. She's got cool powers, she's a lesbian Latina, she's funny and a great friend, she wears awesome clothes. I could sing her praises all day long. I'd just prefer to read about her.
9. Renee Montoya, Cass Cain and Steph Brown to become permanent members of the New 52 Universe
They're all going to be appearing in DC's Convergence special event, but that's not enough for me. These have long been three of my favorite characters and so when I found out that they were disappearing when the New 52 universe started I was furious. Cass Cain and Renee Montoya were two of DC's most prominent women of color and Montoya is also one of the most important lesbians in all of comics. That's not to even mention that they're great characters.
10. More comics characters to come out
Representation is super important. A lot of young people read these comics and see the characters in them as heroes (I mean, they are superheroes after all). Heck, a lot of not-so-young people do the same thing. When we don't see anyone like us in the comics, we are more likely to forget that we too can be the heroes of our own tales. Right now there aren't many queer women in comics, at least in DC or Marvel, and so I'd really like to see more.
11. More comics creators to try to make things better
I'd like to see more people act like Brenden Fletcher, Cameron Stewart and Babs Tarr and not just apologize when they make mistakes and do transmisogynistic (or sexist or homophobic or racist or whatever) things, but also promise to do better and actually start doing better. They actually listened to the trans women who told them how hurt we were by the comic. If the entire comics industry was filled with people like them, the world would be a wonderful place. So I think it's important that we keep reading Batgirl, to show that when creators act like this, we want to celebrate that.
12. Legend of Korra comics that show some sweet Korrasami action
After the original Avatar: The Last Airbender series aired, we got some comics that continued to tell about the adventures of Aang and his friends. If we get some comics like that for Korra, we should definitely get more of the relationship that we got a taste of between Korra and Asami in the series finale.
---
New Releases (January 7)
Betty and Veronica #274 (Archie Comics)
Angel and Faith Season 10 #10 (Dark Horse)
New Vampirella #8 (Dynamite)
Red Sonja Vulture's Circle #1 (Dynamite)
ODY-C #2 (Image)
Angela: Asgard's Assassin #2 (Marvel)
Operation S.I.N. #1 (Marvel)
Storm #7 (Marvel)
Unbeatable Squirrel Girl #1 (Marvel)
X-Men #23 (Marvel)
---
Welcome to Drawn to Comics! From diary comics to superheroes, from webcomics to graphic novels – this is where we'll be taking a look at comics by, featuring and for queer ladies. So whether you love to look at detailed personal accounts of other people's lives, explore new and creative worlds, or you just love to see hot ladies in spandex, we've got something for you.
If you have a comic that you'd like to see me review, you can email me at mey [at] autostraddle [dot] com.