When I was perusing twitter a few weeks ago, a post where an artist was coming out as trans passed by my feed. I checked out her twitter and found that she did this super cute comic Rae the Doe about a gay, trans doe. These comics are so earnest they punch you right in the heart. Rae is such a pure cinnamon roll and all you want to do is protect her and make sure she's happy. She's out there giving all of us trans folks who probably won't get surgery some visibility by deciding to keep her antlers. She's sensitive and nervous, super emotional and super, super gay. She's a perfect gay role model. Oh, and before you ask: the do re mi/Rae the Doe thing is a total coincidence.
Just like her creator, Rae the Doe had a recent coming out. Shortly after she came out in real life, Brinker posted on twitter that there would be a week of special Rae Comes Out comics. These were great. Brinker has talked about how she wants to show that you can have trans jokes that aren't making fun of or putting trans people down. These comics do a great job of that, never putting Rae down or mocking her gender or coming out, but still making you laugh while making you say "awwww." It's really nice to see a coming out story that's happy and full of love; I want more coming out stories that are like this!
I'm seeing more and more four-panel comics by queer cartoonists. With Up and Out, Close Your Eyes Look At The Mountains, My Two Lesbian Ants, and now this comic, we've got a cool trend going on. They also all share a profound sense of sincerity and vulnerability. These aren't comics that are filled with layers of irony or metaphor; they tell you exactly what they want to say even if they're embarrassed to because they know it's worth it. They're shaking off the pretense of a lot of Millenial humor and sticking to the simple format of memes and internet humor and creating something really wonderful for the future of comics.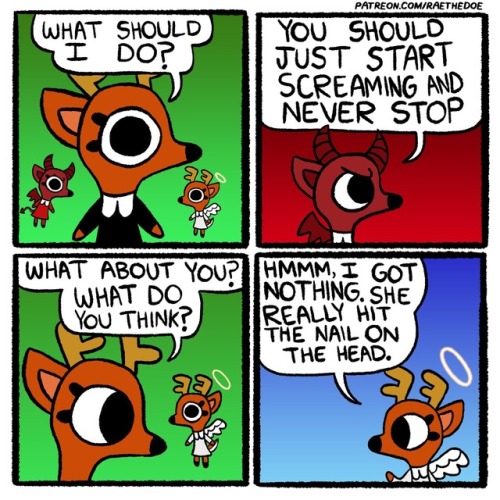 Olive Brinker is a terrific cartoonist and seems like a terrific person. If you want to follow her and her work, you can check out her twitter. Her comic, Rae the Doe has a tumblr where you can read all the pages as they update on Mondays, Wednesdays and Fridays. If you'd like to support her, you can do that through her patreon account or you can buy Rae the Doe shirts on teespring. I personally own the "I'm Gay" shirt, but that "I Love You, You Gay Disaster" shirt looks really incredible.
New Releases (April 18)
Harley Quinn & The Gotham City Sirens Omnibus HC
Star Trek Discovery Succession #1
X-Files Case Files Florida Man #1
Phoenix Resurrection Return of Jean Grey TP
Runaways Vol 1 Find Your Way Home TP
---
Welcome to Drawn to Comics! From diary comics to superheroes, from webcomics to graphic novels – this is where we'll be taking a look at comics by, featuring and for queer ladies. So whether you love to look at detailed personal accounts of other people's lives, explore new and creative worlds, or you just love to see hot ladies in spandex, we've got something for you.
If you have a comic that you'd like to see me review, you can email me at mey [at] autostraddle [dot] com.