Over at Slate's XXfactor blog, the recently posted blog by Amanda Marcotte, "Do Women Like Sex?" is causing a lot of debate. Short and sweet, the blog is about sexual economics theory which examines the premise that women exchange sex with men for other resources. Though I tried to find resources related to sexual economics theory and homosexual relationships I didn't find anything. So there's that. (Thesis idea ready for the taking, bill me later.)
The Roy Baumeister study that Marcotte's blog post critiques abandons the feminist view that women may participate in random sex less readily than men due to oppression through patriarchy, and instead points to the need for women to control the sex market by essentially cornering it from other women and shaming other women from casually participating in sex. Given the popularity of the Slutwalks around the country, slut-shaming is clearly plays a powerful role in women's sex lives.
According to the economics of a market economy, less casual sex from women makes sex a more valuable commodity on the market for women to use to demand resources from men. Welcome to sexual economics!
More on that from Baumesiter in an interview with Salon:
The point of sexual economics is that sex is a resource that women have. Men trade women other resources for sex. Historically, women have restricted each other's sexuality in order to make the price of sex high, so that men pretty much have to make serious commitments of marriage in order to [have sex].
When women have more access to educational and financial opportunities, they don't need to hold sex hostage as much, so they relax the controls they've put on sexuality.
Cited in Baumeister's research is this one time some strangers on a college campus walked up to both men and women to approach them for casual no-strings-attached sex and while the men were all about it, all but one of the women said no thanks. The gist of this study's conclusion, and others that speak to the market of women and sex, is that women are more discriminating and want sex less often than men and thus one can purportedly make the assertion women like sex less than men.
Marcotte agrees with the concept of lowered economic value of sex due to greater equality for women, but is put off by claims made that women enjoy sex less than men or primarily find enjoyment in sex for its economic value.  She continues:
If that's the case, then we should actually see sex rates plummet, and not just in marriage.  Actually, we should see marriage rates plummet, too, if marriage is simply an exchange of vagina for economic stability. If women just aren't into sex, and they don't need to exchange sex for goods and services, which is the traditional reason Baumeister says we have sex, then why wouldn't we just give it up?
While the study of the market economy of sex has some validity in that women have been able to use sex as a commodity and research may show women are more discriminating about casual sex partially for this reason, making a direct correlation that this then means women like sex less is a false one.
Tracy Clark-Flory, who conducted the Salon interview, notes that Baumeister's study, "shows that countries with greater gender equality have higher rates of sexual activity. With parity comes a greater likelihood of casual sex and more sexual partners." Good. Sure. However, she  goes on to say that "it also paints a mathematical, emotionless portrait of relations between the sexes." Not good.
Marcotte concludes her post with an appeal to feminism for greater understanding of women, men and their sexual interaction:
Women enforce the rules because the system penalizes them for not doing so, but if women collectively stop enforcing the rules, i.e. become feminists, then the system collapses.  And women, liberated from patriarchal domination of their sexuality, start having the same kind of variety of sex (casual, committed, somewhere in between) that men have always preserved for themselves alone.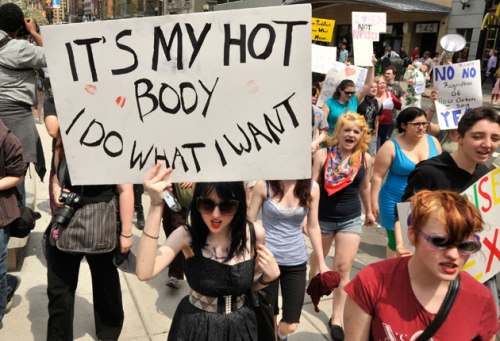 I appreciate an evaluation of the economy of sex, but really women and men aren't working with the same currency. Both patriarchy and feminism help us understand why this is the case. And how does this research apply to homosexual relationships? Like much of the conceptual framework of relationships that the patriarchy presents to us, lesbian relationships and desire turn this idea on its head — there's no market value to be had, at least if said lesbian sex isn't being had in front of a camera, and in fact there's usually something to be lost, at least in terms of social cache, in one arena of your life or another. When the conversation about women's desire is centered around a cultural bargain to be struck with men, where does same-sex desire fit?