---
I learned lots of things at October A-Camp. Like how to spell chlamydial, adorable marriage proposals make me cry uncontrollably, and glass etching is my new favorite hobby. It's so simple even craft-challenged weirdos can pull it off, and I mean really – who doesn't feel like a baller sipping whiskey out of a personalized glass?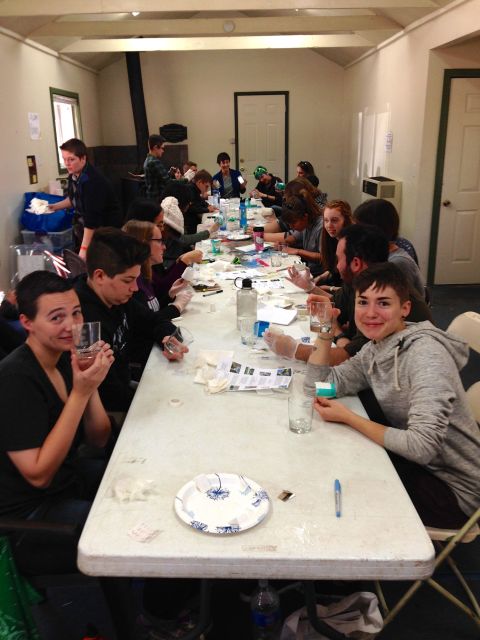 Etched Glasses
Supplies Needed:
+ Glasses to etch
+ Sticky stencils
– I ordered custom vinyl stencils here for camp
– Or you can make draw your own stencils on contact paper, and cut them out with an exacto blade
+ Masking tape
+ Armour Etch glass etching cream (It is reusable so it will last a long time. You can find it on Amazon for $11/ 3oz -OR- $22/22oz)
+ Makeup sponge
+ Latex gloves
Steps:
1. Choose your design. If you are an amazingly talented human (which I am not) draw or trace it onto the contact paper and cut it out with an x-acto blade. If you are an averagely talented human like myself, order a custom vinyl stencil from Etsy.
2. Clean your glass so they are free of dirt/smudges (you don't want to etch dust or fingerprints onto your glass). A paper towel and some hot breath are fine, glass cleaner will also work.
3. Carefully place the stencil on the clean glass surface, then rub down to get all air bubbles out. When the stencil is securely attached to the glass remove the top carrier sheet.
4. Tape the edges of your stencil just to make sure no etching cream escapes your carefully placed stencil (but be sure not to overlap your design). Prepare to etch! Shake your bottle of etching cream thoroughly (for best results the AmourEtch website suggests your cream and glass surface be at least 70 degrees – however, it was snowing at camp and our glasses still came out fine).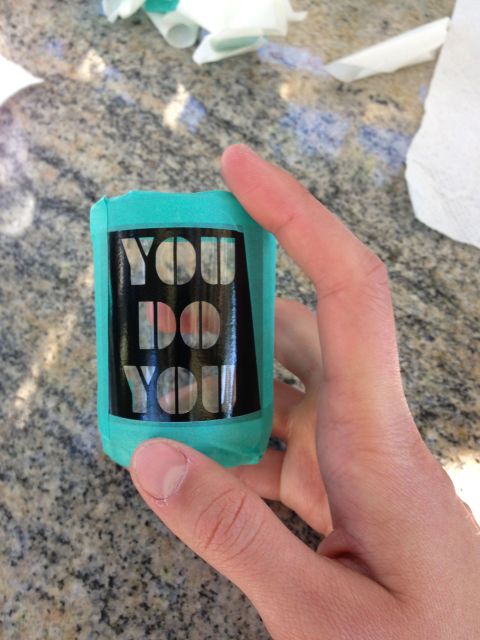 5. Put on the latex gloves to make sure icky chemicals don't touch you and apply a thick layer of etching cream with a make-up wedge (you should not be able to see the stencil or the glass beneath) while staying within the taped area.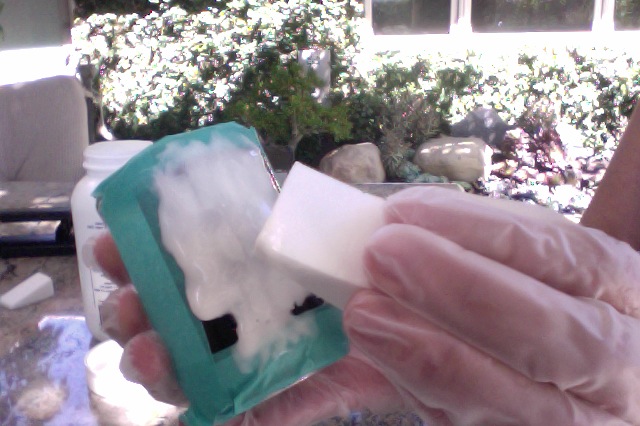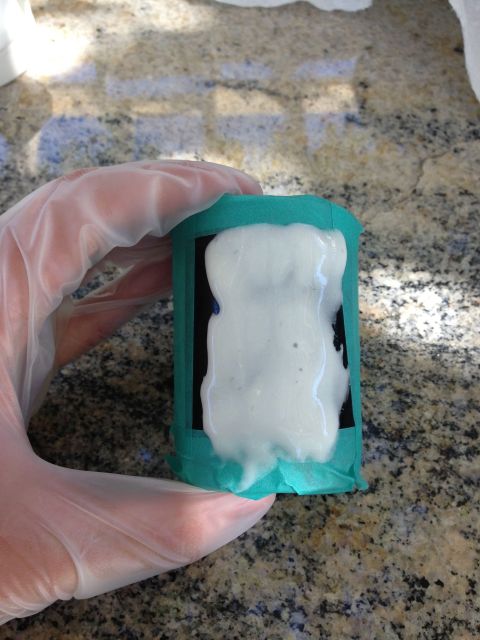 6. LEAVE CREAM ON FOR 10 MINS.
7. After ~10 minutes have passed, use the makeup wedge to scrape excess cream back into the bottle (reusable!) making sure not to contaminate any of the clean glass surface. Then run your glass under lukewarm water until any remaining cream has rinsed off.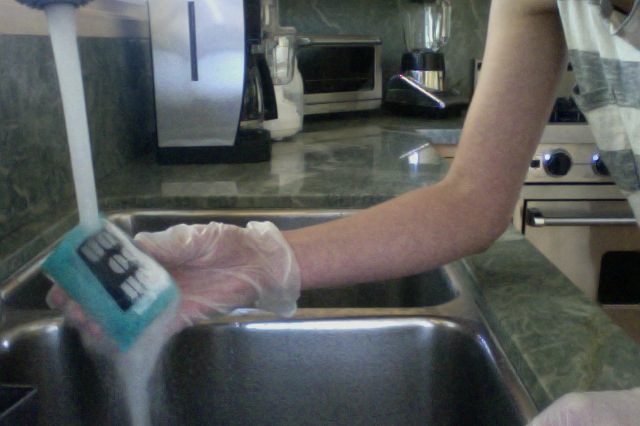 8. When the cream is gone, peel the rest of the stencil off (some of it might come off with the rinse – this is normal) and dry off your glass. Then clean your glass (soap/water or glass cleaner) and sip some whiskey!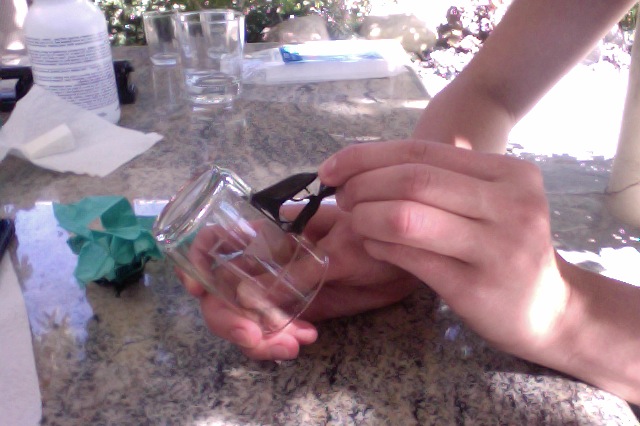 Whiskey Neat (Rocks if you must)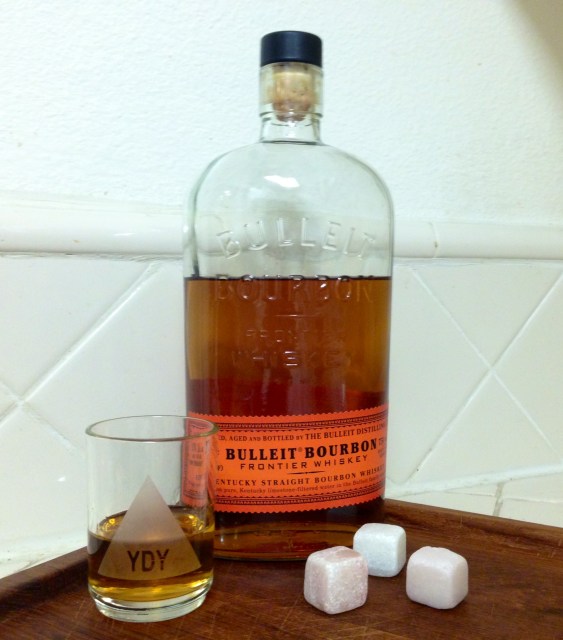 Prep time: 0 mins
Serves: as many as you want… this isn't a real recipe duh!
This is by far the least complicated beverage your DIYke group will ever make – but you're making whiskey glasses so I'm not really sure what you expected. No idea where to start with whiskey? Ask Ali – she might be able to help you!
Step 1: Pour whiskey of choice into amazing etched glass tumbler.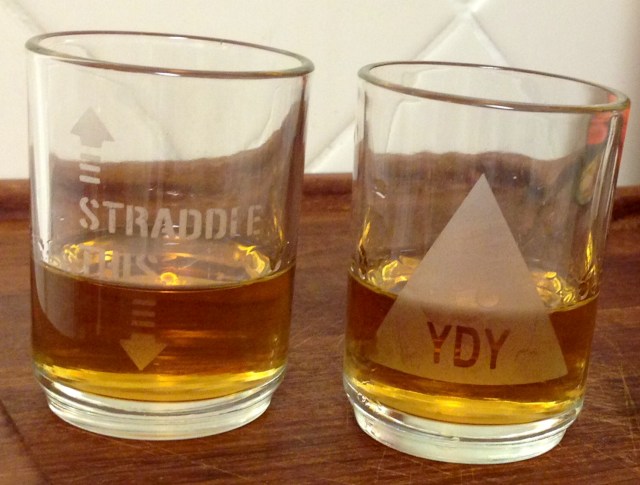 Step 2: Sip whiskey of choice out of amazing etched glass tumbler.
Step 3: Talk about kittens or something.
---
Header by Rory Midhani
Thanks for reading DIYke Club! Some friends and I started a DIY/crafting group that gets together a couple of times a month. We try a fun drink recipe and do a craft we haven't made before. We're having a blast and thought you might want to get in on the action. Maybe you'll start your own local DIYke chapter? Let's all get liquored up and make things!