People who love the colour black — we're everywhere. And with so many coloured objects in this world, we can be difficult to buy for. This guide is for the people in your life who are super enthusiastic about this colour; the metalheads and punks and goths, the artists and sad folk, those who can't colour coordinate or those who can but prefer not to.
This guide could cover so many gift categories that for simplicity's sake, I'm (mostly) limiting it to 'things that can be worn or carried.' In case you missed it, Mey's rad Femme Witch Coven gift guide may also help.
Wristwear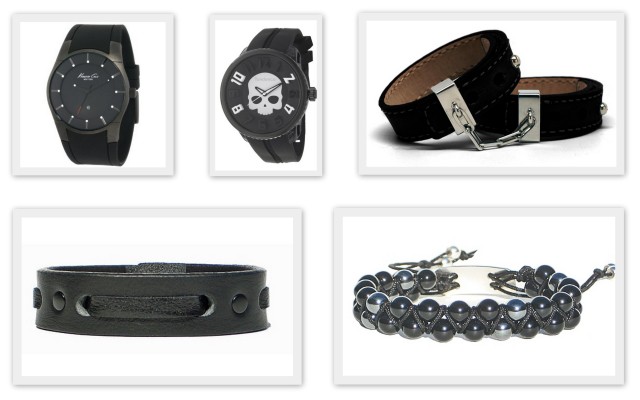 Wristwear is a great gift option for people who wear head-to-toe black because sometimes they need to try harder than their colour-clothed peers to accentuate their outfits. Or at least that's what I read that in Cosmo once. My go-to for black wristwear is usually Lucky Dog Leather. Their BLACK on BLACK wrist cuff range is as black as my heart and as hot as hell; I'm a fan of the ¾" single weave cuffs in particular because they're slim, light and super malleable. For a less leathery and more fancy-looking wrist option, check out this onyx and hematite bracelet.
On a more practical front, this Crave leather double cuff is designed to be classy fashion piece by day and a sneaky sex cuff situation by night. Or by day! It can be worn as handcuffs/wristwear at any hour, it's super versatile like that. For timekeeping, check out this slim Kenneth Cole watch and this rad hands-free black and red Simplify watch. A common problem for fans of the underworld is that it can be difficult to find skull merchandise that doesn't look toy-like. For them I suggest this Tendence skull watch, which is a super high quality Swiss-engineered piece. I own it and love it.
Headphones

V-Moda Crossfades (far right) are my #1 over-ear headphone recommendation because priced at about $100, they stand up to higher-end models in terms of sound, quality, style and comfort. One of the great design features is that if you want to go a little crazy by adding a coloured accent, you can! See these sexy metallic coloured shield kits for the cups. If you want to go really fucking fancy, Beats by Dr Dre are now available in this sleek all-black Executive over ear model (left). For an in-ear option, these SkullCandy INK'd earbuds are reasonably priced and look pretty.
Tops / Sweaters / Jackets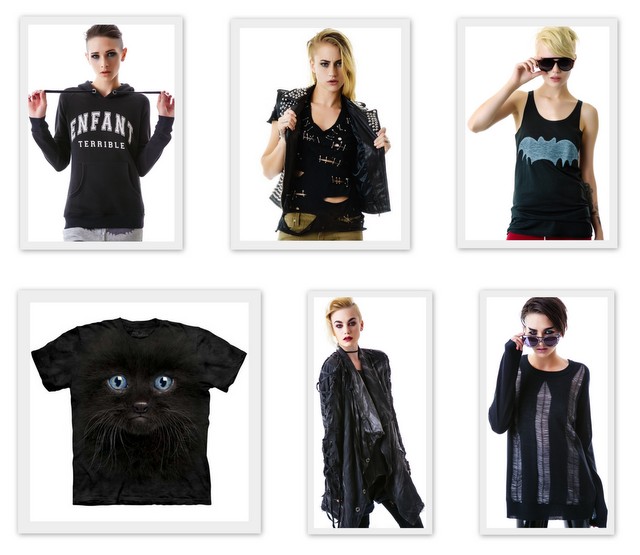 1. This Enfant Terrible hoodie is kinds expensive but doesn't that model look really cute and comfortable in it? I bet you or the gift recipient will look even cuter and more comfortable that that.
2. Anyone who's ever shopped at Hot Topic would be right into this Tripp NYC safety pin tee, I guarantee it.
3. I'm obsessed with most tanks and tees designed by Zoe Karssen, the label does some stellar work with black. Like this sweet bat tank, which is also available as a sweater and a tee.
4. Look at that kitten's face! You can have that face for $12.
5. This smokin' hot Lip Service Rugged Lace Jacket would be perfect for wearing out on the town or maybe while fighting zombies during the apocalypse.
6. Once upon a time Billie Joe Armstrong from Green Day had a fashion label that made a sweater that looked very, very similar to this Kill City Shredding It sweater and it was the most badass thing I've ever owned. RIP that sweater.
Miscellaneous Black Items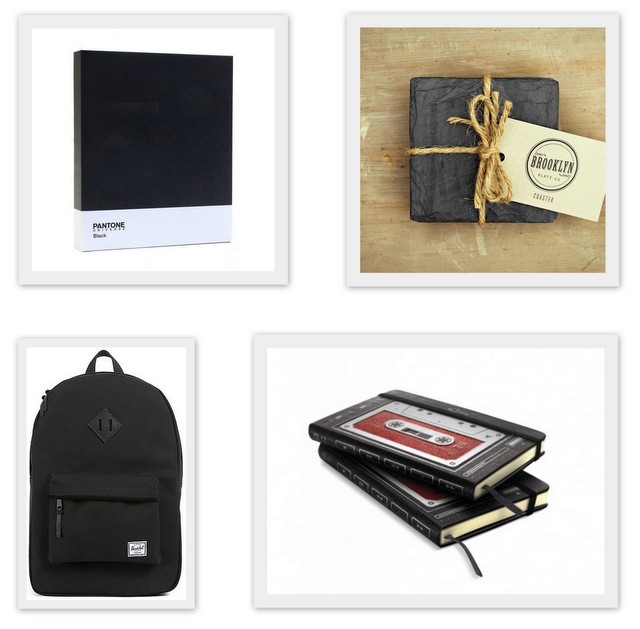 1. If the only thing you know about the recipient is that they really love black, you could literally gift them that colour via this Pantone Black canvas.
2. This 4-piece Slate Coaster Set from Brooklyn Slate Co. is really hot, like the hot beverage that you or your loved one never knew they wanted a slate coaster for. Until now.
3. It seems like every second person in the street is carrying a Herschel Supply backpack right now; they look great and there's a decent range of backpack and messenger options in black. If you don't like jumping on trends and/or paying for them, this black Jansport backpack that every second person was carrying twenty years ago still stands up.
4. These (mostly) black 50th Anniversary edition Audio Cassette notebooks by Moleskine will probably be a hit with music lovers. Need a pen? This black feather on a Bic situation is ridiculous yet oddly fascinating.
---