Hello, bamboo shots! I had a snow day yesterday, which was nice because I hate snow and awful because I hate snow.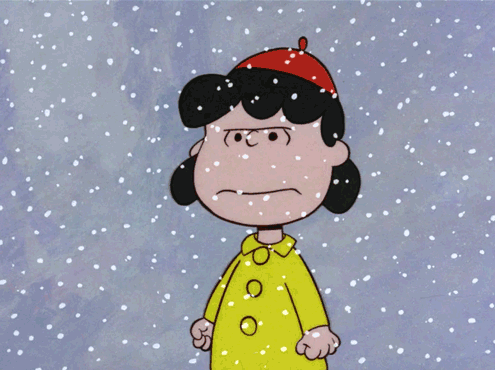 Here's the stories we missed this week while I was hibernating.
Justice for the San Antonio 4
The San Antonio Four were released from prison after 15 years.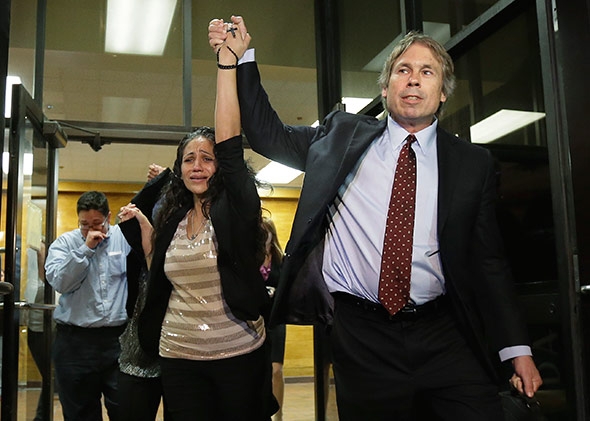 This Sunday, in central Texas, four women and their families sat down to a big lunch together. It would have been a wholly unremarkable scene, but for one thing: Three of the women were only recently released from prison for a crime they say they didn't commit.

Elizabeth Ramirez, 39, Cassandra Rivera, 38, Kristie Mayhugh, 40, and Anna Vasquez, 38, are the San Antonio Four. In 1994, the women, all lesbians, were accused of aggravated sexual assault on a child; by 1998, they'd been convicted of the crime and were starting their prison sentences—15 years for Rivera, Mayhugh, and Vasquez; 37 1/2 years for Ramirez, because she'd been the "ringleader." But on Nov. 18, 2013, Ramirez, Mayhugh, and Rivera were released on bail after the testimony of an expert medical witness used to convict them was found to be faulty and a judge recommended that the Texas Court of Criminal Appeals vacate their conviction. Vasquez, who had been out on parole for a year already, will no longer have to meet strict parole requirements.

Finally, justice prevails in a case that, one can only hope, is a relic of a weird, panicked time in recent American history, when the word gay or lesbian was too often conflated with pedophile.
Black LGBT Power 100
The G-List Society Black LGBT Power 100 has the approval of Elixher, meaning it has my implicit approval already.
We have to give props to G-List Society, a blog dedicated to entertainment, events, news and lifestyle in the LGBT community, for the first installment of their 2013 "Black LGBT Power 100." We're impressed by the depth and breadth of people and organizations spotlighted — from Harlem's lesbian-owned restaurant Billie's Black to trans author Janet Mock and openly gay The Voice contestant De'Borah Garner.

"Hundreds of Black same-gender-loving men and women from all over the world grabbed headlines locally, regionally, nationally and internationally for their significant achievements, record-breaking accomplishments and controversial notoriety that rival demographics with seemingly larger influences," boasts G-List Society blogger Waddie G. "Throughout 2013, many brave people in the Black LGBT community stepped out on their courageous leadership in positive and controversial ways to show that power is also in the Black same-gender-loving voice regardless of reach."
This Week in Women
+ Why can't TIME magazine just choose a woman for person of the year already. Like, would it be so fucking hard to name Wendy Davis or Hillary Clinton or Janet Mock or any fucking person on Earth who does not identify as a man person of the year or is that an actually impossible feat. If George W. Bush can do it, can't we all?
+ The ACLU is suing the Conference of Catholic Bishops on behalf of Tamesha Means, who was denied care at Mercy Health Partners when her water broke at 18 weeks. While they're on the phone with those jerks they should pass along the memo to the Pope that economic equality includes women's rights and LGBT rights.
+ Surprise: women journalists are at more risk for danger on the job because of sexual harassment and violence and general douchebaggery.
+ I don't think Pantene is going to solve your sexism problem, y'all.
Don't you hate it how people are labelled differently for engaging in the same behaviour? What's "persuasive" in a man is labelled "pushy" in a woman. A father who stays up all night working is "dedicated," but a woman who does that is "selfish." That is, like,  so unfair. Luckily, that problem has a solution. And I know what you're thinking. You're thinking that the solution to that problem, which uptight complainy feminists might call "sexism" but that this ad calls "labels,"  isn't "collective political action and widespread cultural change." The solution is shampoo. 
https://www.youtube.com/watch?v=kOjNcZvwjxI
+ Our political system needs to care about black women.
+ Women don't appreciate when you use sex to sell cheap shit.
+ "Passing for White and Straight: How My Looks Hide My Identity."
My privilege in passing reflects a racism and heterosexism that continues to flourish, despite romantic notions that racial mixing and gay marriage will create a utopian future free of prejudices.

Police officers don't suspect me. Store owners like me. White strangers don't feel threatened by me. Racists get too comfortable with me. Homophobes unknowingly befriend me. My straight white doppelgänger and I ride the subway together as I try to lose her in crowds and leave her behind at parties. I dispel her with the perpetual coming-out, the casual "I'm not white," the introduction of my partner.

I've spent most of my adult life actively trying to evade her. But every time I sit down with new people, I know that she sits down first.
+ Toni Braxton wants to play a lesbian on Orange is the New Black. Lesbians around the world rejoiced.
We Wish You A Queerer Christmas
This holiday season, rely on friends.
Author's Note: And wine.
The Other Other Bound 2
Ellen and Portia made a Bound 2-themed holiday card for their loved ones this year. This that red-cup-all-on-the-lawn shit.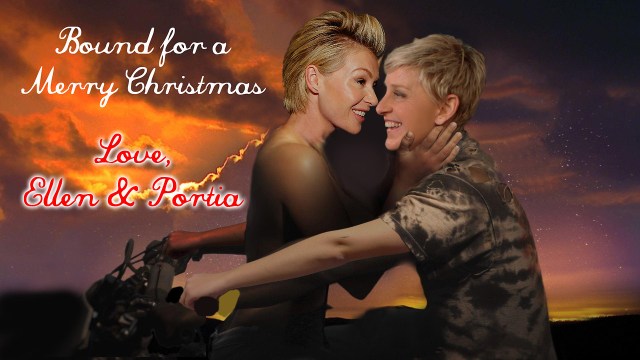 Gay Rights Roundup
+ The first same-sex weddings in England and Wales will begin March 29, 2014! That gives us juuust enough time to buy a nice hat.
+ Fortune 500 companies are getting the hang of this equal-benefits-for-same-sex-attracted-folk-and-their-kin thing.
+ Westboro Baptist Church plans to protest Nelson Mandela's funeral and go immediately to Hell.
+ ICYMI: It ain't easy being queer and homeless.
 There were times — after he told his parents he was gay, for example, and his mother wept and his father tried to hit him — when Fredy Bolvito curled up on a bench in Union Square here and cried because he had AIDS and no job and no place to stay and he felt, he said, that "my life was over."
But there were also days when he sat on the bench in the square and sang "The Star-Spangled Banner," looking up at the flags atop the Westin St. Francis hotel and thinking, "That's breathtaking, that's my American dream." Or when he mingled with tourists, giving them directions to the cable cars, or gazed through the windows at the shoppers in Macy's and was saddened by how rich and healthy they looked.

He scavenged for meals in garbage bins. He avoided the homeless shelters, where he had heard that gays were taunted, or worse. His "angel," he said, was in the center of the square: the statue "Victory," a trident in one hand, a wreath in the other.

"I would look at it at night and think, 'Oh my God, that's my hope,'" he said.
+ Virginia Rep. Randy Forbes thinks the GOP campaign fund shouldn't give money to gay candidates.
+ Viet Rainbow is mad as hell and they're not gonna take it anymore:
Hieu Nguyen and fellow protesters stood on the sidewalk holding signs and waving an enormous rainbow flag as the traditional Vietnamese parade passed them by.
Barred from the Lunar New Year's event — and largely ignored in their own community — members of the fledgling gay rights group decided it was time to stop playing nice.

They took training sessions with established LGBT groups, sought out legal strategy from veteran gay rights defenders Lambda Legal and attended workshops.

Now emboldened activists are flexing their muscles and demanding change in Little Saigon, a sprawling immigrant community that has dragged its feet on coming to terms with basic gay rights issues.

"This is not the Rosa Parks era," said Nguyen, a Garden Grove social worker. "I'm not sitting at the back of the bus anymore."

You Should Go / Give / Be Excited About…
+ Bloom: Memories will feature the first-ever trans* character in an RPG. And it's all thanks to a trans* game developer. SO SUPPORT IT ALREADY.
+ Feminist Campus is spotlighting young feminists with the Feminist You Should Know contest – and all this week, you can vote for a winner!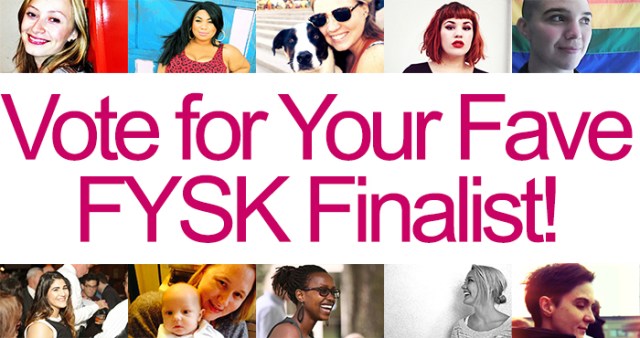 + Support Rape Aid with a $20 ticket to their Wintry Mix party! Oh, and you get to go.
+ On Friday, DC's West End Cinema will be screening The Punk Singer. I'll be there!
Kathleen Hanna, lead singer of the punk band Bikini Kill and dance-punk trio Le Tigre, rose to national attention as the reluctant but never shy voice of the riot grrrl movement. She became one of the most famously outspoken feminist icons, a cultural lightning rod. Her critics wished she would just shut-up, and her fans hoped she never would. So in 2005, when Hanna stopped shouting, many wondered why. Through 20 years of archival footage and intimate interviews with Hanna, THE PUNK SINGER takes viewers on a fascinating tour of contemporary music and offers a never-before-seen view into the life of this fearless leader.