I'm a city transplant, and even though I like where I am, I miss a lot of things about the rest of the world. The occasional reminder that there's more to life than concrete, commutes, and humans does me a lot of good. Here are some great ways to get yourself (or someone else) deep into whatever outdoors you happen to have, and to condense the vastness of nature so it's more apartment-sized!
For Bringing the Inside Out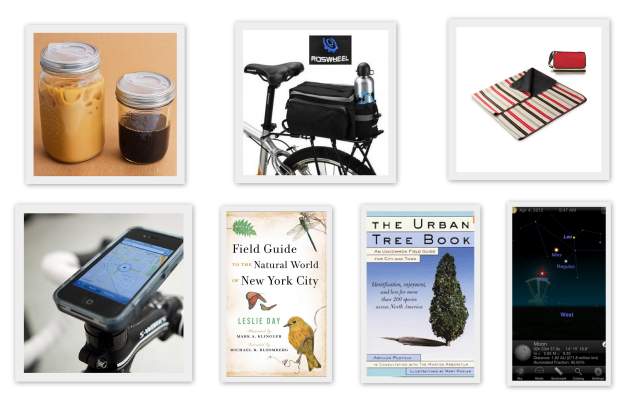 One recharging activity that I really enjoy is packing a book and a lunch, biking as far as I can and then stopping whenever I land at a park, shore, suburban trailhead, or other picnicable place. These reusable Cuppow Mason Jar Lids turn a household staple into a de facto water/coffee/smoothie bottle (and no, your jar won't shatter, especially if you tuck it into the water bottle holder of the Bike Rack Bag where you packed the rest of your stuff). I stole my picnic blanket from an international flight, but YOU can get this Picnic Time one that is water-resistant and turns into a tote bag. Avoid getting lost (and give yourself a soundtrack) with this Smartphone Bike Mount.
Even if you're just getting from one place to another, having something to pay attention to while you do it can make all the difference. The various US City Bird Guides will help you get to know your more feathery neighbors — they're pretty old, but there's one for most major cities. For first-time trackers, The Urban Tree Book might be even better, because your subjects can't run away. Although it's got a limited intended audience, Leslie Day's Field Guide to the Natural World of New York City is actually a cool read for anyone. And after the sun sets, the Star Map 3D app can help you memorize some nearby constellations while you're waiting for the train. Cute girls love constellations.
For Bringing the Outside In
Having a few green guys around can really bring some air into your life, literally and figuratively. Beginners might want to start out with an all-in-one Moss Terrarium Kit, while those who are ready to go it alone can choose from a variety of options, like this space-sensitive Hanging Terrarium (which comes six to a pack!) or this larger Glass Cloche. If you'd like to get more practical (read: delicious) use out of your plants, and you're willing to raise them from  infancy, try out this Seed-Starting Tray, which comes with watering and seed trays, growth pellets, and fertilizer.
If you'd like to spend your time indoors imaging what once grew where your apartment used to be, check out Manahatta, which traces the natural history of New York back to "the forests of Times Square, the meadows of Harlem, and the wetlands of downtown." If you'd rather project a semi-apocalyptic future, The World Without Us is a total mind trip. Both these books are pretty heavy, so even things out with a Goats in Trees or Extraordinary Chickens calendar.
Sometimes your laptop screen is the best portal to the outside world. Planet Earth is the obvious choice for a reason, but if you've watched jumping baby ducks one too many times, I can also personally recommend Human Planet and Blue Planet, both from the same production team. I also really love Microcosmos, which instills insect lives with high drama. And if you'd rather go huge, there's always Carl Sagan's galactic classic Cosmos.
For Remembering Everything
There are lots of ways to remember your adventures, keep track of succulent growth, and plan for the future. If you want to use more than just your brain, I recommend this set of 12 Rainbow Notebooks. I'm also intrigued by this Oregon Scientific Movie Camera, which I think is technically for children, but is inexpensive, seems durable, and looks like it could affix easily to my handlebars. As for pictures, this iPhone camera kit comes with three different lenses and a mini-tripod, so it'll be like shooting fisheyes in a barrel.
---