ROSIE: Okay we were mostly pretending to be excited about Ke$ha, but we're genuinely excited that Rosie O'Donnell will be headlining Club Skirts Comedy Night at the 2010 Dinah Shore Weekend.
With Rosie doing stand-up and Salt-n-Peppa headlining the musical night it is basically gonna be like the early 90's up in there except for that in the early 90's we still dated boys. Luckily, we love the early 90's b/c of all the heartwarming Tom Hanks movies, Beavis & Butthead, Ani DiFranco's Both Hands and Boyz II Men. Will it be even better than last year? Our sources say YES!
Rosie O'Donnell started her career as a stand-up comedian, later moving on to a prolific film & television & show-hosting career. Dinah Shore is being billed as her "big return" to the game (sidenote: we've seen her do stand-up on RFamily Cruises a few times, SO GET READY).
The word from our hyperbolic boundlessly energetic Dinah Shore press release:
"I am beyond thrilled to have Rosie O'Donnell join our stellar entertainment line-up on our 20th Anniversary,wp_postssays Mariah Hanson, founder of Club Skirts Presents The Dinah®, "my customers love Rosie. She's a role model, a beacon of hope, and a voice of truth. And at The Dinah, once again, she'll do what we have missed from her for years: stand up. And no one, and I mean no one, does it better than Rosie!"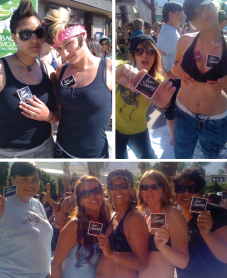 Other exciting events planned for Dinah Shore include:
+ A special "No H8" Sunday Pool Party hosted by award-winning fashion photographer Adam Bouska and Jeff Parshley, co-founders of the iconic N0 H8 campaign, will take place at The Hilton Hotel on Sunday, April 4th.
+ AUTOSTRADDLE! A unique celebrity fashion show sponsored by "No H8wp_postsCampaign will be hosted during the White Diamond Party on Friday, April 2 featuring Autostraddle's very own Nat Garcia!
+ "Family Tieswp_postsactress Meredith Baxter will make a public appearance joining the prestigious panel of celesbians and entertainment luminaries that will grace the catwalk in support of the LGBT community's fight for equality.
+ AUTOSTRADDLE! Also new this year is the creative and original battle of the webseries hosted by One More Lesbian and featuring the ladies of Autio/Video, and a "never-been-done-before astonishing circus in and beer garden." (We're not sure what that last part means either)
+ Autostraddle CEO Riese having a mental breakdown because she doesn't like other people or crowds and holding a pow-wow with whiskey & Executive Editor Laneia on the bathroom floor either live in person or via telephone.
Also! Rosie O'Donnell was on Oprah yesterday and was predictably endearing, funny, and wise. She talked about splitting with Kelli & keeping the family, how she' s grateful to be alive having lived past how old her mother is when she died, her new radio show, her upcoming HBO special and life in general. Here's the first part of the interview I know it's 10 minutes long, but it's totally worth it, you guys:
You can find the rest of the interview (also worth it) on Youtube!
ELLEN & ROSIE: Also, we recently found this amazing video of Ellen DeGeneres on the Rosie O'Donnell Show before her famous coming out episode of Ellen. We just wanted to share it with you.
+
Also you guys it's Ellen's birthday and Adam Lambert will be performing on her show later SO WATCH IT OBVIOUSLY.
TARGET: Sarah Haskins will no longer be making episodes of Target Women, which is super sad! But it looks like she's on to bigger and better things: There are two big funny projects in the works — both co-written with Emily Halpern — Booksmart, which is at Fox, and we're working on a screenplay entitled Lunch Lady for Amy Poehler. Sarah Haskins an Amy Poehler on the same project! (@jezebel)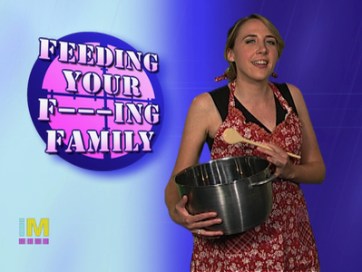 MGMT: The boys of MGMT love Lady Gaga, just like you! Ok, maybe love is a strong word, but they did draw inspiration from her for their second album, which comes out this spring. It even includes a song called "Lady Dada's Nightmare." See what they did there? They also tell Spin:
Q: Are you a fan of Lady Gaga?
A: Well, at first I brushed her off as crap. And then I realized that her videos are really creative, and I like that she's getting more and more bizarre and spreading that to the mainstream. VH1 would say that she's driven, that she wanted to be as famous as possible. That's a very different goal from us. But I respect that she's doing what she wants to do.
I doubt they'll ever write another song as good as Time to Pretend, but we'll see! (@spin)
TSWIFT: Celeb Jihad specializes in articles that are totally not true, disguised as articles that totally are true. It's very confusing until you catch on to what they're doing.  This particular article is so ridiculous, but I had to share anyway; They accuse Taylor Swift of being a pillow queen? Who would ever believe that?! But there is this ABSOLUTE GEM of a video that Taylor supposedly put up on her MySpace as a goodbye to her alleged lady love. It's set to Dashboard Confessional, you guys! Please go watch it, and you'll feel like you're in the throes of middle school heartache all over again. (@celebjihad)
NYC: If any of our New York autostraddlers are lookin for something to do/an organization to support tonight, you can get your ass over to the Stonewall Inn from 6:30pm to 9pm where you can support the litigators that fight for your rights, Lamdba Legal, and you can hear DJ Carlytron spinning the good stuff. (Suggested $5 donation at the door to raise funds for Lambda Legal.)