THE CLIKS: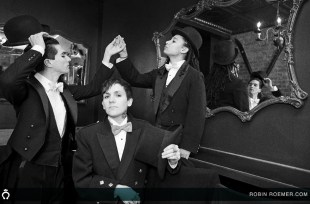 Let's start with the good news! In Canada, which consistently Wins while the US actively pursues conservative nonsense, Lucas Silveria of The Cliks wins "Sexiest Canadian Man" in CHARTattack's year-end reader's poll awards (Check out read our recent interview and photoshoot with Lucas here)– the first trans man to cinch the honour! They also voted Tegan & Sara's Sainthood "Best Canadian Album," so we won't harp on Avril Lavigne winning "sexiest woman." Though we'd like to, because hello Tegan & Sara and hello Ellen Page and hello our Canadian interns. (@chartattack)
TRANS: And on a much sadder note… new research confirms the existing research that transgender and gender-nonconforming youth are unsupported in the U.S School System:
"Transgender children are some of the most vulnerable students in America's schools. Nobody knows how many there are, and very few educators know what to do with them. Despite extensive advocacy efforts, trans youth are subjected to bullying and harassment in the classroom; diagnosed with nonexistent learning disabilities and psychological problems; and generally misunderstood by their doctors, teachers, and classmates. As a result, these students get lower grades than their classmates and are less likely to pursue higher education. The lack of a basic understanding of trans youth puts them at an extremely high risk for failure and unsatisfactory performance in schools."
Other notable selections include:
"Years and years of stuffing who you are takes a huge toll, and there are messages everywhere telling you [that] you are subhuman."
"The current situation of transgender youth is so dire that the only possible explanation is a fundamental lack of knowledge and understanding by the people involved in children's lives."
"LGBT-identified students are already less likely to pursue further education – 12.4% report that they do not plan to do so, versus a 6.6% national average (Kosciw 84). This rate is significantly higher for transgender students: even among those who experience little or no harassment in schools, over 30% have no post-secondary education plans, and a horrifying 49% of transgender students who are frequently harassed because of their gender report the same."
Wednesday's Tyra Banks Show will feature transgender kids (on her website click "wednesday's show" to see a preview) which might be the first time I feel like I should probs watch The Tyra Show.
This American Life recently did a show which featured 8-year olds Lilly and Thomasina who met at a conference in Seattle on transgender parenting and immediately hit it off and became besties.
OBAMA: Barack will probs be talking about Don't Ask, Don't Tell tomorrow in the State of the Union. Yesterday, we told you about the Congressional hearings on DADT that'll be taking place soon. Apparently, the White House has delayed announcements about those hearings until after the president's speech because "he may announce that military leaders will support changing the law." (@marinecorpstimes)
Obama might be closer to action on this policy than we thought. But, um, don't get your hopes up. We pretty much covered our feelings w/r/t DADT yesterday. Queerty has a good summary thought on this State of the Union thing:
But we imagine it'll go something like this: I'm still your fierce advocate, we are working on a reasonable and workable solution, I do not support discrimination, but we must call on Congress to repeal the law in order to get anything done. What he won't mention: That pretty much everyone believes he has the power to halt DADT investigations with the stroke of a pen, and that he's exercised that power with other matters.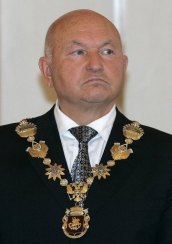 RUSSIA: Yury Luzhkov, the mayor of Moscow, said he would never allow a gay pride parade in the city because they're "satanic." It actually gets worse from there: "It's high time that we stop propagating nonsense discussions about human rights, and bring to bear on them the full force and justice of the law," he said. He looks like a real charmer, doesn't he? (@afp)
ROSIE: More Rosie! She visited Good Morning America this morning and said she still has faith in Obama and feels sorry for Tiger Woods because the way we deal with sexuality in this country is crazypants. Word. (@jezebel)
SAN FRAN: Two San Francisco-area newspapers ran some opinion pieces on the movement for gay equality this weekend. The East Bay Express breaks down why these articles, printed in vocally pro-gay papers, are actually a sign of how much we have left to overcome. (@eastbayexpress)
So why do the Chron's editorial board and the Trib columnists sound as if they're stuck in some 1950s time warp? It appears that part of it has to do with how they view the fight for civil rights, and their opinions provide insight into why it has been so difficult for gays and lesbians to win the right to marry. The Chron, Drummond, and Williams all maintain that they support gay marriage. And yet they strongly criticize gays and lesbians who are attempting to block the reappointment of Lorenzo Hoopes, one of the biggest backers of Prop. 8, to Oakland's Paramount Theatre board of directors.
JOBS: The HRC released its annual list of the best places for LGBT people to work, which is handy 'cause so many of us are looking for jobs.