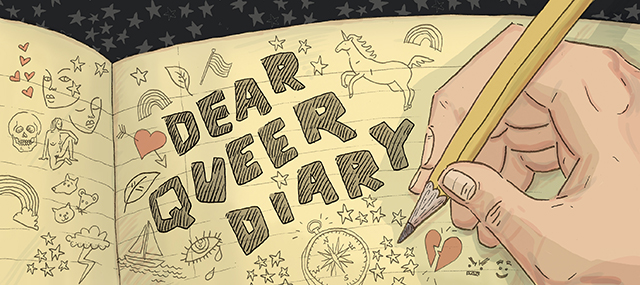 Back in my college days, I used to evaluate potential romantic partners on the basis of their texting abilities. The perfect flirtext (not to be confused with the far more scandalous sext) involved 1. a pun, 2. the kind of language most frequently found in a Jane Austen novel and 3. perfect punctuation.
These, my dear queer diarists, were the days of T9, when inserting a comma or a period might add precious seconds to one's text response time. By taking (or failing to take) these seconds, I thought, my suitors proved whether or not they were worthy of my attentions.
While I am sure that this methodology was a less than foolproof way of finding my one true love, I am happy to report both that my current girlfriend understands my feelings about punctuation— and that I have lightened up a little bit in my texting requirements.
As much as my inner English teacher normally turns up her nose at the sight of a run-on sentence or improperly used semicolon, I consider my journal to be a judgment-free zone, a place where my schoolmarm alter ego loosens her tatted collar and sits back to enjoy a few glasses of sherry. The strict binary of proper/improper grammar can keep its prescriptive norms out of my queer diary.
Forget about phrases, clauses and comma splices, my fearless journalers! Instead, please enjoy a tribute to my four favorite journal-friendly punctuation marks:
1. The Dash
The dash is all about spontaneity—just look at it! It speeds across the page like a cheetah, dashing (get it?) from one thought to the next. The dash is perfect for journaling because, nine times out of ten, my thoughts don't come out in the form of neat, grammatical sentences. Instead, they hop here and there like frogs in a wheelbarrow, one jumping over another to get out first.
Perhaps more importantly, dashes are endorsed by the queer lady writers of the past: Virginia Woolf was a frequent dash user, but in this respect, even she cannot even begin to measure up to Emily Dickinson, who was the reigning duchess of the dash — when she wasn't potentially sending sexy poems to the lady who lived next door.
2. The Ampersand
If I were forced to decorate every surface of my home with a single punctuation mark, I would choose the ampersand without hesitation. It is elegant, efficient and even historic. The first ampersand was discovered on a wall in Pompeii.
3. Parentheses
I think it is fair to say that there is not a single page in my diary without at least one set of parentheses — and most pages have more than one set. Much like the dash, parentheses accommodate the non-linear thoughts that are so prevalent on the pages of my diary, allowing additions, clarifications and questions to jump aboard my speeding train of thought.
However, while the dash leaps from one thought to the next, the soft curves of a parenthesis are somewhat gentler, cradling a word or phrase lovingly between their twinned lines. I wouldn't mind snuggling with a parenthesis.
4. The Semicolon
My current boss refuses to allow me to use semicolons on the job, crossing them out and replacing them with periods at every opportunity — a sad fact that only deepens my resolve to celebrate the possibilities of the semicolon in the pages of my journal. No other punctuation mark can join independent clauses with such grace and brevity! No other punctuation mark can make me feel as pretentious and overeducated!
Kurt Vonnegut is famous for his oft-quoted (and probably sarcastic) dismissal of the semicolon as "transvestite hermaphrodites representing absolutely nothing," a description that makes me want to barf all over my Pilot G2 pens. You know what, Kurt? I really like Slaughterhouse-Five, but last I checked, "gay" was not a synonym for "stupid" and "gender queer" was not a synonym for "meaningless."
Also, as this eloquent defense indicates, semicolons rock.
What say you, my dear queer diarists? Are the pages of your journals packed with punctuation? Do you cherish the semicolon? Or do you prefer to let your words tumble across the page with wild abandon like tumbleweeds in the Wild West? If you had to snuggle with a punctuation mark, which would you choose?
---
Dear Queer Diary is a column about the joys (and occasionally, the pains) of journaling. We crack open our tiny notebooks and break out the rainbow-colored pens on the regular, so get ready to limber up your writing hands and document all your beautiful feelings!
Header by Rory Midhani
Feature image via Luigi Benozzi