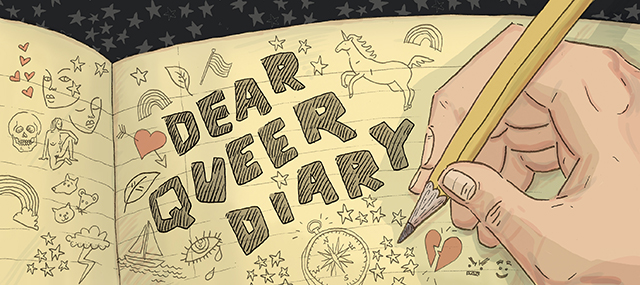 My best friend believes she is a psychic.
This is due primarily to the fact that, in December of 2011, she accurately predicted that another friend of ours would both cut her hair short and "find love in springtime."
Every New Year's since approximately 2010, my pals and I have assembled a list of New Year's Predictions, a sort of personal horoscope for the upcoming 365 days. While legitimate horoscope-makers may rely on star signs or planetary movement, we depend on our respective guts (recently bulked up by plenty of Christmas desserts). Perhaps this year, I will try using the tea leaves from all of the delicious warm beverages I have consumed over the course of the last week?
In contrast to the example above, most of our prognostications turn out to be wrong—and quite a few of them are just plain silly. Seduction with cheesecake, cat-hair artwork, and sword-swallowing have all played a key role in past predictions. Nevertheless, looking back on the predictions at the end of every year offers a peek into what we were thinking, wishing, fearing, and hoping 52 weeks before—almost like a communal journal entry.
Of course, for the more retrospectively inclined, this time of year also provides the perfect opportunity for looking back on the events of the last twelve months. While my Facebook profile was extremely eager to show me the 20 most important moments of 2013, I found that (surprise, surprise!) Mark Zuckerberg did not have the most accurate insight into my life's biggest events. I can certainly agree that my first Autostraddle column makes the list—but somehow, the picture of Lady Gaga that my former roommate posted on my wall does not seem all that significant.
What about the night we consumed our body weights in tortilla chips at Chili's? The meltdown I had in the parking lot of the hardware store? The quiet conversations on the porch? That's where my journal comes in: to capture the truer, more private moments—the ones that aren't forever immortalized on social media.
If your journal has as many gaps as mine does, documenting the entire year may be a challenge, but those who are truly determined to reconstruct the last 365 days should take a few minutes to gather evidence by playing private eye. Peruse your online bank account to track major purchases like flights or that really, really expensive trip to Whole Foods. Examine your phone bill for most frequently called numbers. Do a quick run-through of major holidays: Valentine's Day, Sukkot, Ramadan, Bastille Day, April Fool's Day, Thanksgayving, Guy Fawkes Day, your birthday… You get the idea.
Some of you dear queer diarists might favor a month-by-month approach. Others will prefer to organize graphically: a web of relationships, a map of places traveled. Lists, of course, are always an option: people you met (Vanessa!), places that felt like home (I've collected at least three zip codes this year), moments you want to remember (too many to fit into these parentheses).
Can you sum up your year in three words? I think mine are "change," "quiet," and "comfort," the last of which being inspired in part by the fact that I bought my first real grown-up mattress in August. How do the last twelve months rate on a scale of one to ten? For me, they average to about a 7.3. What one song best represents 2013? Mine would be "Hard Way Home," by Brandi Carlile, which I saw her perform this summer at Red Rocks. What are the other ways you look back on your year, my journaling geniuses?
---
Dear Queer Diary is a column about the joys (and occasionally, the pains) of journaling. We crack open our tiny notebooks and break out the rainbow-colored pens on the regular, so get ready to limber up your writing hands and document all your beautiful feelings!
Header by Rory Midhani