by carolyn & riese
Books! They are really great. You just won't believe how great they are. You may think that the Internet's great, but that's just peanuts compared to books. Welcome to Lez Liberty Lit, our column about literary shit that's happening that you should probably care about.
The name "Liberty Lit" was inspired by the short-lived literary journal produced by Angela Chase at Liberty High School in 1994.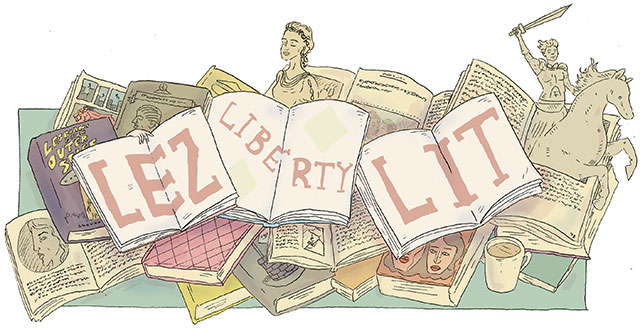 Lit Links
The British Library has released over one million images, including maps, diagrams, illustrations, paintings and more, from seventeenth-, eighteenth- and nineteenth-century books onto Flickr Commons. And it's looking for people to figure out what kind of content it has.
Everyone is pretty into emoji right now: "when language poses risk, employ a playful image whose interpretation may be negotiated upon receipt."
If you make these grammatical errors, you will make me cry.
There is an incredible wave of women writers writing magical realism right now.
The New York Times picked the best book covers of 2013. So did Bookpage.
Maria Popova picked her best books of 2013.
You cannot possibly read all the books.
Your favorite book in high school probably says a lot about your life.
At Brain Pickings, Maria Popova helped visualize writers' sleep cycles and productivity.
Crosswords are now 100 years old.
Columnist A. Naomi Jackson shares her writing habits in this month's "The Banal and the Profane."
It might be after Christmas. You might not be into Christmas. But you need to hear Neil Gaiman read Charles Dickens' A Christmas Carol regardless.
Heather Partington reviewed Women in Bed by Jessica Keener, writing, "Keener writes specifically of love. Romantic relationships figure prominently in the majority of the tales, but there is also a thread of development– the articulation of self–that runs from the first tale through the last, linking the women in her stories through the fundamental experience of what it means to be female. Her characters yearn to be noticed and understood, yet often have a hard time making themselves clear to the people around them."
On Paper and Salt, Nicole Villeneuve investigates the intersection between food and writing by recreating and sharing the recipes of famous authors. In an interview with the Hairpin, she says, "Everyone eats, and that's a great unifier; with food you have the power to express that commonality in a different way, like with Proust and his madeleines. I wanted to bring the books and authors to life in a different way, to feel like I was closer to these writers than I could be simply from reading their work."
Casey the Canadian Lesbrarian reviewed Sister Mine, urban fantasy by Nalo Hopkinson, on which she writes, "what really epitomizes the wonderful oddities of this book is the fact that there's a character who used to be Jimi Hendrix's guitar. You know, he's an enspirited object, currently in human form. The main character's sister is dating him. No big deal."
At the Lesbrary, Danika reviewed 1222 by Anne Holt. Tag reviewed 25 Years of Malcontent by Stephanie Byrd.
At Lambda Literary, Rita Salner reviewed Injustice: Book One of the Nemesis Series by K. A. Kron and Brenda L. Leffler. Jamie Jones reviewed The Red Shoes by John Stewart Wynne. Anthony Cardno reviewed Suffered From The Night: Queering Stoker's Dracula edited by Steve Berman. Sarah Burghauser reviewed Growing Up Golem: How I Survived My Mother, Brooklyn and Some Really Bad Dates by Donna Minkowitz.
Cara wrote about mansplaining in More than Words. Carmen interviewed Melissa Gira Grant about cats, sex work and writing. Ali wrote about Best Sex Writing 2013.
This month, the Autostraddle Book Club is reading Blue is the Warmest Color.
Know of a queer event with literary merit? Send it to us!
What We've Been Reading:
Carolyn: I read the Hyperbole & A Half book after Riese wrote about reading it last week and it was fast and sweet and about what you would expect after reading the blog. (I totally failed to start Susan Choi's My Education though, so that's coming up soon.) I also read Marbles: Mania, Depression, Michelangelo, and Me, a graphic memoir by Ellen Forney that came highly recommended and was deservedly so.
Rachel: I read Coming & Crying after Carmen talked about it in her Melissa Gira Grant interview, which was great, and then Roxane Gay's Ayiti. Excited to read her new novel An Untamed State soon!