A petition to bring The L Word to Netflix for a new season has been floating around the Internet, and if you're involved in the homolicious side of social media, you've probably already reacted to it with either heart emoticons or repeated NOs.
Will Netflix actually bring the show back and host a new season? Lesbihonest, probably not. I'm not holding my breath for this show to ever return to the screen, but I sure can dream, right? Here are 25 reasons I'd be totally down with The L Word coming back with a vengeance.
25. It's 2014 and there still aren't enough queer ladies on my television.
There especially aren't enough shows where the majority of the characters are queer. Don't get me wrong – I love all my homos who are repping our team in an otherwise heterosexual line-up of characters, but sometimes I want something more besides the token and their love interest, you know? When was the last time you saw a scene that involved more than two queer women talking about their sex lives at once? Television needs a return to homos at brunch discussing cunnilingus for ten whole minutes.
24. Ilene, if you're reading this, you and I both know you're already down for a reboot.
I saw The Real L Word. I know you are capable of milking even the driest teat on the most diseased cow. Let's put some money in your hands and see just how fast you start bribing Leisha Hailey to cancel the Uh Huh Her tour.
23. I need a season of The L Word that takes place in the era of smartphones.
Alice spending 24/7 making Snapchat reactions, no one being surprised about anyone making out with anyone else at such and such a place because there was a picture of it on Instagram, like, an hour ago. Shane upsets legions of girls by always looking like she's typing something in iMessage, but no message ever appears.
22. Special guest star the shit outta this season.
No more personal friends of Ilene Chaiken, just Kate McKinnon trying to pick up Alice at a titty bar/comedy club, Portia deRossi showing up as Lindsay Bluth wanting a sexual experiment that would outdo Michael's mid-life crises, everyone from Orange is the New Black. All of them. Every single one. But be careful!
21. I will never tire of Helena's "normal people things" culture shock.
An entire episode dedicated to Helena's horror at having to use the bathroom at a rest stop McDonalds? I'm down.
20. A super butchy butch.
That's all I ask, Ilene. Please.
19. A meta episode where the cast of The Real L Word shows up at a party and only the original L Word cast members are in character.
Shane hits on Sara, Alice punches Romi, Whitney punches Shane, everyone ends up wrestling in a kiddy pool of creamed corn.
18. If I need to murder someone and dump them in a pool to make this reboot happen, I…just might.
17. Kate Moennig playing anything but a super homo always feels uncomfortable and somehow apocalyptic.
Let's make Shane immortal.
16. I need a season of The L Word where not one single person wears a corduroy newsboy hat or a floral peasant blouse.
Is that too much to ask? Maybe. But I believe in this show, and I believe in its ability to not dress everyone in a manner they will only be able to laugh at in later years.
15. Jenny Schecter is resurrected.
Via lesbian witchcraft and returns anew so we can love to hate her all over again.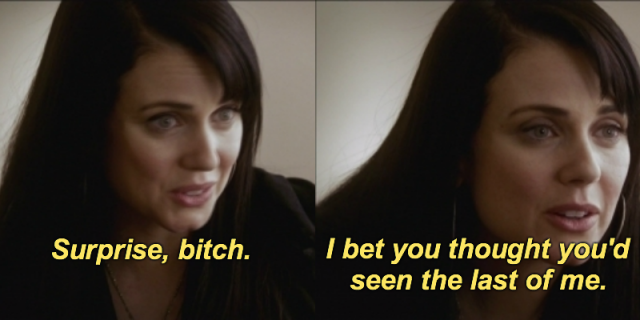 14. On that note, how about we resurrect everyone else who died or disappeared without fanfare?
I'd support an alternate universe in which death is temporary and temporality is skewed for the sake of everyone you miss getting to bang each other. I'm looking at you, Dana. Come back, Dana.
13. This generation of queers deserves Shane without early 2000s hair.
Every generation of queers deserves Shane without early 2000s hair.
12. A whole new generation of homos can determine how to weed out their social group by asking each other who their favorite L Word character is.
Because we all "used to know" a Jenny fangirl, didn't we?
11. Kit Porter attempting to use an iPhone.
The scene you never knew you wanted, the scene you deserve. My life won't be complete until someone makes a "Kit Porter not understanding modern technology" supercut of the series.
10. Carmen comes back.
I will be unflinching on this condition. We all wiped Jenny/Carmen from our collective memory, which means we can totes do the same thing for Carmen disappearing into the fog of SVU reruns and "Characters Welcome" that is the USA Network. You better believe her character is welcome, right back into our hearts.
9. Let's give this show a chance to repair the past mistakes.
Confront its former transphobia head-on, and bring some valid trans* representation with their own important narrative. Diversify the white bread cast so queer women of color aren't love interests with expendable contracts or side characters with the "funny" lines. Let's get some characters who aren't rich and thin and living it up in WeHo, but aren't tokenized Ryan Murphy-style, either. Get some fresh faces in the writer's room and the casting department and all up in the production team and I'm pretty sure we could pull this off.
8. We need to check in with TiBette.
Has Bette taken over New York City yet? Is Tina vocalizing her concerns in the relationship or does she kind of just float around in peasant tops? Do they now run a small empire in lower Manhattan? Is Angelica normally adjusted to childhood after being kidnapped, fought over, and witness to a murder in her own home all before the age of three, or does she collect dead animals and fingerpaint with blood from unknown sources?
7. Remember that time Ali Liebert had a teensy extra part as that girl singing karaoke?
I need Ali Liebert to continue her spree of sleeping with all of Canada's most famous fictional lesbians and high-tailing it to LA for a major role. Rebecca Thatcher comes back with a new haircut and a new lease on life, sheds her former image as That One Girl Who Sang I Like Big Butts That One Time, forever alters the scope of The Chart by charming the pants off most of the main characters.
https://www.youtube.com/watch?v=1IRVkDyRRzk
6. And hey, while Carmen's returning, let's put Sharmen on the table.
Any complaints? No? That's what I thought.
5. We need an update on the most ridiculous basketball game of all time.
This round, it's a zumba-off, and Mama B don't mess around with her step and clap.
4. I miss Papi.
You miss Papi. It's hard to admit it, but we do. Really, Papi? Really, Papi.
3. Did I mention everyone from Orange is the New Black showing up?
2. There isn't anything out there for today's current generation that compares to The L Word in terms of cultural phenomenon.
This show became a huge part of the collective queer identity, a language that brought strangers together, even if it was over plot confusion and the really shitty way they dealt with certain issues. There just isn't another show with an ensemble cast whose majority is queer women, whose stories are stories about queer women and the things they face, whose sex lives aren't punchlines or reduced to chaste hugs. Say what you will, but the impact of this show on our world as queer folks is undeniable.
Problematic, ridiculous, and sometimes mind-numbing as The L Word was, this show was a massive part of my coming into myself and my identity. I remember the summer after I'd first come out, hiding in my bedroom and watching episode after episode in my small rural town, drooling over this world where all these lesbians could hang out with each other and talk shop in the open, where there were enough homosexual people in a single location for them to be friends and socialize with each other and have active sex lives. I cried when they cried. I laughed when they laughed. I'm not even ashamed to admit that watching an episode was like visiting with friends. Damn it all, but I really do miss this show. I'd be totally down with another wacky, wonderful season of guilty pleasures and way-too-relevant storylines that make me miss my ex or cry about my future or make me feel less lonely when I'm not in my queer bubble.
1. Riese's L Word recaps would be resurrected!
Riese recapping The L Word is the reason we're all here right now – me being employed, you reading this article, all of us basking in the warm glow that is Autostraddle. I think it's time for a return to our roots, except this time with a shiny and beautiful website, and a hopefully more coherent show to snark about.
---
What about you? What would get you back on the L Word bandwagon? Or were you ever on it? Are you the Jenny fangirl?