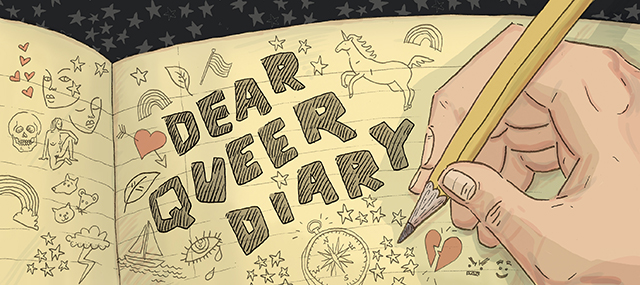 It is a truth universally acknowledged that I have extremely small handwriting. If I had a dollar for every time one of my teachers asked me if I was going to turn in a magnifying glass with my in-class essay, I would be living in a historical home in the British isles, writing biweekly checks to the editors of Autostraddle. If college-ruled paper is the one with the smaller lines, I need PhD-ruled composition books.
I'm not claiming that I have the smallest handwriting on planet Earth because, yes, my dear queer diarists, I have most definitely encountered smaller. I'm just saying that my letters are more petite than the average. I am also saying that this fact reveals deep, dark, and delicious truths about my psyche.
Graphology (the study of writing) purports to be able to suss out some of those deep psychological truths through the analysis of the way you form your letters. According to some of science's most reputable sources, if your handwriting slants to the right, you are more likely to enjoy lying around your apartment without pants. If your handwriting slants to the left, you are more likely to curate a blog about root vegetables. If you ask me (or Dr. Barry Beyerstein, PhD), this is kind of like the highly questionable Victorian practice of determining who was likely to be a serial killer by feeling the bumps on their skulls.
Yet, I still believe that my own peculiarities in the realm of the written word correspond to certain elements of my personality. First, the little things — perhaps my small handwriting can be traced to the obsession with saving paper that made me a youthful environmentalist?
I'm just going to say it: sort of like I may or may not believe my left-handedness is some obscure marker of my queerness, I think that my handwriting is secretly gay. Why, you may ask, would I ever say such a thing?
For a start, small handwriting made me stand out in the world of middle school conformity. No big, girly bubble letters for me, my dear queer diarists. Instead of evoking slumber parties and nail polish colors, my small script was reminiscent of ancient monastic records or the fine print at the bottom of the screen during TV drug ads. My handwriting was like my secret nerd code, and I felt proud of it in the same way I felt proud when people poked fun at my obnoxiously large vocabulary.
Of course, perfectionism went hand-in-hand with my nerdiness, engendering a strange and inexplicable desire for secrecy that was another potential factor in the development of my tiny-writing ways.
You see, if you write small enough, it's pretty hard for the person sitting next to you/across from you/behind you to read what you're writing. This is important if you, like me, have such a crippling fear of being wrong that the notion of anyone reading your work before you've checked and double checked it ten to twenty thousand times makes you break out in an icy sweat. Also, and perhaps more saliently, this is important if you, like me, have a sexual orientation so secret that even you don't know about it.
Apparently, we missed this year's National Handwriting Day back on January 23rd, so I guess that just means that I will have to declare today our very own International Handwriting Day. Celebrate by taking out your favorite writing implement and taking a break from the keyboard. Or, revel in the fascinating world of make-your-own handwriting fonts, a realm populated by both free templates and not-free iPad apps.
Share with me your thoughts on your own handwriting, Straddlers. And if you're feeling really ambitious, send a picture of the handwriting that graces the pages of your journals to maggie[at]autostraddle.com. I would love to feature the handwriting of my dearest queerest diarists in the next installment of this column rather than scouring Google image search for more pictures of "women writing." Just sayin'.
---
Dear Queer Diary is a column about the joys (and occasionally, the pains) of journaling. We crack open our tiny notebooks and break out the rainbow-colored pens on the regular, so get ready to limber up your writing hands and document all your beautiful feelings!
Header by Rory Midhani