I know you're probably way ahead of me, but let's all celebrate together because the latest edition of DeAnne Smith's hot new podcast Questionable at Best is here!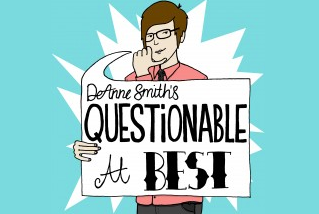 If you listened last week when DeAnne and her ex-girlfriend Sarah Quinn hashed out "Can exes be friends" then you know things got a bit intense. This week things get even more intense as DeAnne and her friend David McGimpsey look deep within themselves and try to figure out just what exactly makes a good sandwich.
It's fun and funny but be warned: you will get hungry listening to DeAnne describe her favorite sandwiches. So grab an organic PB&J on gluten free bread and give it a listen!