Starlight starbright … Stef defaces public property with stellastarr*! Robin is your Tuesday Televisionary, in disguise! ALSO, Bluehost gets sketchier by the minute.

SEX ON TEEVEE: Vamp Stamp: What is True Blood saying about women and sex? (@nerve.com)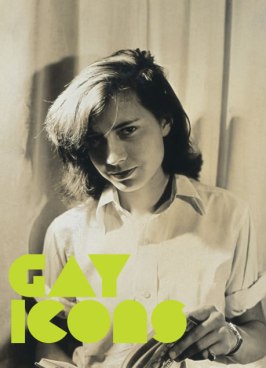 ACTUAL ART: The National Portrait Gallery in London is doing an exhibit on "Gay Icons" — in which Gay Icons like Elton John, Billie Jean King and Ian McKellan and Sarah Waters pick their gay icons. (@npruk)
OBVS: Jon's girlfriend is/was/did a lesbian, old lover warns Jon, Jon dreams of threesome. (@ohnotheydidnt)
HE WILL NEVER BRB AGAIN: Sextortion at Eisenhower High:"Last year, an awkward high school senior in Wisconsin went online, passed himself off as a flirtatious female student, and conned dozens of his male classmates into e-mailing him sexually explicit images of themselves. What he did next will likely send him to jail for a very long time." We somehow always get twice as pissed of when it's a gay guy who does it, like what the f*ck are you doing, we can't afford this right now!
MICHAEL F*CKING JACKSON: "Calling Jackson gay is like calling Lance Bass an astronaut. It works in theory, but there's no proof."
WOMYN: When Did You Start Caring What Other People Thought?: "Brain scans of teenage girls suggest something likely to hit home for many women — as they get older, they may have more emotional investment in how other people see them." (@jezebel)
LIES: For the first time in recorded history, a very drunk man left a bar!! Obvs, a raid was in order: Previously Intoxicated Man Sparked Raid at Gay Bar. (@dallasnews)
MORE LIES: The church handcuffed a kissing gay couple for "alleged trespassing," which even the police say is bullshit. (@queerty)
CUTE LESBIANS: New York Governor Says He'll Marry Celesbian Couple: "Paterson, who vocally supports marriage equality, told Matarazzo and Murphy he'd be happy to officiate.wp_posts(@go magazine)
BRUNO: How Sacha Baron Cohen Keeps From Getting Sued: "We'd have someone in the lobby of a hotel with release forms,wp_postsdirector Larry Charles told Squidoo. "We'd tell people we were shooting today and they may be in the background of a shot. Then they'd get in the elevator and, boom, two naked guys would come running in. Most people were so quick to sign the forms that they didn't notice any irregularities.wp_posts(@the frisky)
DON'T HATE THE PLAYER, HATE THE GAME: "Evony, thanks for showing us what it means to take advertising on the internet to the absolute rock bottom … then dig a sub-basement under that, and keep on digging until you reach the white-hot molten core of the Earth. I've always wondered what that would be like. I guess now I know." Video Game Ad Gets to the Important Part (@sociological images)
BLUE STATES LOSE: States of Happiness explains why Bluehost is so f*ckin' smug. They're really happy over there! Also, oddly … blue states are not happy, probs 'cause they are jam-packed with over-educated angry liberals. (@sociological images)
SEX ED: Teaching Teenagers the Joy of Sex: "I guess the more acceptable approach would be to tell kids that masturbation kills kittens and makes you go blind, and that sex is a painful experience that always results in pregnancy?wp_posts(@salon)
F YEAH F BOMB: Can we talk about f-bomb some more, please? "An Interview With the Creator: wp_postsZeilinger, too, is weary of hearing 'I'm not a feminist, but …' from young women who support reproductive rights, are concerned about domestic violence, and so on. 'Teen girls do get it in the sense that they DO believe in feminist issues; it's just the misconceptions about feminism that hold them back. I think if teen girls were given a fair chance to understand feminism, they would definitely identify with it. That's what I'm trying to do.wp_posts(@salon)
FULL COURT PRESS: Gay marriage makes its way into questioning of Sotomayor.
Tegan and Sara Macbeth shoes are back:

T+S Macbeth Shoes Are Back! from Tegan and Sara on Vimeo.

Ellen DeGeneres's 2000 stand-up show "The Beginning" was Ellen's re-introduction to the world after two years of relative silence and a very public breakup with Anne Heche, who she dated from 1997-2000. As you probs should know, Ellen Morgan the character — and Ellen DeGeneres herself — came out on her sitcom "Ellen" in February of 1997 and the show was canceled in 1998.
In "The Beginning," she explains the past few years of her life using … INTERPRETIVE DANCE, OBVS! It begins at about 1:55.

Auto-Straddler of the Day

from Crystal:
Ever wanted to know the difference between a FAIL and an EPIC FAIL? Yeah me too. This video doesn't provide an answer, but it is educational nonetheless.
+
+
from Alex:
I love these vintage modern illustrations, which are reminiscent of posters from the 20s and 30s but use modern technique.