feature image via the Movement Advancement Project
Data, Report to the Holodeck
+ The Movement Advancement Project has released a new report on LGBT equality across America; it examines laws affecting LGBT people state by state, gives individual states ratings on the environment they offer LGBT people ranging from "high" equality to "negative" equality, and discusses the possible impacts of the SCOTUS ruling on marriage equality this summer. The laws being looked at to form these ratings include those that deal with marriage and family recognition, adoption and parenting laws, non-discrimination laws, safe school laws, health and safety laws, and the degree of ability transgender people have when it comes to changing gender markers on official documentation. The results are… not entirely heartening. Fully 28 states fall under the categories of either "low equality" or "negative equality," with those states' populations comprising 52% of the US's LGBT population. Only 12 states rated "high equality" overall, and several of the high/medium equality states overall still didn't rate very well when it came to equality regarding gender identity/trans status. Helpfully, the report does show how these policies would be forced to change state by state if the SCOTUS rules in favor of marriage equality this summer.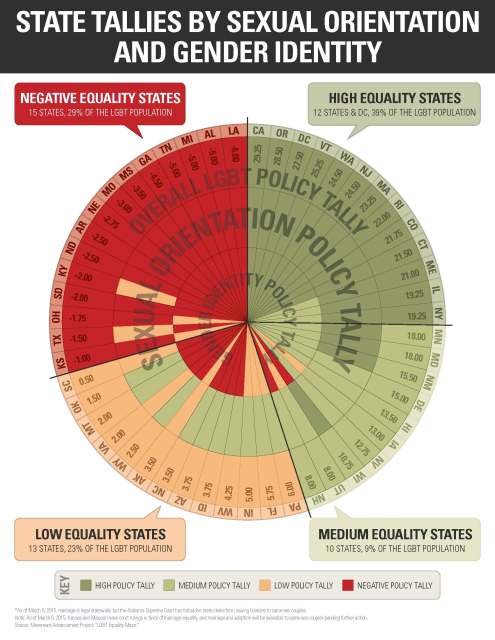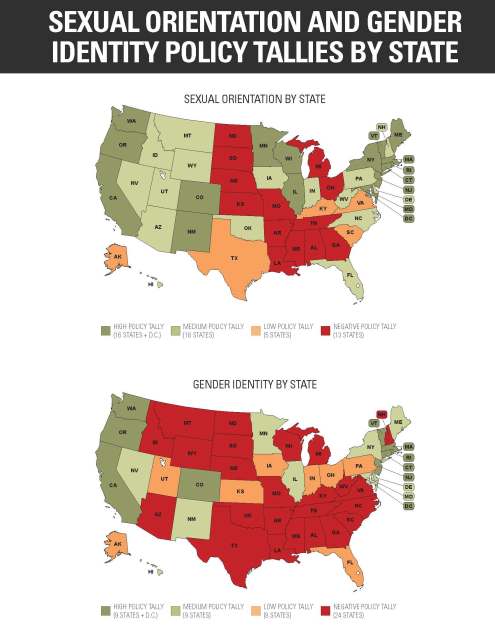 + A new report from the UK surveys 513 respondents within the bisexual community about their experiences and ideas for improving services. Respondents indicated that bisexual-specific services generally did not receive mainstream support or funding, and the majority of respondents said that they only felt "a little" or "not at all" part of either the LGBT or straight communities. In terms of accessing health services, 66% of respondents said that they felt they had to pass as straight and 42% said they felt they had to pass as gay or lesbian when accessing them; only 33% of respondents felt comfortable sharing their authentic sexual orientation with their general practitioner. 48% had experienced biphobic comments, and 38% unwanted sexual comments, because of their bisexuality when accessing services.
+ A research team at the University of Illinois Champaign-Urbana has released a new report based on the experiences of 4,800 students of color at the university. The findings are clear that students of color are experiencing racist microaggressions in the classroom, and that they're impacting their educational experience. 51% of respondents reported experiencing stereotyping in the classroom, and 25% reported that they felt they weren't taken seriously in class because of their race. Colorlines draws attention to the specific finding that "For all the questions, Black students reported the highest percentages of racial microaggressions among the racial and ethnic groups."
+ Some data on LGBT Americans and religions! The majority of LGBT people in the US are religiously affiliated in some way, but are less likely to be Christian than straight people, and more likely than straight people to be unaffiliated with a religion.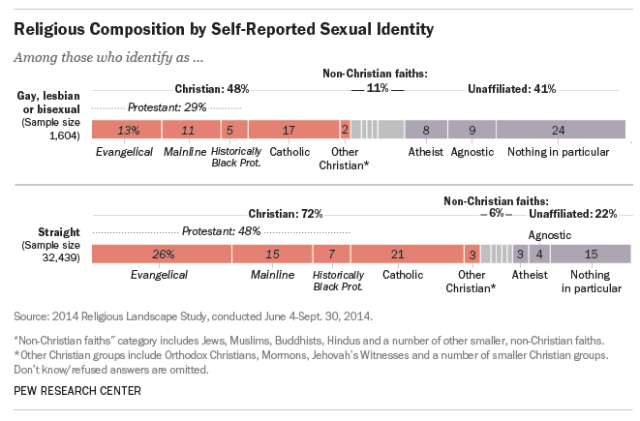 Republicans!
+ A quick rundown! Let's see if we can do this all in one breath. Scott Walker said something breathtakingly dumb when he defended Wisconsin's forced ultrasounds by saying they were "just a cool thing that's out there," Mike Huckabee and other Republicans suggested trying to trump the courts on same-sex marriage and other issues by just making new laws that contradict them ideally at the federal level, fairly universally mocked Rick Santorum is trying to run for president AGAIN, and Marco Rubio claims to be concerned that gay activists are going to convince the nation that all Christian scripture is hate speech. Phew!
Laws of the Land
+ A proposed Alabama law wants to ban abortion clinics from operating within 2000 feet of a public school.
+ A new California law requires an incredibly basic level of integrity and honesty from crisis pregnancy centers. Crisis pregnancy centers, which market themselves as resources for pregnant people who don't want to carry the baby to term, are pretty much entirely devoted to making sure pregnant people don't terminate their pregnancies, and are willing to shame and lie to pregnant people about how pregnancy and abortion work if they have to, while at the same time not actually providing any care to the pregnant person. The new law doesn't require crisis pregnancy centers to do or say anything about abortions; it just requires them to divulge the truth that they do not provide licensed medical care. As Jezebel puts it, "It seems fairly basic that non-medical facilities should have to disclose that they're not medical facilities," but apparently it's not!
+ Oregon is on a roll; the state recently banned conversion therapy practiced on minors, and is now attempting to ban nonconsensual upskirt photos, which we can file in with the crisis pregnancy center law as "seems like in an ideal world we wouldn't need a law for this."
Marginally Good News
Or more accurately "somewhat heartening responses to bad news," which is what we have to make do with sometimes.
+ A fraternity at Penn State has been suspended for three years following the revelation that members were passing around nude photos of unconscious women. It shouldn't be good news that there are actual consequences for sexual violence against women, but with so much sexual violence on campuses and of them being met with institutional and community indifference, sometimes it does feel like good news.
+ On Tuesday, the City of Cleveland and Department of Justice released a document that commits to sweeping changes in police practices in Cleveland, where 12-year-old Tamir Rice was killed by a police officer while playing with a toy gun in a park and 37-year-old Tanisha Anderson died in police custody.
As outlined by Colorlines, the consent decree promises that the police department will take on the following improvements:
Review and changes to standards related to the use of force including upholstering and firing weapons
Police officers must provide emergency aid to suspects they injure
The creation of a Mental Health Advisory Committee to train police
on how to deal with crisis situations
Trainings on recognizing and avoiding implicit bias
Data collection and analysis of all stops and seizures
Appointment of an inspector general and civilian oversight into internal affairs
Institution of a Community Policing Commission to provide input
It remains to be seen whether the proposed changes will actually occur — it's telling that there still seems to be no real progress on the investigation into Tamir Rice's death — but I guess it's better than nothing!