Feature image by Margie O'Hara.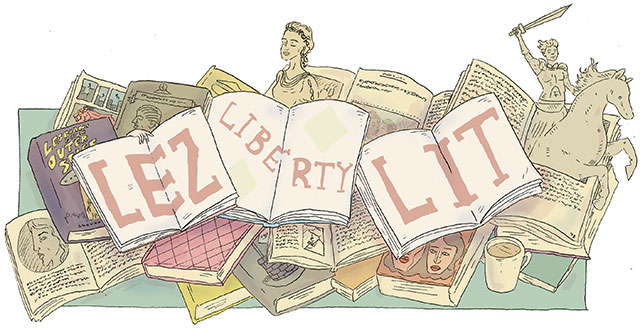 "How much is the salt?" Therese asked.
"Oh, it's free," Carol told her. "Salt is always free for lesbians."
"Oh, is it?" Therese said. "I had no idea." The private investigator following them felt so stricken with guilt for getting involved in someone else's business that he threw his camera to the ground and chose another career immediately.
– The Price of Salt, Patricia Highsmith, fixed
Submissions for issue two of Nepantla: A Journal Dedicated to Queer Poets of Color are open until 1 August 2015.
Submissions for "Marimacha," a literary zine focusing on queer women living in the Rio Grande Valley, are open until June 15.
Mrs. Dalloway came out 90 years ago this month, and the Paris Review has "either the worst or the best" adaptation of it.
People keep stealing rare books, maps and manuscripts from national libraries, sometimes with scalpels.
At the Rumpus, Anisse Gross reviewed The Folded Clock by Heidi Julavits, writing, "this book is really about the universal quest to understand how desire shapes and drives all of us. Julavits wants more than anything to live a rich life, to be fully here, to be present."
Rereading books "reminds us both of where we've been and where we can't go again."
Jess Zimmerman stole a pen from Douglas Adams.
You can read these 24 books in under an hour (though not the same hour).
Here are the most popular books set in each state.
At Lambda Literary, Jocelyn Heath reviewed I Ate The Cosmos For Breakfast by Melissa Studdard.
At the Lesbrary, Danika reviewed Where The Words End And My Body Begins by Amber Dawn.
There should really be sex scenes in young adult literature. At Salon, Donna Freitas argues:
"College students and young adults today are mainly offered brief, school-led tutorials about condoms, pregnancy and STI-prevention, maybe (if they're lucky) some how-to's about orgasms—nearly all of this education detached from the context of romance and love, and what it means to be in relation to one's partner (aside from the importance of gaining consent from that person).

This renders their sexual education, in my opinion, impoverished.

Lately, I've thought a lot about the extraordinary, plentiful and accessible resources for contemplating all of the above that are the YA novels teens read before they arrive at the college gates."
At Autostraddle, Mey wrote about Supergirl and Riese wrote about gay geography books.
Book Things To Do In Person
29 May, New York: Roxane Gay is reading as part of Girls Write Now's reading series at Scholastic Auditorium (557 Broadway), 6 to 8 p.m.
To 30 May, lots of places: Poet Andrea Gibson is on tour! And is going to a lot of places across the US and Canada, and to a few places in the UK. Maybe somewhere near you?
6 June: If you're a girl between ages 12 and 18, you should submit your writing to Grlhood by today.
7 June, New York: Imogen Binnie is leading "Why Would Anyone Even Read This? Writing Compelling Trans Fiction," a workshop associated with Bindercon, at the Powderkeg Writer's Space in Brooklyn (33 Flatbrush Ave.), 2–4 p.m. Register online.
19 June, New York: Quiara Alegría Hudes is reading as part of Girls Write Now's 2015 Chapters Reading Series at the Scholastic Auditorium (557 Broadway), 6 to 8 p.m.
1 December: Submissions for Topside's short speculative fiction anthology by trans writers are due.
Know of a queer event with literary merit? Send it to us! The Liberty Lit is bi-weekly.
---
Books! They are really great. You just won't believe how great they are. You may think that the Internet's great, but that's just peanuts compared to books. In Lez Liberty Lit, we talk about literary shit that's happening that you should probably care about.
The name "Liberty Lit" was inspired by the short-lived literary journal produced by Angela Chase at Liberty High School in 1994.