Today on Autostraddle: Hey-o! What's that you hear? Is it The Beat on the Street? Yes it is. Amanda Palmer wrote a high school play, and you can read all about it and other musical delights too. Also obvs the Autostraddle Hot 100!
+ I know I said I wasn't gonna talk about Carrie anymore, but now I'm freshly obsessed with Shanna Moakler, who is both hot & awesome and has resigned: "I cannot with a clear conscious [sic] move forward supporting and promoting the Miss Universe Organization when I no longer believe in it, or the contracts I signed committing myself as a youth." (@e!)
+ It makes us feel really happy that People Magazine's headline is Wanda Sykes Becomes Mom of Twins! (@people)
+ The Nerve Interview: The director of Outrage on how closeted politicians are destroying America.
+ Out Magazine asks: Which Gay Religious Leader Are You? I'm Sinead O'Connor gay, apparently. (Obvs sub "girls" for "dudes" in all questions involving shagging.)
+ "I loved lesbian model shoot" This actually happened to me (Riese) at a photoshoot once. And it was AWESOME. Oh, the wayward days of my youth. (@the sun uk)
+ I'm very unimpressed with craigslist's decision on this matter. Queerty agrees: Craigslist Yanks Sex Listings (And Why it's a Terrible Decision (@queerty) and so do these ladies: PRESS RELEASE: "Erotic Serviceswp_postsDenied: Craigslist and Attorneys General Are Putting Sex Workers At Risk.
+ Florida declares out-of-state gay adoptions Legal. (@queerty)
+ The always-hilarious StuntDouble compares the AfterEllen.com Hot 100 to the Maxim Hot 100. We noticed they were missing something so we took it upon ourselves …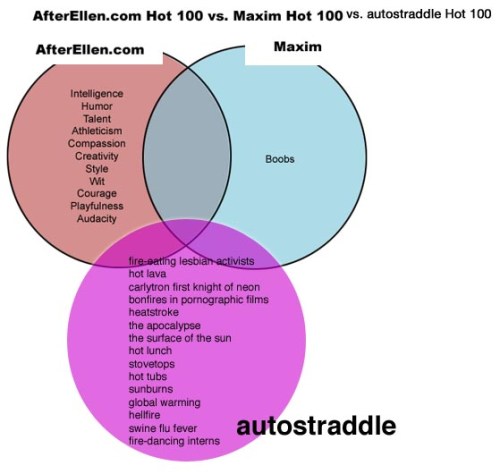 + Anyone who can make a similar graphic to what the always-brill Grace the Spot whipped up for her blog wins a free trip to the surface of the sun!
+ Adam Lambert gets his very own day in San Diego! "If you can get past the one minute of screaming girls he talks about accepting differences and sings a little of Michael Jackson's Black or White." (-Intern Heidi) (@signonsandiego) and also, Rolling Stone has a look back at Season Eight so far … in pictures!
+ Lindsay Lohan got a movie! Pretty soon she'll want to finance Autostraddle. We're on standby.

from Crystal:I recently heard about 'This Is Oz', an arts project slash human rights campaign that aims to fight discrimination against the GLBT community. It's an online photo album of some of Australia's GLBT celebrities including Matthew Mitcham, Ruby Rose, Rhys Bobridge and more. Check it out.
+

from Alex: There's some really clever and inspirational design work from Paper's feature this month called Rebranding America: "…we invited some of the best visual communicators we know (from ad gurus to artists) to create original advertising concepts that could redefine our country's image. Welcome to U.S.A. 2.0."