You might recognize that name up there – that's Anna Bongiovanni, of the Outlaws Cabin (Camp 3.0). And yes, that makes the author of this book someone I know personally. But that's not the reason I'm reviewing her debut graphic novel, Out of Hollow Water, nor the reason I'm telling you to read it. I think you should experience Out of Hollow Water because it's both haunting and gorgeous.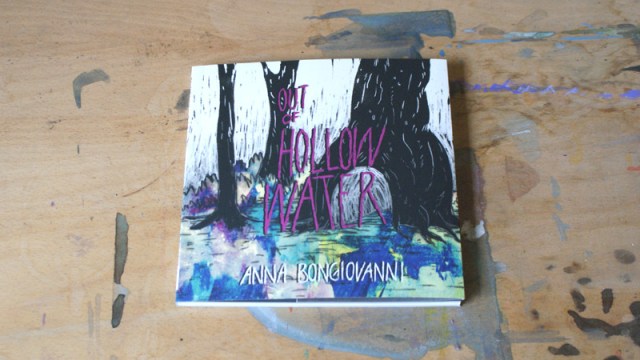 Just from looking at Bongiovanni's style, you know you're about to experience something deeply personal. Everything has the appearance of pencil lines and the reader can even sometimes see pale ghosts of outlines that have since been erased or drawn over. It evokes the feeling of sitting with your friend at night, sipping red wine and looking in their sketchbook. This looks amazing, you'd say. And you'd mean it and the moment would feel extraordinarily intimate because you feel like these drawings are only for you – that they've only been shown to you. I rarely get that from a book of any sort.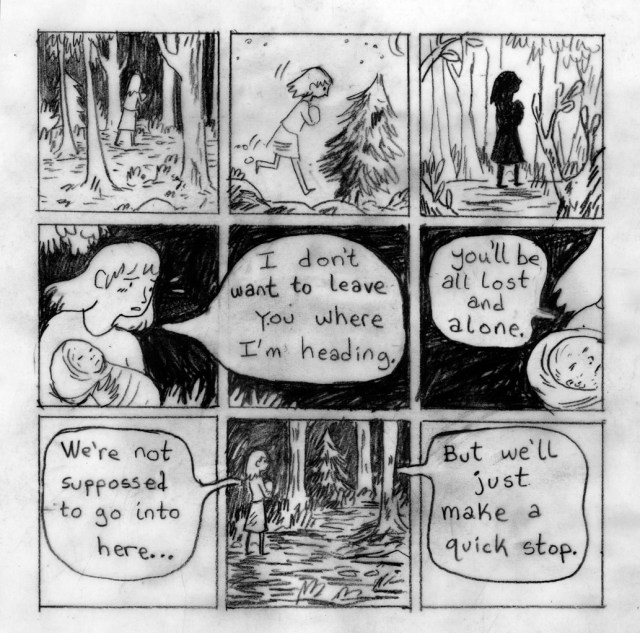 In subject matter, you might expect this to be a journal comic. Though it feels like a journal, the story itself resembles one of the darker Grimm's fairy tales, right down to the dark forest setting. Monsters and death are juxtaposed with innocent protagonists. Many fairy story archetypes are used and subverted – dropping breadcrumbs for navigation becomes the protagonist chopping off her hair and leaving it for someone to follow. The wise old woman and the witch become almost one in the same. The mix between the fable content and the sketchbook style serves to transport the reader into a world where the monsters are real life and do wind up in your journal. And isn't that exactly what happens? Isn't that exactly what goes in your journal? The monsters in our lives?
And Bongiovanni has such a light touch as a storyteller, meaning I could chronologically tell you what I see in each frame – this one features a dark monster crawling from a tree, for instance. And that one depicts a woman, bloody post-childbirth. While there is a distinct narrative, though, reader response very much plays into how that story is interpreted. Bongiovanni leaves enough space between the things she tells you so that you can fill in with your own life and point of view. This leaves me wary of giving you a plot summary, because I reckon what I see in this will be very different from what you see. This book lends itself to multiple readings – I experienced this differently each time I read it (and since receiving this book, I revisited it three times). Just know that when you embark on this adventure, there will be monsters. These are stories about dealing with the aftermath of sexual violation.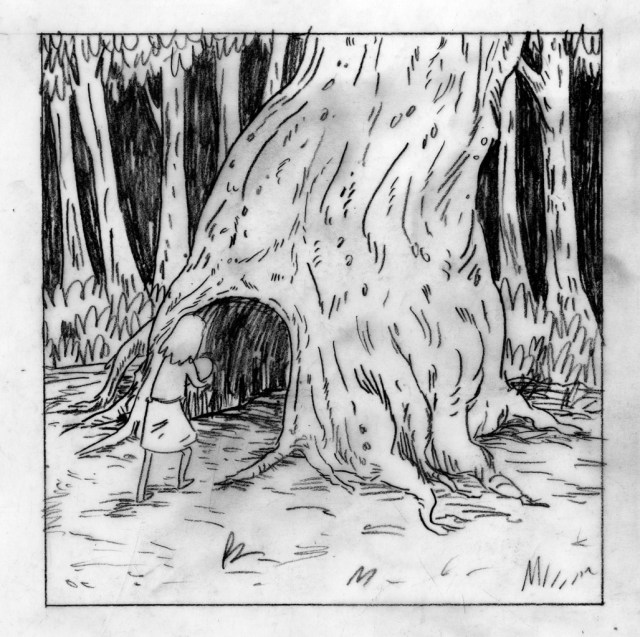 If I were to compare this book to a physical space, I would have to do a bit of a nerdy cop out. Because the physical space that jumps to mind immediately is a fictional one: the TARDIS. Because this book is bigger on the inside. It is bite sized and can be read in ten minutes if you rush it. But the emotional effect, the artistic style and the experience of reading it is huge. And it's something that is continually changing depending on the reader's lens of the day.
This book is published by 2D Cloud, a micropress in Minneapolis. You can grab your copy of Out of Hollow Water here. And you can see more of Anna Bongiovanni's work on her website, keep up with her on Tumblr and tweet at her too! Grab some of her other zines as well (I have what is almost an entire collection, that is how strong my feels are). Also maybe if we all ask very nicely, she'll reprint Auntie Anna's Guide to Grooming, a tiny zine that's so good I think it should be a children's book (it speaks to the child I was).