Welcome to Dear Queer Diary, a column about the joys (and occasionally, the pains) of journaling. We'll be cracking open our tiny notebooks and breaking out the rainbow-colored pens on the regular, so get ready to limber up your writing hands and document all your beautiful feelings!
Header by Rory Midhani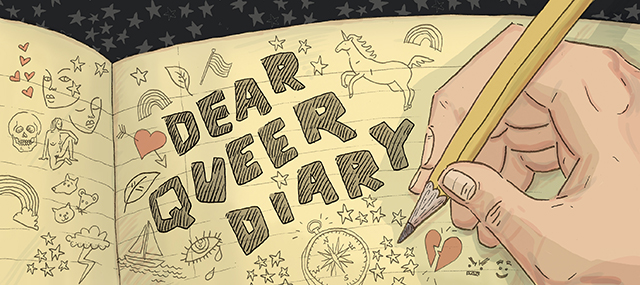 Writing is typically regarded as a solitary activity, the kind of thing one might do alone in a coffee shop as a shaft of light falls across your page of profound musings.
In spite of this, many of my most successful literary experiences have been anything but solo acts. In middle school, screenplays were written on scrap pieces of paper in my neighbor's living room, and then enacted in the creek behind her house. In ninth grade, I lent my pen to an epic spy novel composed during play practices, which was the result of each one of my four friends writing a sentence and then passing the story to the next author. In college, my pals and I founded a dream blog, where we posted dramatic retellings of our previous night's visions for others to enjoy.
So while journaling is often considered to be a fundamentally private act, who is to say that it might not be improved by a little collaboration?
The briefest safari through the overgrown pathways of the fearsome Amazon indicates that there is an entire genus of the journal family that is marketed towards journaling partners—of both the platonic and romantic varieties. This column shall fearlessly explore both such realities.
Platonic
I am sure we have all owned a variation on the Best Friends journal, which prompted you and your BFF to share fun facts like "Favorite Food," "Favorite Movie," and "Secret Crush" between its bedazzled covers. The version I remember owning even came with a somewhat problematically gendered set of stickers with which to denote which best friend was writing. Would you choose to be represented by the high-heeled shoe or the unicorn? The unrealistically plump lips or the pink pen? (I do believe there was also a set of soccer ball stickers, which might have provided a vague glimmer of hope for the non-beauty-queens among us.)
While my problematically stickered Best Friends journal was abandoned about as quickly as my now long-deceased Tamagotchi, I am proud to say that I still own a homemade diary that I share with one of my BFFs.
Indeed, when I was growing up, my very bestest BFF in the whole wide United States of America was my cousin, who resided a tragic 1,100 miles away. During the vast majority of the year, which was spent apart, we exchanged letters and emails that now amount to the contents of at least one extra-large, hiking-boot-sized shoe box and an outrageous percentage of my gmail archive pre-2008.
Perhaps because our entire relationship was composed of the words we sent back and forth on paper and online, when we were together, we kept writing, documenting every detail of our few blissful weeks together each Christmas or summer vacation. The vehicle for all these words was a college-ruled, hilariously collaged journal that I am proud to have next to me at this very moment. The front is decorated with some gorgeous glitter glue patterns and a photo of the two of us in our most decidedly awkward youth; on the back is an eternally inexplicable potato surrounded by a comic-book-style burst of orange and yellow.
Inside is all the good stuff: memorable quotes from our time together, postcards colored in crayon at the children's tables of the Denver Art Museum, accounts of our daily activities, the wrapper of a king-sized Hersey's bar we demolished late one night, a great deal of extremely high-quality Tamora Pierce fan fiction… What more could one ask for in a journal, my dear queer diarists? Very little.
Romantic
Although I have certainly written about my relationship in my own, personal journal—and even received a lovely little diary filled with quotations from my adorable-personalized-gift-giving girlfriend—I cannot claim to have any experience journaling with my one true love. Maybe it is my duty to try it, for the sake of research? Maybe, given my position as your Chief Queer Diarist here at Autostraddle, that would be tantamount to mixing business with pleasure? Only time will tell, my beloved journalers. In the meantime, I will be counting my pennies until I can scrape together the fourteen dollars necessary to buy I Love You: The Activity Book for Lesbian Couples.
In Conclusion
Word on the street is that sharing is caring, my dear queer diarists, so get out there and find yourself a journaling buddy! Tell me about your past/present/future collaborative journaling experiences, and spread the diary-writing love.