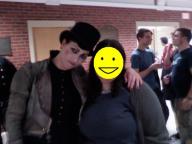 Greetings and salutations!  We have a LOT to talk about this week, so we shouldn't waste any time.  First and foremost!   Songwriting god, office crush, decorative eyebrow enthusiast and all-around superhero Amanda Palmer is much like Jane Lynch, in that as far as we're concerned she can do no wrong.  AFP (that's Amanda FUCKING Palmer) recently went back to her old high school in Massachusetts to put together a play called "With The Needle That Sings In Her Heart" with her former drama teacher, Steven Bogart.  We're totally fascinated with everything Amanda Palmer writes, sings, says, thinks or Twitters, so obvs we sent a spy.  Autostraddle reader Jo was there, and she reports thusly:
Amanda grew up in Lexington, MA and attended Lexington High School where she was part of the LHS drama club, run by director Steven Bogart. Her experience with Drama Club was so life-changing (a rarity for high school, methinks) that she decided to return 15 years after graduation to help put on a completely original, completely awesome production.

I went to see the play on Friday night with my friend Karl. Both Karl and I were drama-tech geeks in high school, and we both agreed after the show that it was the best high school performance we had ever seen. The staging, lighting, and sound were excellent. The entire cast was tremendously talented (especially the leads, Anne Frank played by Emma Feinberg, and the MC, played by Alex Parrish – and obviously Amanda Palmer!). The production itself was certainly above average, but what made it exceptional was the fact that the entire play was written by the cast with their director, Steven Bogart. They started with the 1998 Neutral Milk Hotel album In the Aeroplane Over the Sea as inspiration and came up with the concept through improv sessions.

"The play is about Anne Frank as imagined by an artist, and about how Anne uses her imagination and fantasy-mind to escape the horrors she experiences in a death camp.  Ultimately, it's a play about how art conquers death and fear." – Amanda Palmer

I left the Friday night performance with my mind blown.
If you (like us) were unable to Megabus it up to Lexington this past weekend, fear not!  You can still watch the play streaming online here.  After this, Amanda is hitting the road for yet another tour (including Bonnaroo!), and we plan on attending, sighing, swooning.
Stuff That's Happening:
Um, HELLO.  Blondie, Pat Benetar and the Donnas are heading out on tour together this summer, as part of something they've dubbed the Call Me Invincible Tour.  This is guaranteed to be THE MOST AMAZING THING EVER.  Dates here [@brooklynvegan].
Oh hey, I heard you guys liked girls who rock.  Um, The Gossip have an album coming out!  I forgot to link you guys to "Heavy Cross" [@stereogum] when it first appeared on the internet, but today I caught my first glimpse of the cover art (at right).  The record's called "Music for Men" and I'm stoked on it already.
Pretty much everything Karin from the Knife touches turns to gold.. I'm totally into Fever Ray,  her super-moody solo project… aaaand they're going on tour!  Check out dates here [@brooklynvegan].  Probs gonna make me feel super alienated and depressed, but worth every second.
Hey Crystal! Good news!  Guitar Hero: Van Halen: a thing that's happening [@billboard].  Next time you land on the fair shores of the isle of Manhattan, I hereby challenge you to a "Hot for Teacher"-off.
Hey EVERYBODY!  Do you play the musical saw? The 7th Annual NYC Musical Saw Festival is trying to break a world record for Largest Musical Saw Ensemble on July 18th, and you can be a part of history!  Amazing.
Maximo Park are back, and as usual Spinner  are all over it with this exclusive behind-the-scenes clip from their new video "The Kids Are Sick Again."  They just put out a new album called Quicken the Heart.  I can't figure out what it is about them that I love so much, possibly the fact that all their songs sound not-quite-put-together.. but let's be fair; it's probably the accent.
Even though her debut album STILL ISN'T OUT, I remain totally enamoured with Kid Sister. RCRD LBL has a stream of "I'll House You (Reebok Classic '09)," which is only feeding my obsession.  If you haven't got that site in your RSS feed, you should – it's quickly becoming my #1 way to learn about new bands.
L Magazine recently put out their "8 NYC Bands You Must Hear" issue, and since history's taught us that they're generally more or less spot-on (last year they promised us The Pains of Being Pure at Heart, and the year before they extolled the virtues of Vampire Weekend), we may as well check out this year's list.  There's a band called the Beets, but I'm pretty sure it's not the "Killer Tofu" band from Doug.  Bummer.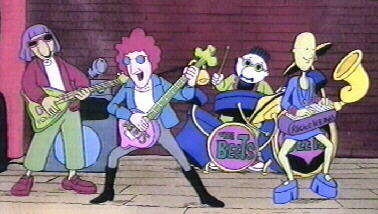 They need more allowance…  WHY?  Because they DOOOOO…

Out on the Town:
Vivian Girls – Bowery Ballroom, 5/11/09
I'd say right about now, Vivian Girls have to be the hardest-working band in New York City – they seem to be playing a different show at a different club just about every night.  This may explain why, despite their mega-hype, the show wasn't super packed (I'll also blame openers Times New Viking for playing at Market Hotel the night before) … Still, the girls (Cassie Ramone – guitar/vox, Kickball Katy – bass/vox, Ali Koehler – drums/vox) won over the crowd with their short-but-sweet set, which was loaded with lo-fi garage rock songs that crackled with noisy distortion, minimalist drum kits and dissonant vocal harmonies – think Bratmobile for the new millennium.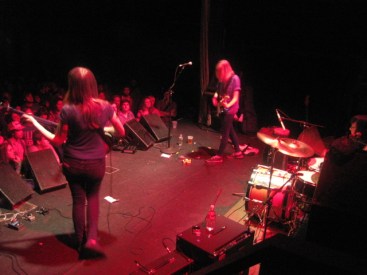 I kinda felt like I was at a basement punk show, especially when the girls all traded instruments and kept on rockin', banging a tambourine against the guitar strings for extra noise.  They'd probably hate me for saying this, but I want these chicks to play my prom.
Bat for Lashes – Bowery Ballroom, 4/30/09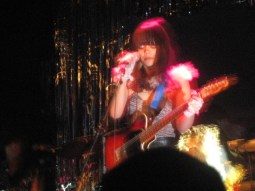 The stage was adorned with Jesus figurines, cabaret lamps and eerie glowing dolls, all laid out before a curtain of tinsel.  This could easily go either way – kitschy/cheesy or creepy/beautiful… Fortunately for the band, it turned out to be the latter.  Speaking of the band, they were incredible – drummer Sarah Jones from New Young Pony Club killed it IMMEDIATELY on "Glass,"  and continued to impress us the whole show through.  Charlotte Hatherly from Ash was also on hand, playing bass, guitar, keyboards and a host of other weird little additions to Natasha's spooky repertoire.  It was wonderful to see so many kick-ass women on one stage, and every time I thought they were out of great songs, they'd whip out yet another total gem I'd almost forgotten about and bring the house down. After every song, whispers of "she's SOOOO CUTE!" would echo through the crowd.  Natasha had the crowd in the palm of her hand, and although she didn't speak much, she easily won our hearts with her adorable grin.  I'm not exactly sure how Natasha Khan managed to pull off being so totally precious while playing such ethereal, creepy music.  After "Horse & I," one of my favourites off the debut record Fur and Gold, I stopped gazing longingly at my Twitter and its giddy updates from the Sounds show happening just a few short blocks away (anyway, Carly and Robin already covered that show – this is my time!).  All in all, it was pretty magical – well done, Natasha Khan.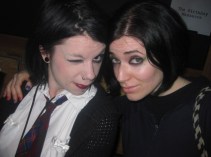 Since we last spoke, I also saw the Birthday Massacre twice, at Polaris in Philadelphia and the Highline Ballroom in New York.  The Birthday Massacre are a pretty hot female-fronted gothy synth-pop band with heavy guitars and dance beats, and they're Canadian so they're super polite!  They're out touring in support of their live DVD Show and Tell, and they put on a great, high-energy show.  Also, they totally made my night by playing their awesome cover of "I Think We're Alone Now."  Some say Chibi (singer) and I look alike.  I don't see it ("OMG, Clairol Natural Instincts #36, Midnight Black?!?!?! ME TOO!!!").
I also saw a bit of Mogwai on day 2 of their great 3-day Music Hall of Williamsburg residency.  I heard from people who attended all 3 that day 2 was the day to skip.  They were very loud, but honestly?  I think I needed to be high.
Next week, we're starting a new feature on up-and-coming bands.  Got any ideas?  Hit me up on the contact page.